SCORPIO ANALYSIS
Parliamentary failure and EFF propaganda notwithstanding, Malema & Shivambu did benefit from VBS looting
Parliament's probe into the involvement of EFF leaders Floyd Shivambu and Julius Malema in the looting of VBS Mutual Bank proves two obvious facts: The EFF has an organised propaganda network that springs into action when the party's leaders are criticised or proven to be corrupt. And Parliament's Joint Committee on Ethics and Members' Interests is slow, inefficient and displays no understanding of the laws that govern our institutions or the use of fronts to hide illicit money flows.
EFF supporters on social media and in the more formalised media sector have restarted their propaganda in an attempt to exculpate Julius Malema and Floyd Shivambu of stealing and laundering VBS Mutual Bank funds. 
The lies in support of the party president, Malema, and deputy president, Shivambu, are in direct conflict with findings by Parliament's Joint Committee on Ethics and Members' Interests published on Monday. They can easily be proved wrong.
In its statement, the committee said its members had "resolved that it is unable to make a finding" that Malema breached Parliament's ethical conduct of code in not declaring how he benefited from stolen VBS bank funds. 
In a tweet and news article that is an obvious lie when read in conjunction with Parliament's press release, the Sunday World newspaper declared,  "Malema did not benefit a cent from VBS loot — Parliament".
Sunday World is owned by property developer David Mabilu's Fundudzi Media. Mabilu is a longtime friend and sponsor of Malema, who famously attended Mabilu's 2011 wedding in Mauritius wearing a purple suit. Read more about Fundudzi Media and the strange case of its Lottery partnership here. 
(Jacaranda News similarly declared that there is "no evidence" that Malema received money from VBS bank.)
The ethics committee, however, found that Shivambu did not declare R180,000 in VBS funds funnelled through a front company, Sgameka Projects (Pty) Ltd. As punishment, the committee will recommend to the House a reduction of nine days' salary. The findings are based on an affidavit by VBS liquidator Anoosh Rooplal.
In the same alternative universe as Sunday World, the EFF propaganda machinery was quickly switched on to argue that because VBS Mutual Bank did not directly pay the mentioned funds straight to Shivambu's bank account, it cannot be said that the funds actually originated from stolen VBS loot. This is an argument that will only work on X (formerly known as Twitter), and never in a court or legal, rational investigation.
EFF MP Mbuyiseni Ndlozi, without referencing the latest VBS drama, claimed there are attempts to scupper the EFF's chances before the 2024 elections and also attempted to divert attention to the failures of opposition parties. Based on external public relations advice, Malema and Shivambu have carefully avoided publicly commenting on the VBS issue.
An alternative universe in which Malema and Shivambu are innocent
The propaganda created by EFF supporters and news outlets is based on a manipulation of reality. It further ignores that the SA Revenue Service (SARS) traced R3.6-million in VBS loot as well as other undeclared income flowing directly into Floyd Shivambu's FNB Private Wealth bank account. 
The SARS's Criminal and Illicit Economic Activities division further demanded R28.2-million in unpaid taxes and penalties from his brother Brian Shivambu who acted as Floyd Shivambu and Malema's front in the VBS scandal.
Brian Shivambu "defrauded" VBS Mutual Bank out of about R16-million, SARS auditors and investigators found, and his "obstructive" conduct is regarded as "intentional tax evasion".
SARS investigators also liquidated Grand Azania (Pty) Ltd. This company was Floyd Shivambu's front and funnelled millions of rand directly to his bank account, bought assets on his behalf and supported his lifestyle. 
The EFF propaganda further ignores that Brian Shivambu had signed a secret contract acknowledging that he gratuitously received VBS loot and promised to pay it back.
Read more in Daily Maverick: Floyd Shivambu's brother quietly pays back R4.55m, admits he received the VBS money gratuitously
Lastly, the lies ignore Scorpio's painstakingly clear investigations between 2018 and 2022 showing that not only did Malema and Floyd Shivambu assist in the looting of VBS Mutual Bank, but more importantly, that they received millions of rands in benefits and cash from benefactors who seemingly expected some political muscle or manipulated tenders in return. 
Scorpio's investigations proved that the EFF received VBS loot in its Standard Bank accounts and that Malema and Shivambu were kept politicians. Neither Malema nor the brothers Shivambu ever took this journalist or Daily Maverick to court, or to Press Ombudsman.
On Monday, in reaction to Parliament's latest announcement, the EFF claimed with renewed fervour that it would take Parliament to court to challenge the sanction against Shivambu. It is important to note that the EFF, Malema and the brothers Shivambu since 2018 made continuous threats of court action in relation to the VBS saga, but only made good in the case of former EFF MP Thembinkosi Rawula – a case that ended in tears for the EFF in the Supreme Court of Appeal, even though Rawula appeared unrepresented.
Rawula claimed in a Facebook post that Malema had admitted in an EFF meeting to "taking VBS money to finance the revolution" and that "sometimes we are forced to kiss dogs or the devil to get funding". The EFF fighters were obviously unaware that the party itself received very little of the VBS money and that its two top leaders made way with most of the loot.
Rawula won the defamation case in the Supreme Court of Appeal. During arguments, a Full Bench of five judges asked why Malema or the EFF have never sued this journalist or Daily Maverick. This was met with silence, of course. You can read the court judgment here.
How the complaints to Parliament's ethics committee came about
The background story of why Parliament's ethics committee probed Malema and Shivambu relates to a complaint by former DA MP Phumzile van Damme in 2018 about VBS payments to Shivambu that he did not declare.
Similarly, the DA's John Steenhuisen referred a complaint to the committee in 2019 alleging that Malema had also breached the Code of Ethical Conduct. The complaints were partially based on investigative reporting by this journalist published in Daily Maverick. 
VBS Theft, Money Laundering & Life's Little Luxuries: Julius Malema's time of spending dangerously
Parliament's Code of Ethical Conduct states that all MPs must disclose financial interests, including whether they are remunerated outside Parliament, sponsorships, gifts of more than R1,500 and company directorships. You can find the rules here.
In light of the above-mentioned evidence, of which the SARS's evidence is under oath and in open court, the ethics committee's probe is concerning, meek and insufficient. 
The committee disclosed that it did ask the Financial Intelligence Centre (FIC) for "financial intelligence on whether [Malema] received money through Mahuna's Absa bank account".
Mahuna Investments (Pty) Ltd was Julius Malema's front in this scheme. The director is Malema's cousin Matsobane Phaleng. Parliament never got around to delve into these facts.
That the committee even approached the FIC, suggests it does not understand the laws that govern the institution. Predictably, the FIC declined as the disclosure of Malema or Shivambu's financial affairs to Parliament would be against the law. 
But even the framing of the questions suggests that the ethics committee considers illicit money flows to hop from VBS Bank and Sgameka Projects directly into the personal account of Malema. The committee showcased no insight into the intricacies of money laundering and seems to have had no regard for the complex web of benefactors and fronts surrounding Malema and Shivambu.  
It further took the committee five and four years, respectively, to come to a conclusion after Van Damme and Steenhuisen submitted their complaints.
Speaking directly to the propaganda, it is important to note that the failure of the Joint Committee on Ethics and Members' Interests to find traces linking directly to Malema does not mean that no evidence exists. In fact, it is testimony to the layers of fronts and roundabout ways used to get the stolen loot to Malema.
The propaganda is so clumsy that any reader who attempts to fact-check the propagandists as well as Daily Maverick's reporting on the matter will easily be able to separate the wood from the trees. 
But it is partially effective, unfortunately, because people read tweets and other social media posts rather than long-form investigations supported by facts.
Scorpio will therefore publish an explainer below, with reference to our reporting on how Malema, Shivambu and the EFF benefitted from the VBS loot.
How did Shivambu and Malema take part in the looting of VBS Mutual Bank?
The SA Reserve Bank realised in 2018 that VBS Mutual Bank was a crime scene. A black hole of R2.7-billion ensured that the bank's trading came to a halt in March that year.
The lost money belonged to the most vulnerable people in Limpopo and some of the poorest municipalities in the province. The SA Reserve Bank appointed advocate Terry Motau and the law firm Werksmans to investigate.
Their findings included that the bank managers, particularly CEO Tshifhiwa Matodzi, CFO Philip Truter, treasurer Phophi Mukhodobwane and executive directors Paul Magula and Ernest Nesane, robbed the bank into insolvency between about 2015 and 2018.
The lion's share was diverted to Matodzi and his acolytes, including ANC politician Danny Msiza. (Msiza was indicted by the National Prosecuting Authority and, astonishingly, after appearing in court, appointed as President Cyril Ramaphosa's campaign leader in Limpopo.) 
Matodzi was clever in buttering his bread on both sides, and so it happened that the EFF leaders were included in the "loot for political muscle" scheme. Floyd Shivambu, close to Paul Magula, was the pointsman and his brother Brian was the front. Malema sat on the periphery and shared in the loot without too much involvement. 
WhatsApp messages that Scorpio has seen show that on at least seven occasions during 2017, Matodzi instructed millions of rands in stolen VBS money to be paid to Sgameka Projects (Pty) Ltd. VBS Bank received no service in return.
Brian Shivambu was Sgameka's sole director, and VBS funds were Sgameka's sole income. The company existed for no other reason than to receive and disburse stolen VBS funds. Matodzi called the Sgameka account at VBS "an extremely strategic account" and the stolen money "lobbying fees". Read our detailed account here. 
So it happened that Sgameka illegally received at least R15.2-million in cash paid from VBS-linked companies as well as a home loan of R1.46-million brokered by Floyd Shivambu on behalf of the Shivambu parents and lastly a R4-million business loan (of which only R2.1-million was paid out) to Brian Shivambu's now liquidated company Grand Azania.
Brian Shivambu was the sole director of Grand Azania, but Scorpio's analysis of the company's expenses and assets shows that almost all of it was for the benefit of Floyd Shivambu. The bank card linked to Grand Azania followed him around the country. Read our analysis here.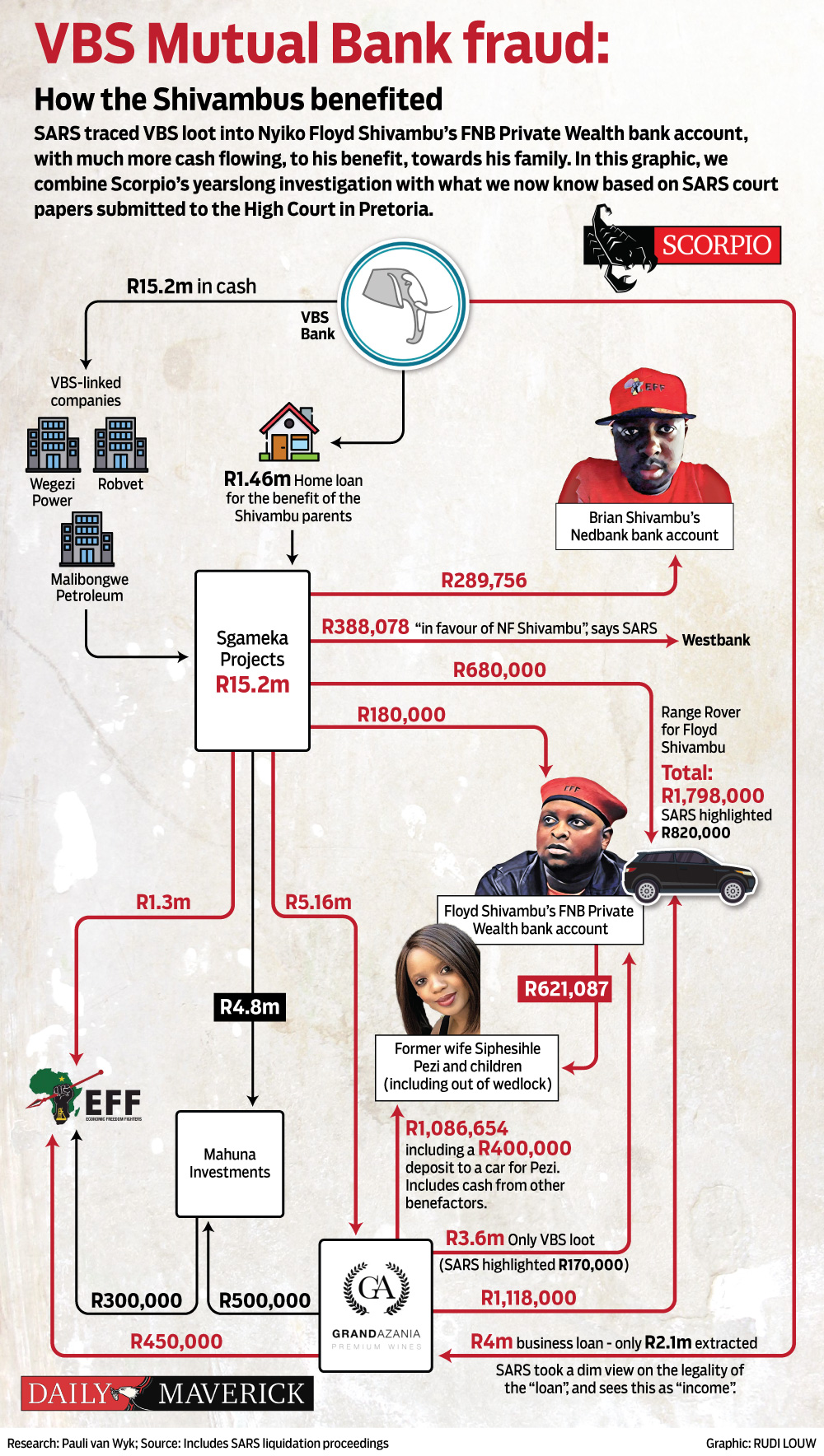 As previously mentioned, Mahuna Investments was Julius Malema's front used in this scheme and its director is Malema's cousin Matsobane Phaleng. 
Scorpio found at least R5.3-million in VBS loot was siphoned off from VBS Mutual Bank, through Sgameka Projects and Grand Azania, into Mahuna Investments. This is similar to Parliament's finding, published on 2 October, that R4.8-million was paid from Sgameka Projects to Mahuna Investments.
But Parliament could not prove the link between Mahuna Investments and Julius Malema. 
Scorpio's investigation and money flow analysis, however, has shown that the funds in Mahuna Investments paid for school-related expenses for Malema's son, paid for Gucci, Louis Vuitton and tailored suits from designer Linda Makhanya, a Polokwane party venue and the EFF. The bank card linked to this account further followed Malema around the country. 
Shivambu and Malema have consistently professed their innocence. 
Read Scorpio's investigations relating to Floyd Shivambu, Julius Malema, the EFF and the stolen VBS money:
---