AGE OF ACCOUNTABILITY ANALYSIS
VBS chickens come home to roost: Pink-faced Floyd and not-so-Grand Azania couldn't pay back the money to SARS
EFF Deputy President Floyd Shivambu's front company Grand Azania (Pty) Ltd – stuffed with VBS millions and more money from business benefactors – was ordered provisionally wound up because it couldn't pay its R11,5-million dues to SARS. 
SARS's Criminal and Illicit Economic Activities division has succeeded in closing down one of Floyd Shivambu's front companies. In a High Court of Pretoria ruling on Friday, 10 March 2023, Judge Ronel Tolmay ordered that if anyone involved with Grand Azania (Pty) Ltd cannot motivate by 24 April why the company should not be wound up, the court order will become permanent.
Scorpio has further proved that the bank card linked to Grand Azania followed Floyd around southern Africa and paid for his 1 January 2017 birthday celebrations at the Royal Livingstone Hotel in Zambia. 
The Chronicles of Grand Azania, Part Two: Floyd Shivambu's time of spending dangerously
An efficient SARS can become an Achilles heel for Shivambu. He personally received R3,6-million in stolen money emanating from VBS Mutual Bank into his FNB Private Wealth bank account, SARS showed the court when it attached six months' worth of Shivambu's bank statements to its liquidation application. SARS became the first – and to this day the only – state entity to claim some justice from the EFF roleplayers for their part in fleecing VBS Mutual Bank.
In its investigation, Scorpio proved that between 2018 and 2021 Shivambu was the beneficial owner of Grand Azania and that his brother Brian, the official owner and sole director of the company, was a mere front. This means Floyd benefited to a greater extent than just the cash dumped into his account, but actually used the money in Grand Azania too.
Because Brian is the legal owner of Grand Azania, SARS argued that he "defrauded" VBS out of R16-million, "committed a criminal offence" and "intentional tax evasion" by not declaring this as income tax and VAT and acted in an "obstructive" manner when contacted by SARS auditors and investigators. 
VBS scandal: SARS demands R28.2m from Brian Shivambu, displays clear connection to Floyd
The story here is that SARS had applied for the liquidation of Grand Azania in July 2021 because the company could not pay its R11,5-million tax debt to SARS. Being dismissive of SARS earned Brian an understatement penalty of 200%. 
In its answering affidavit before court, dated 7 December 2021, Grand Azania argued SARS's estimates were unreasonable and flawed.
SARS was dismissive of this argument, telling the court that through a series of illicit schemes, Grand Azania received a "gratuitous payment of R6,4-million from VBS bank". 
The revenue service relied on advocate Terry Motau and Werksmans' 2018 forensic report which found Brian Shivambu received "gratuitous payments from VBS bank to the amount of R16,148,569". At the time Brian promised and threatened to review the Motau report, but never did. 
Grand Azania couldn't pay up because all the money from VBS (and other benefactors) was splurged on Floyd's cars, living arrangements, property expenses, clothes, groceries, his first wedding, children's clothes and the EFF, Scorpio showed.
Read on Daily Maverick:
The Chronicles of Grand Azania, Part One: How a slush fund paid for Floyd Shivambu's wedding
The company received no further funds either after Scorpio outed its role as a Shivambu front. That may be because benefactors closed their hands to Shivambu. That however seems unlikely, especially in the current political climate and the 2024 elections looming.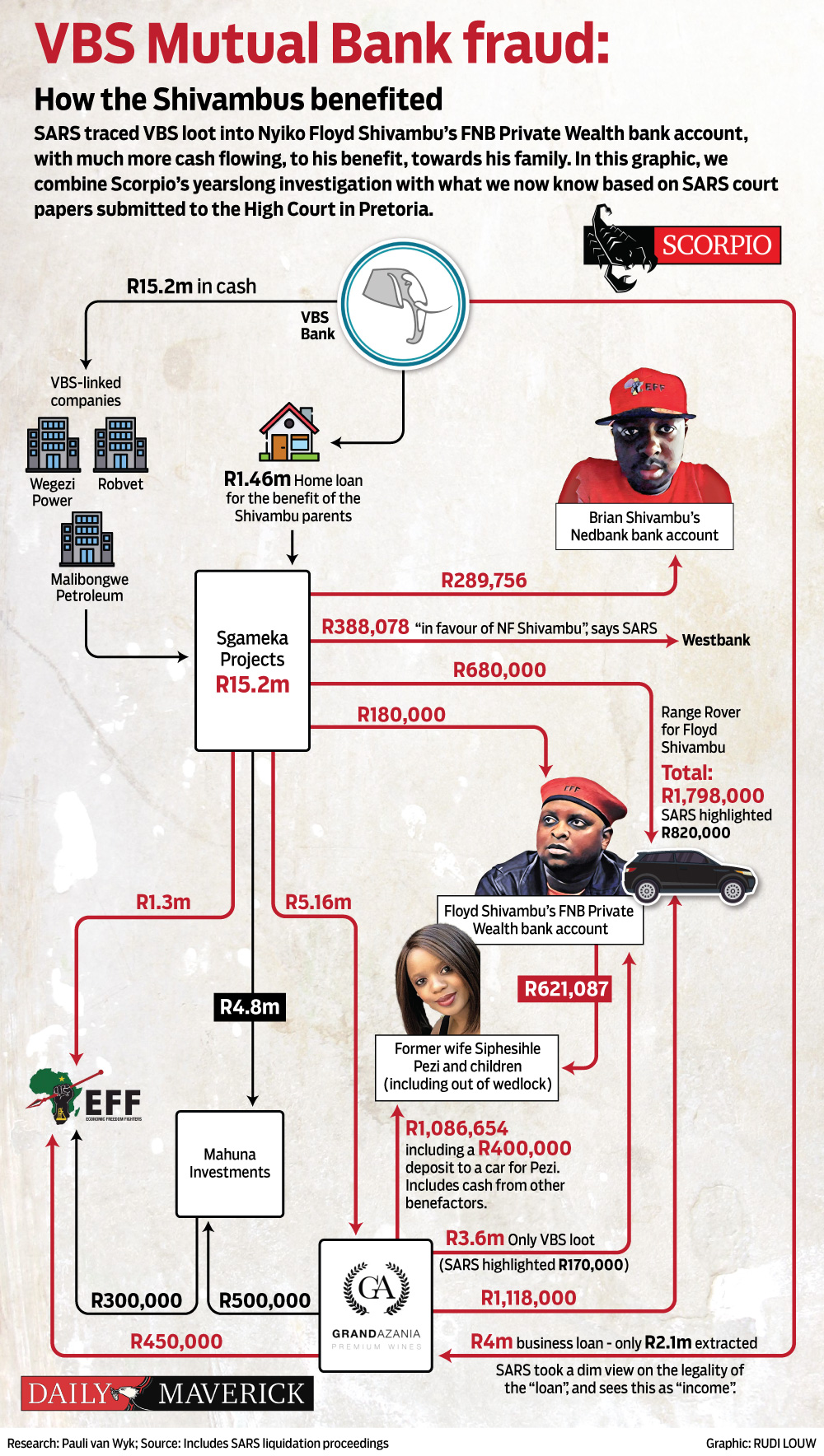 ---
Visit Daily Maverick's home page for more news, analysis and investigations
---
Scorpio has also been informed by various sources that Shivambu and EFF President Julius Malema now tend to hide their hand in business operations and prefer cash in tog bags in the boots of expensive cars. 
So it happened that Grand Azania became the pawn offered to SARS's queen. The move however obliterated Shivambu's protection. 
The fight can be expected to be taken elsewhere – most probably the Hawks and NPA, who have made no moves to bring justice to Shivambu and Malema. 
Brian's second company, Sgameka (Pty) Ltd was the original receiver of the R16-million VBS funds. SARS's Criminal and Illicit Economic Activities division also slapped this company with a R16,7-million tax bill and applied for it to be wound up. Sgameka received no income apart from the illicit VBS money, and disbursed money to Grand Azania, Mahuna Investments, which is Malema's front, and R1,3-million to the EFF. 
No judgment was made in this case yet. 
The crimes committed at VBS are becoming costly to the brothers Shivambu and Malema. In 2021, Brian had to sign a R4,55-million "acknowledgement of debt" in favour of Vele Investments. 
Brian (or rather, his brother's connections) had to pay back the money. Worse, Brian had to acknowledge that "there is no underlying basis for the payment of R4,5-million…" – meaning the money was illicit. He tried to hide the fact with a secrecy clause. 
Apart from serious reputational damage, the VBS saga is becoming expensive to the EFF clan. They now have to dish out far more than what they illicitly received to pay for their crimes. 
But where are the Hawks and the NPA? DM
---