TONGUE IN CHEEK
The sad day our rugby team, the Potholes, let us down in Paris
They got an unlikely win over England but got 'klapped' by the French and the Irish. Perhaps they needed a big bonus, rather than having to scrum hard for charity. Perhaps they should have toyi-toyied for a better deal.
Is there anything our esteemed parliamentarians can do right in this world? This bunch of well-fed, overpaid, intellectually overrated, pampered spoilt brats recently just disgraced the rest of us before the eyes of the world.
Thanks to the rugby gods, Siya Kolisi and his herd of Boks made us all proud again. They showed the world what we South Africans are truly made of.
At least now the rest of the universe knows we are not just experts in burning libraries, looting foreign-owned spaza shops, blikseming black people on farms simply because of their race, killing each other over tenders or harassing and killing women and children. Thanks to Siya K and company.
It seems, however, that, unlike the Boks, our MPs are now following in the footsteps of Bafana Bafana.
In case you have forgotten who this Bafana Bafana is, it's not a Zulu taxi driver from an Umlazi hostel. No, no, no.
It's our national men's football team. Yes, that one; those who have made losing football matches so normal that it suddenly snows in the middle of summer when they eventually qualify for a major tournament because even the gods are shocked!
In case you didn't know, Bafana Bafana have finally qualified for the Africa Cup of Nations in Ivory Coast next year.
The Bafana guys have been so bad these past 10 years that children born in that time hardly know who on Earth they are.
Such has been the decline in their fortunes that local supporters have all but forgotten about them, to the extent that visiting teams enjoy more support in the stands – as happened recently against the Democratic Republic of Congo in Joburg.
I bet there was more French than isiZulu spoken in those terraces during the match. You would have been forgiven for thinking you were in the heart of Lubumbashi.
I would understand if Bafana Bafana fans were outnumbered by Zimbabwean supporters at the FNB Stadium. Besides being our immediate neighbours, we know there are hardly any people left in that country.
Hey, those guys hate their home so much they are even fighting in the courts to make it illegal for the South African government to take them back daardie kant. More on that some other time…
A few weeks before Siya Kolisi and his manne began their defence of the Rugby World Cup title, our members of Parliament were invited to participate in the 2023 edition of the Interparliamentary Rugby World Cup in France.
The tournament featured our team of MPs, alongside those of France, Ireland, England, Scotland, Wales, New Zealand, Australia and Argentina.
Apparently the SA Parliamentary Rugby Football Club (SAPRFC) has been around since 1995 and had late former president Madiba as its first honorary chairperson.
It is said MPs, parliamentary officials, protection services employees and guest players in good standing with the club made up the touring squad.
It's a pity Fikile Mbalula is not an MP or a player in good standing at any rugby club. Otherwise, no doubt he would have made the team. Hey, did you see how the motormouth ANC secretary-general resembled Neil Amstrong in a space suit before he flew allegedly to France to support the Boks?
It was a strange yellow outfit which tjatjarag fashionistas say costs a fortune. Until I put on my glasses, I thought I was looking at a grown-up, real-life version of the Oros mascot.
They might as well have taken Bafana Bafana to that MPs' World Cup.
Moegoe MPs
Our moegoe MPs couldn't even beat the French and the Irish. They lost against a bunch of guys who spend most of their time climbing up and down the Eiffel Tower and the other ones who are forever holed up in the hills perfecting the craft of making whiskey.
Instead of scoring tries, our okes were probably half asleep, like they often are in parly. Or perhaps they were on a go-slow?
All proceeds from this tournament are channelled to charity. No bonuses or fat cheques for the esteemed (lawless) lawmakers, no blue lights either, just crunching tackles from middle-aged has-beens.
The South Africans (we can't call them anything resembling Boks; let's call them the Potholes) played three matches, snatching a surprise 50-5 victory against the English, then losing 17-41 against the Irish and 19-24 against the French. Bunch of losers!
Perhaps the South African MPs were demotivated and dispirited by proceeds going to charity.
It's actually a miracle that the South African team didn't toyi-toyi to demand more perks ahead of the tournament. Kaloku money and material benefits are what makes politicians tick.
Apparently the Boks will get a handsome amount believed to be about £5-million for winning that other tournament. You can imagine the chaos to make the team had this been the prize money for the MPs' gig.
Ey, next time there is a big international tournament, the South Africans should try out the EFF's red overalls in the line-out. Not so stylish, those Potholes! DM
Mr Styles is the former president of the Organisation for Stylish People of South Africa (Osposa). He is against anything and anyone unstylish.
This story first appeared in our weekly Daily Maverick 168 newspaper, which is available countrywide for R29.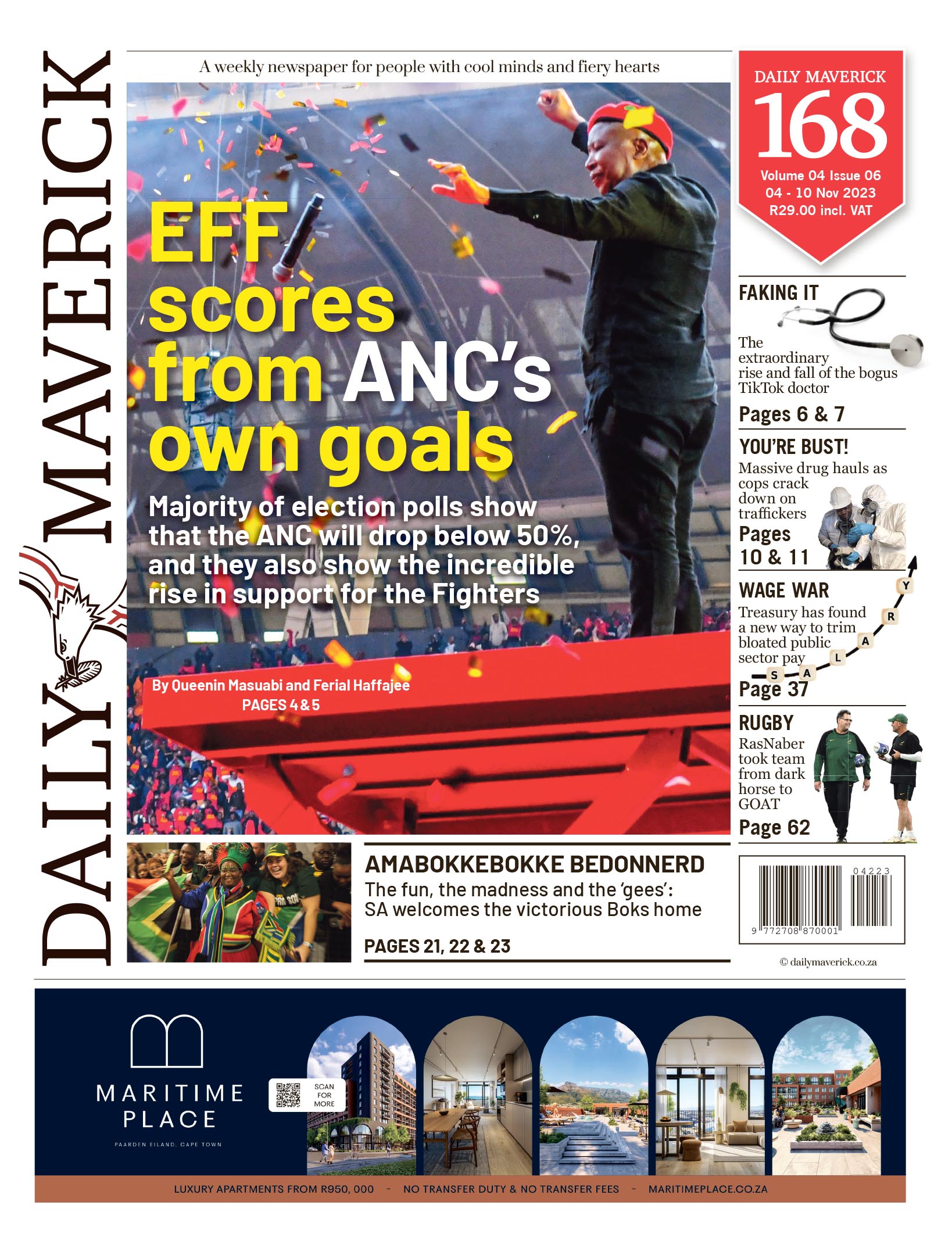 ---