CWC 2023
Proteas are delivering near-flawless games, but can they cut to the chase?
South Africa have had an outstanding Cricket World Cup. But the biggest tests are yet to come.
South Africa have been on an incredible run of form in the Cricket World Cup. They went from a team that scraped through qualification in the final spot in the World Cup Super League to topping the World Cup table.
It has been a superb month of cricket for a team that entered the tournament with doubts about their chances of reaching the knockout phase.
South Africa's win, by a mammoth 190 runs, against New Zealand provided hope that this campaign is different.
New Zealand have been South Africa's bogey team in Cricket World Cups for more than 20 years.
The last time the Proteas beat the Black Caps in the tournament was in Birmingham in 1999. New Zealand beat South Africa in every single one of the next five tournaments, from 2003 until 2019.
A few of those defeats stung more than others did.
In 2011 – when the tournament had 14 teams participating and two groups – South Africa topped their table and met New Zealand, who had edged through to the next stage, in the quarter­final.
Chasing 221 to win in Dhaka, Bangladesh, South Africa – despite having some of their greatest-ever white-ball batters – suffered an unfathomable batting collapse to lose by 49 runs.
In 2015, in a tournament with arguably South Africa's best-ever squad, the two sides met again, this time at the semifinal stage. Proteas set New Zealand 299 to win in 43 overs.
It was chased down with one ball to spare after Grant Elliott launched Dale Steyn for a massive six.
South Africa have faced a great deal of Cricket World Cup heartbreak at the hands of the Black Caps.
This time, however, not only did South Africa beat the Black Caps, they thrashed them. They're not laying questions to rest gently. They're thumping them into a coma.
This New Zealand team is nothing to scoff at either. They opened their campaign with four straight victories, and were at the top of the table during that time.
De Kock turning up
The victory on Wednesday, 1 November, was built on the foundation of a marvellous 200-run second-wicket partnership between Rassie van der Dussen (133 off 118) and Quinton de Kock (114 off 116).
Van der Dussen has been one of South Africa's most consistent batters since making his debut in the format in 2019, averaging in the mid 50s.
De Kock will go down as one of South Africa's most destructive opening batters; however, consistency isn't a word often associated with the enigmatic strokemaker. Especially at World Cups.
In 17 previous innings, across two Cricket World Cups, De Kock didn't pass 100 once.
He averaged 20.71 in 2015 and 38.12 in 2019. De Kock, who announced his retirement from one-day international cricket before the tournament, has played with an elegance and freedom as his shoulders look lifted from the pressures he carried before. The maverick batter has amassed centuries.
"It's been so good to have Quinny," Van der Dussen said after his player-of-the-match performance against New Zealand. "He has a determination about him that I haven't seen in a very long time. He's ploughing back into the team in all aspects, in the bowling meetings, in the batting meetings, being one of our senior guys. The guys really feed off him.
"At times I was under pressure, and I was asking him about a few options and just to sort of soundboard with him out in the middle. He's such a cool and calm guy out there, and thinks so clearly.
"He's not all talky — he does it out on the field. And I think that's really inspirational for us as a team and the rest of the guys on the team to see a guy like that really come up with the goods."
Closing out games
Although South Africa steamed ahead with thumpings of Sri Lanka, Australia, England, Bangladesh and New Zealand, the team did not chase convincingly.
No situation presents as much pressure on a cricket field as when chasing in a World Cup. Only players with elite mental fortitude are able to do it consistently.
The Proteas are shutting out the outside noise and focusing on their game and what they want to achieve.
"What we've done really well in this campaign is we're really just focusing on what we want to do and how we want to play it," Van der Dussen said. "In our match review meetings, we keep looking at the numbers with the coaches and, so far in this tournament, by most metrics, we're stacking up pretty well. So, at the end of the day, it's almost irrelevant who's in front of you.
"We know if we play the way we want to play and execute how we want to and take the correct options, especially under pressure, then the result is a by-product of that." DM
This story first appeared in our weekly Daily Maverick 168 newspaper, which is available countrywide for R29.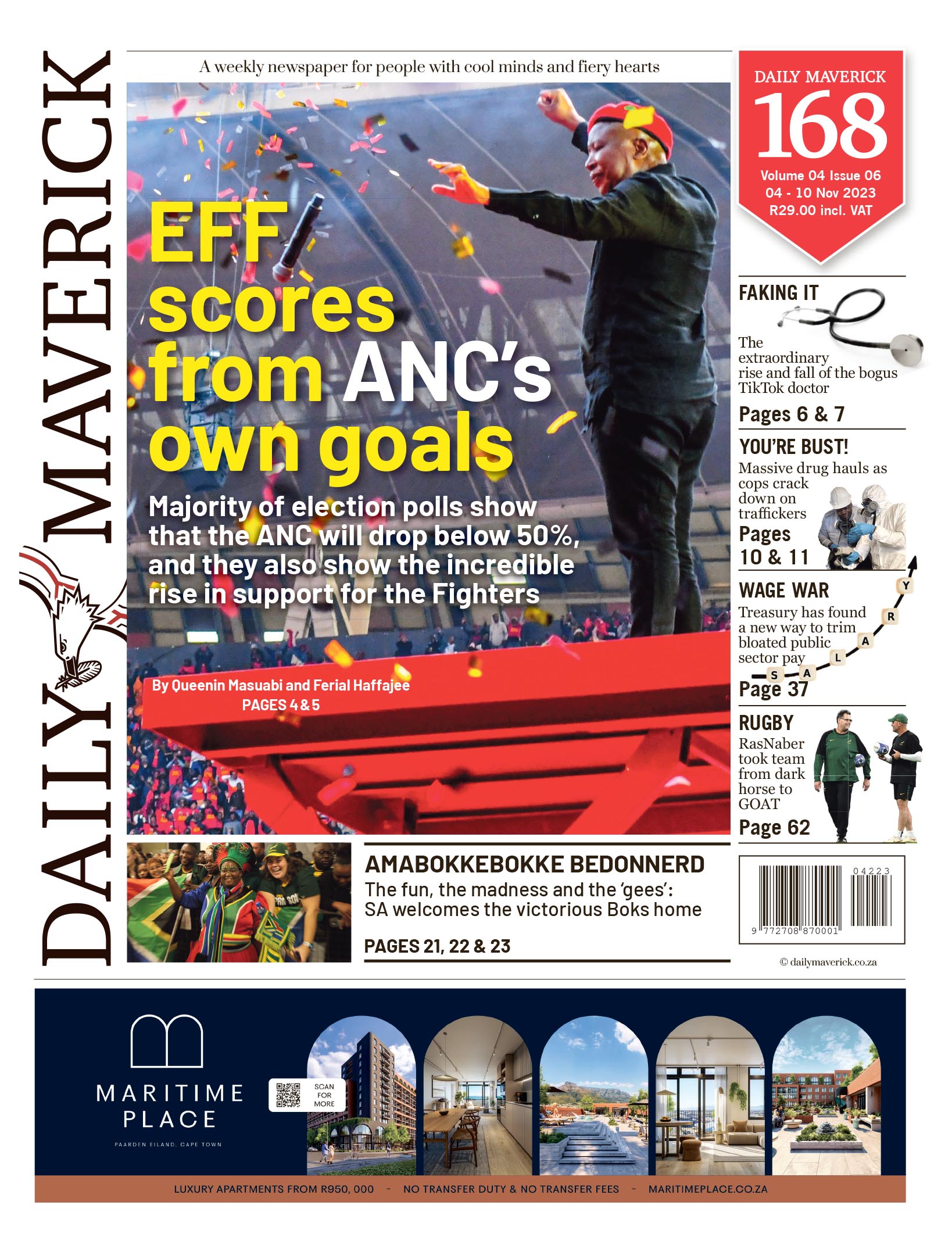 ---