THE SOUND OF MOVIES
'Like music to my eyes' — the art and inspiration of guitarist Anton L'Amour
Guitarist Anton L'Amour talks sound and vision in this edition of InArts' bi-monthly interviews, which explore culture by asking creatives about their life in the arts and what inspires them.
Anton L'Amour has been a sought-after lead guitarist for more than three decades, working with some of the top musicians in South Africa, including Afrikaans music giants Valiant Swart and the late Theuns Jordaan. After years of backing up his peers, he recently released his first solo album, Dwaalvuur, for which he wrote, performed and produced all the material.  
When did you first identify as a creative artist?
I really got into painting in oils and watercolour and was going to study art at university, but didn't, and ended up playing guitar in a band with a bunch of art students instead – one of the other members was the brilliant artist Anton Kannemeyer. It was shortly after this that I became part of the first incarnation of the Valiant Swart Band based in Stellenbosch.
Outside of your music, what branch of art most stimulates you?
Filmmaking, more specifically how directors endeavour to fulfil their vision of the topic by balancing and shaping all the elements at their disposal and fusing them all into the end result.
I think there are also similarities to the process when producing an album. I find that I often end up listening to a movie more than watching it.
Which artists in said discipline have significantly inspired you, and why?
Takeshi Kitano, Jim Jarmusch and Ang Lee are among my favourite filmmakers. The kind of movies they deliver are like music to my eyes, and as a musician I try to make songs and tunes which, in turn, are pretty visual, or at least that's what I'm going for.
Ang Lee's movies – Crouching Tiger, Hidden Dragon and The Hulk – are both great examples of a very fine balance between violence and beauty, something I aspire to when composing my own music.
What, to you, is art's most important function?
Sometimes it is enough to let the aesthetic of a piece just wash over you and you revel in the feeling it gives, but for me art is at its most poignant when you are pushed to question – invited to consider an alternative to your usual way of thinking. The most obvious prize is reaction.
Are there local creatives – in any medium – who currently excite you?
I really loved the Crumple metal sculptures that Hedwig Barry exhibited in 2022, a sort of exploration of the relationship between violence and frailty. Those massive, mangled metal shapes covered in beautiful bright colours are nothing short of spectacular. Barry also produces fantastic fine art and it is always fun and rewarding to grapple with her concepts.
What specific work, in literature, music or visual art, do you return to again and again, and why?
The album Spirit of Eden by the band Talk Talk. Released in 1988, this record was so unlike anything else at the time. With Mark Hollis's hauntingly characteristic voice at the centre of this sonic adventure, it is a masterpiece that always manages to restore calm and perspective when things are a little off kilter.
What are your thoughts regarding the artificial intelligence (AI) revolution?
The obvious red flag to me is the abuse of intellectual property. As we know, AI draws from existing creations across most media, combining the available data to satisfy the task it has been set.
Whether writers and artists – or any original creators, for that matter – will be compensated for their intellectual property remains to be seen.
An alarming parallel can be drawn here with the music-streaming giants. The likes of Spotify rely totally on the works of musicians to maintain their business model, and in return the musicians receive a pittance for their work. Basically it boils down to almost free music for the public with a R60 subscription fee to ease their conscience. I am pretty sure that the contributors to AI's database will not even receive this pittance.
Read more in Daily Maverick: Everything and the kitchen sync — Maestro Mag'Oveni on his deep well of brainspiration
Like any new tool, AI should be approached with suitable caution. I believe there may be benefits in some areas of research and development across multiple platforms. Conversely, AI could be applied for nefarious designs, so ideally this should be monitored, but then who watches the watcher?
Any current project you're unveiling or wrapping up?
I released an album called Dwaalvuur earlier this year, combining the talents of David Klassen, Concord Nkabinde, Lani Pieters and Marcus Wyatt. For me the tunes conjure up quite strong images, so I would love to shoot some videos for  a couple of the songs and hopefully have them up and running by the end of the year. DM
Mick Raubenheimer is a freelance arts writer.
This story first appeared in our weekly Daily Maverick 168 newspaper, which is available countrywide for R29.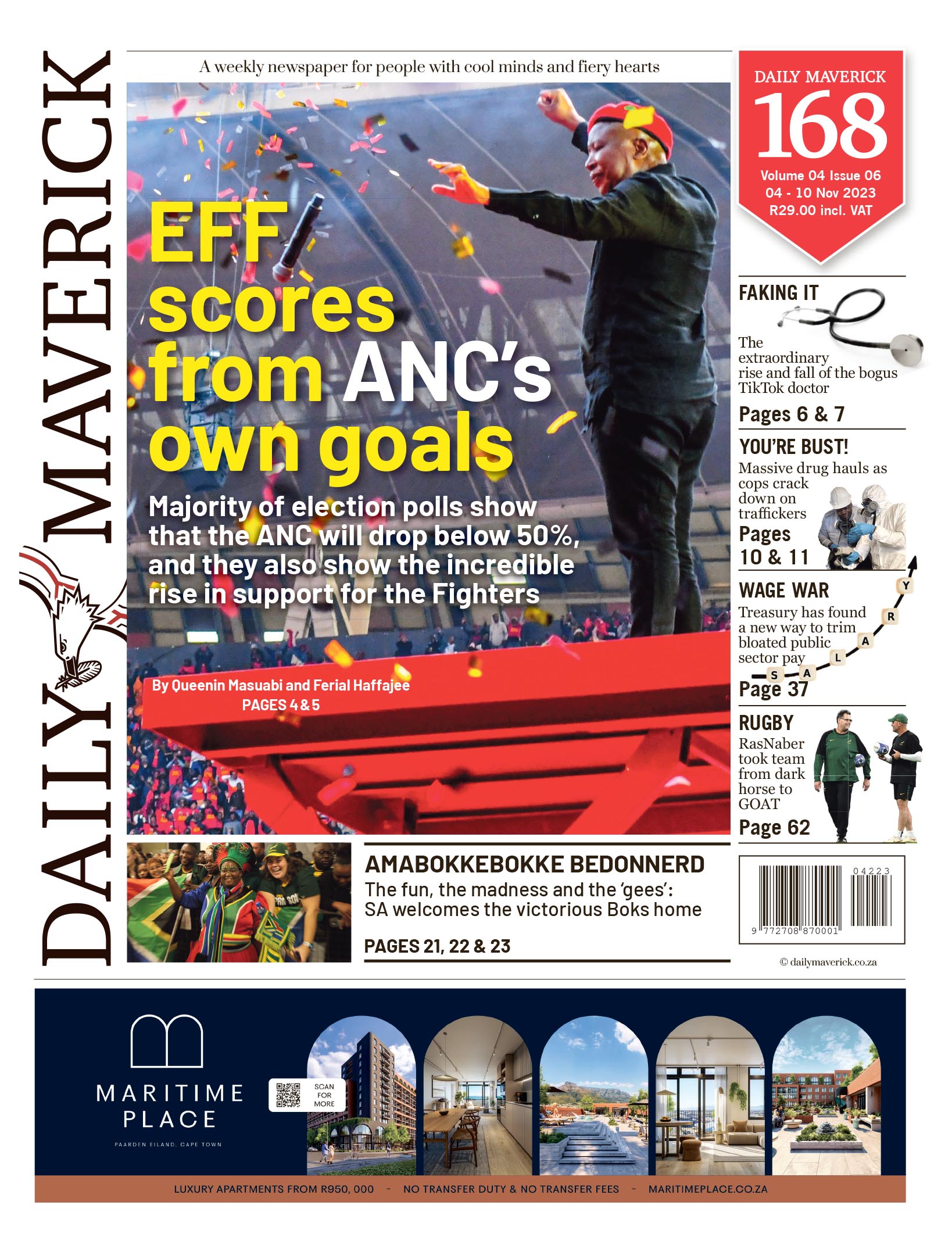 ---