BOOK REVIEW
Jada Pinkett Smith's memoir 'Worthy' is a fun summer read that will be devoured by her fans
The actor's story is one of drug highs and emotional lows, set within the Baltimore grime and the Hollywood glitz. Dripping with name drops, the book gives readers a glimpse into an American contemporary culture scene.
Just for a moment, let us put on hold our consideration of terrifying wars in Ukraine and the Middle East, and the ongoing political chaos in America. Instead, let us contemplate Jada Pinkett Smith's new memoir, Worthy. Don't snicker, stay with us on this. I read the book with an engaged, open mind and Worthy with a question mark is, in fact, the very thing the author asks about her behaviour, life and purpose – and aims to answer in this memoir.
For those familiar with her trajectory, early on Smith ran the very rough streets of downtown Baltimore, sold drugs as a teenager and concurrently studied music and theatre at a publicly funded arts high school in Baltimore and, for a year, at an arts university in North Carolina. (This reviewer knew something about those Baltimore streets, having worked in a factory years ago in one of the inner-city neighbourhoods and having mixed with some of the men there.)
Then, before she was 21, Smith had moved to Los Angeles. There she eventually broke into television (her first big role was in the hit series A Different World), some smaller indie and blaxploitation films, and then in the music industry, where she toured with a metallic rock group she had brought together. Then, of course, there has been her marriage to A-list actor Will Smith and the birth of smart-beyond-their-years children.
In addition to all that, for years she was the soul mate (but not a romantic partner) of the rap icon Tupac Shakur through his incarceration and being shot twice – he died from the second shooting. Taken together, this is quite a saga — a Horatio Alger-esque rise from obscurity to wealth and fame, with a rap soundtrack.
Eventually, though, things begin to go out of kilter. She sought emotional stability through the use of ayahuasca, the potent hallucinogenic agent, brewed from certain vines and leaves. Nevertheless, despite this seemingly unorthodox life and upbringing, her memoir offers a lens to observe American contemporary youth culture – especially among the "live hard, die young" crowd and its acolytes and imitators.
An average start
Jada Pinkett Smith did not actually grow up in the throes of the difficult circumstances of desperate poverty and social dysfunction, even if family stability was always uncertain. At least on the surface, she was not an intrinsic part of the Baltimore portrayed in hit television series such as Homicide: Life on the Street and The Wire, even if she willingly entered into parts of it.
Like many big American cities, Baltimore was defined by residential segregation, but her early memories come from living in a predominately middle-class, largely white neighbourhood. Her family's home was on the fringe of a largely Jewish neighbourhood – the kind idealised by Barry Levinson in his Liberty Heights films. (The other iconic cinema Baltimore portrayal was the white, working-class area that formed the backdrop for the film and musical Hairspray.)  
Her maternal grandfather was an anaesthesiologist at a local hospital and her grandmother instilled in young Jada a love and appreciation for the nurturing rituals of gardening and the accomplishing of quotidian household chores, along with a love of books and music.
Her grandmother seems to have been an enduring influence as a touchstone for stability in Jada's life until the older woman died, leaving a granddaughter bereft. Her parents were less able to provide a stable family. Her mother eventually became a nurse, despite a lifetime struggle with drugs, while her father struggled with addiction issues and a deep-seated rootlessness.  
Brush with death, and beyond
By the time Jada Pinkett Smith was a teenager, she was running headlong into an embrace of those mean streets. She absconded from high school regularly, increasingly dealt in drugs (but not using them by her testimony) that gave her access to real money, engaged in drinking bouts with friends of their favoured beverage of peach-flavoured schnapps, worked at being a slay queen on the dance floors of Baltimore's club scene and carried out thrill-seeking explorations of the toughest Baltimore neighbourhoods.
She once secretly went off to New York City with a friend to suss out the temptations and possibilities of an artistic life in the Big Apple, even before she had finished high school.
But a violent experience in one of Baltimore's most crime-ridden spots, at the hands of another drug dealer insistent on capturing her client list, robbing her of her product stock and relieving her of cash takings, finally convinced her she was speeding towards self destruction, and so she reluctantly agreed to enter the North Carolina College of the Arts.
As Smith said in an interview several years ago: "When I think back to who I was, living in Baltimore and what my ideas of survival were, and the kind of activities I was involved in at 13 years old, I was going to jail or I was going to see a grave. Those were my two choices, because you get caught up in a mentality." But in North Carolina she started making friends with other young people intent on careers in the cultural world. This was as she intensified her friendship with Tupac Shakur, the controversial, rap musician/poet.
After one year of university life, she chose to make the jump to Los Angeles where she gradually hustled her way into the attention of agents, talent spotters, young directors on the rise and other performers a bit further along on their own respective paths towards success. The way Jada Pinkett Smith described it in her memoir, her ascension seemed almost inevitable, given her inexhaustible energies and enthusiasm, despite her being told she had too much of a rough East Coast style and what could be called a "ghetto" accent – opposed to those smoother, California-style vocal tones preferred by casting agents and directors.
Still, she knows she is going to make it, even as, contradictorily, she is carrying within her something of an impostor syndrome over whether or not she really belongs. Increasingly, however, she does catch on, with a recurring character in the successful television series, A Different World. That show, a spin-off from The Cosby Show, depicted the trials, tribulations and victories of young black university students at the fictional Hillman College, crafted out of a mix of the characteristics of some of the country's historically black colleges and universities.
So far, Smith had lived through the trauma of Tupac's first shooting, his incarceration on sexual assault charges and then his second and fatal shooting plus the vicissitudes of her parents' continuing struggles with their own lives.
But then there was a supposedly – at least to others – nearly perfect life in her marriage with Will Smith. There was money, creative freedom, entry into the inner circle of black American cultural success and creative children. The Smith family had the freedom to do pretty much whatever they wanted, whenever they wished to do it. But by then there was also the undertone of an urban beat version of Peggy Lee's Is That All There Is as a background soundtrack for Smith's narrative.
The quest for meaning
The book actually begins with her speeding along on a Los Angeles, mountain-side road in her luxury sedan, trying to plot out the best place to drive off a cliff and end everything. Beyond the material measures of success, various forms of therapy and spiritual enlightenment had been insufficient to help her deal with the empty spaces in her soul and her heart.
For the sake of her children, though, she did not drive over the cliff's edge. Instead, she was drawn to an urban Los Angeles shaman who introduced her to ayahuasca, a drug that unlocked her inner demon, or as she called it, her personal black panther, and eventually allowed her to tame that creature. (In the cult science fiction classic, Forbidden Planet, such a demon was called "the monster from the id". Smith doesn't use Freudian terminology, but these ideas linger in the background nonetheless.)
After several sessions with ayahuasca, she found herself rebalanced, re-energised and prepared for the next chapter of her life – what she termed, in an unacknowledged nod towards Joseph Campbell and Carl Jung, the hero(ine)'s journey.
She and Will Smith disentangled themselves and she moved out of the family home to set herself up in a more modest establishment, even as they remained legally married and exercised cooperative co-parenting of their growing children. By the time Will Smith strode up the steps at the Oscars to smack Chris Rock for his taunt about Jada's hair style – in fact, the alopecia that has led her to go with a close-shaven look – the real story is this Hollywood wonder couple had not been in a fully engaged marriage for more than half a decade.
One challenge for a reader of this book is that pretty much every time the author gets close to revealing her deeper, inner thoughts and truths, her writing slides into a literary version of urban dialect that can be jarring, then her narration swivels back to more standard language and grammar in order to advance her story. Maybe this linguistic shift is a shield to protect the writer's inner self from too much revelation. We hear words such as "brilliant" and "exceptional" in describing someone, but we rarely learn what was brilliant or why it affected the narrator so much.
In fact, this memoir often reads like an expansive version of a film treatment, with the narration, dialogue and action sequences neatly arrayed, and just waiting for the right director and screenwriter to go to work on it.
It could even be something like Nathanael West's The Day of the Locust, novel and film, but without the disasters that conclude that Hollywood story. Given how Worthy has been written, it is almost inevitable someone will take up an option to turn the book into a film. The author is well-known and favourably regarded – most recently for her Red Table Talk streaming video production – and other figures in her story such as Tupac and her husband are near-universally known.
As a book, Worthy will be devoured by her fans, most especially by younger African American women eager to find their own grounding – and perhaps to channel their own inner panthers. But older folks like this reviewer may find it a useful road map to the thinking of younger people and popular cultural artefacts that some of us old ones may not have independently discovered.
This memoir might even be a good choice for a parent to give to a teenager who is already pushing boundaries – without the parents having to tell such children explicitly that engaging in risky business behaviour such as drug trafficking is not conducive to living a long and healthy life. Those who choose which books should be banned, however, may have trouble with Worthy because of some of the more provocative themes Smith has explored, despite some worthy moral lessons contained in it.
Of course, if potential readers are curious about Hollywood and the strange creatures who inhabit it, or in gleaning some salutary lessons about life in the fast lane, Worthy could be an excellent summer read. As a bonus, after reading it, you will have become acquainted with a whole list of musicians, actors and filmmakers to educate yourself about that you did not know anything about until you read this book. DM
This story first appeared in our weekly Daily Maverick 168 newspaper, which is available countrywide for R29.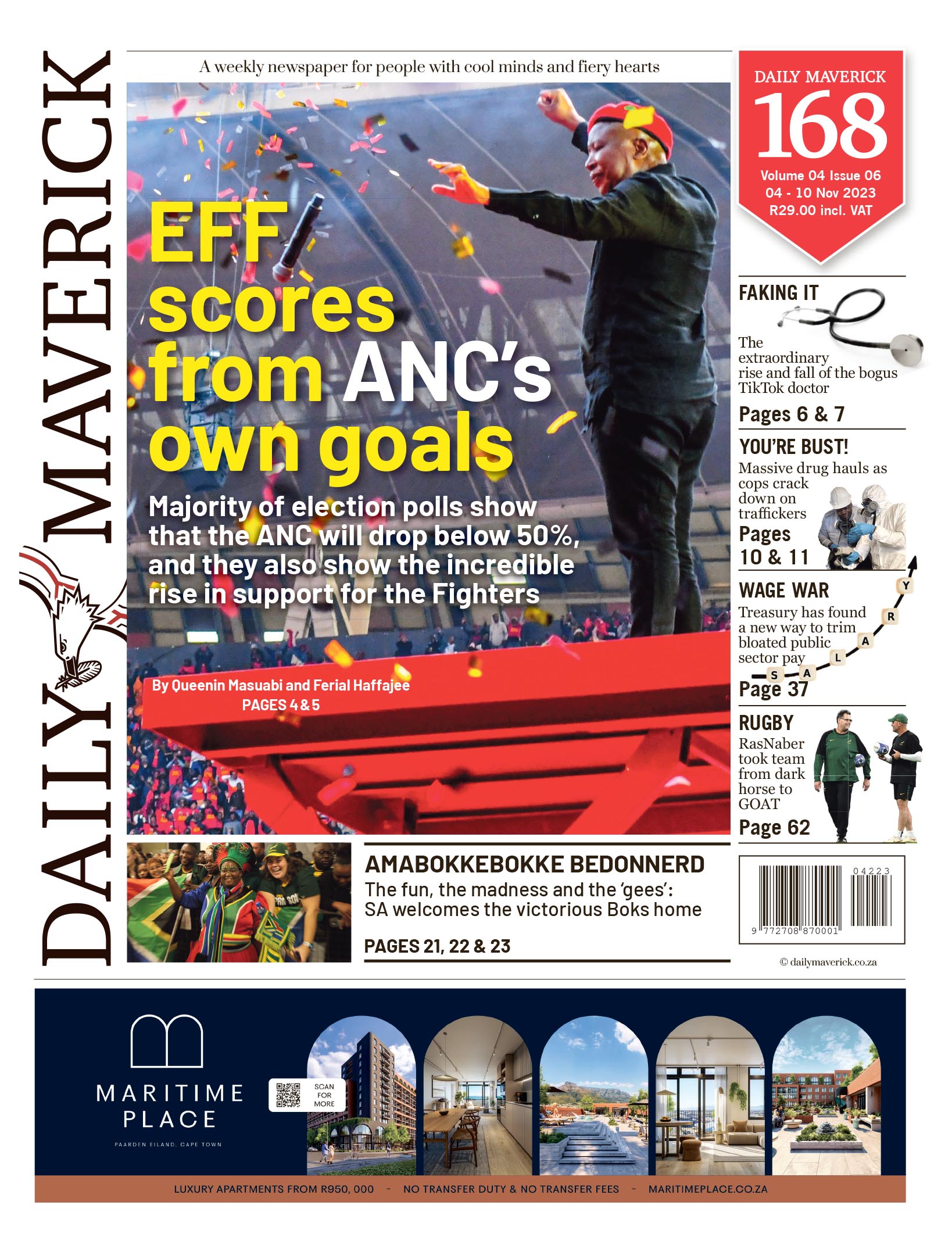 ---