PHANTOM SHARES
The Finance Ghost: The market lowdown on MTN, beer, Sasfin and Woolworths
A share price chart for MTN is something you need a strong stomach for. Thus far in 2023, the share price has lost nearly 30% of its value. That's even worse than Telkom (down 26%) and a lot worse than Vodacom, which has lost 16% this year. It's a sea of red for telecoms.
Why? Well, part of the reason is that this is a structurally unappealing sector. Data is becoming cheaper and people are making fewer phone calls every day. Load shedding means that a lot of capex had to go into energy backup solutions for the towers. Speaking of capex, each new generation of technology (like 5G) brings a wave of investment to upgrade the equipment on the towers. You may not know this, but the towers are often owned by a third party (like Swiftnet within Telkom).
So, the free cash flow situation is hit by capex requirements and top-line growth is very difficult to come by. To add to the pressure, pre-funding handsets and recouping the cash over a contract period is a major drag on working capital. This is why the telecoms companies have given it their best shot at trying to turn your smartphone into a bank. They have achieved considerable success in this regard, but it still hasn't been enough to offset the other issues with the business model.
South Africa is a mature market when it comes to cellphone connectivity, which is why the likes of MTN (and others) looked to the rest of Africa for growth. A rapidly expanding middle class means ever-increasing demand for smartphones and data services, not to mention basic financial services for a largely unbanked population. In theory, it's a sure-fire winner.
In practice, MTN Nigeria has been a regular headache for MTN shareholders. It's very difficult to repatriate cash from Nigeria to South Africa, which puts the holding company balance sheet under pressure. With the naira depreciating at a rapid rate, the Nigerian business is simply worth less to investors. To add considerable insult to injury, there's also a tax dispute with the Nigerian tax authorities.
And just when you thought it couldn't get much worse, MTN Ghana is experiencing negative real growth (a high growth rate in EBITDA of 32.6% is far less impressive when viewed in the context of inflation in Ghana running at 38.1%) and there was an accounting problem at MTN that led to the group results being restated lower for the period ended June.
If MTN doesn't keep its nose above R90 a share, a drop into the R70s is entirely plausible.
REIT this one very carefully
A Real Estate Investment Trust (REIT) needs to do two things to be in good standing with investors: (1) pay a distribution and (2) grow that distribution every year. The first part of that equation took a serious knock during Covid but has subsequently corrected for most funds. The second part is proving to be difficult in an environment of tepid economic growth and increasing funding costs that squeeze profits. Remember, property funds are highly leveraged structures, ie they have a lot of debt.
A new approach seems to be emerging that sees REITs increasing the payout ratio purely to show a growing distribution in a year when distributable income per share has moved lower. Octodec isn't the first such example, but it's the latest one.
Despite distributable income per share falling from 175.1 cents to 171.2 cents for the year ended August, the dividend (or distribution) increased from 130 cents to 135 cents. You can see that there's wiggle room in that payout ratio for them to keep using this trick, which is precisely why the guidance for the six months ending February 2024 is for between 3% and 5% growth in the distribution despite an expectation for flat distributable income per share.
Given the property sector's exceptionally poor track record of value creation for investors, I remain sceptical of the sector overall and I entertain only very selected exposures with my own money.
Bearish on beer?
In my opinion, AB InBev is a better long-term "sin stock" bet than British American Tobacco. My thesis is that people will keep drinking. If I look around at my mid-30s peer group, I really cannot say the same about smoking.
Smoking is an addiction, so it tends to withstand inflationary pressures as kicking the habit is difficult. Most people are very fortunate in that alcohol consumption is usually a choice rather than an addiction, so it can be reduced or cut entirely when budgets are tight.
In the third quarter of its 2023 financial year, AB InBev posted revenue growth of 5%. That's not exactly exciting, but at least it's in the green. The concern is that the growth is entirely thanks to pricing increases, as volumes fell 3.4% this quarter. EBITDA margins are also under pressure.
Predictably, beer consumption in South Africa grew this quarter and I'm certain the numbers that include the Rugby World Cup will be vastly stronger. The same can't be said for many other countries worldwide, so AB InBev's group performance is far less satisfying than a frosty ale.
How much worse can Sasfin get?
Banking isn't an easy game, with current conditions in South Africa ruining the party for those who hoped for a period of high loan growth at elevated interest rates. Still, Sasfin regularly seems to find innovative ways to underperform the rest of the sector.
The sale of two business units to African Bank at a great price (for Sasfin) will definitely help matters, but the core business is where the worry remains. It doesn't really help to see the Wealth business growing headline earnings from R45.5-million to R94.2-million when Business and Commercial Banking worsened from a loss of R40.3-million to R104.3-million.
Will things ever improve at Sasfin? I'm not betting my own money on it.
A dog's life at Woolworths
Absolute Pets is set to become part of the Woolworths stable, bringing over 150 stores nationwide into the group. This is a sensible strategic fit, as the Woolworths client base is inevitably a pet-owning group of people who spend a fair bit every month on keeping their furry friends happy.
Sanlam Private Equity is selling its stake, having helped Absolute Pets scale to the level where a group like Woolworths is willing to take over from here. The initial deal is for a 93.45% stake, with a road to acquiring the remaining shares from management over a period of time.
The pricing of the deal was not disclosed. DM168
This story first appeared in our weekly Daily Maverick 168 newspaper, which is available countrywide for R29.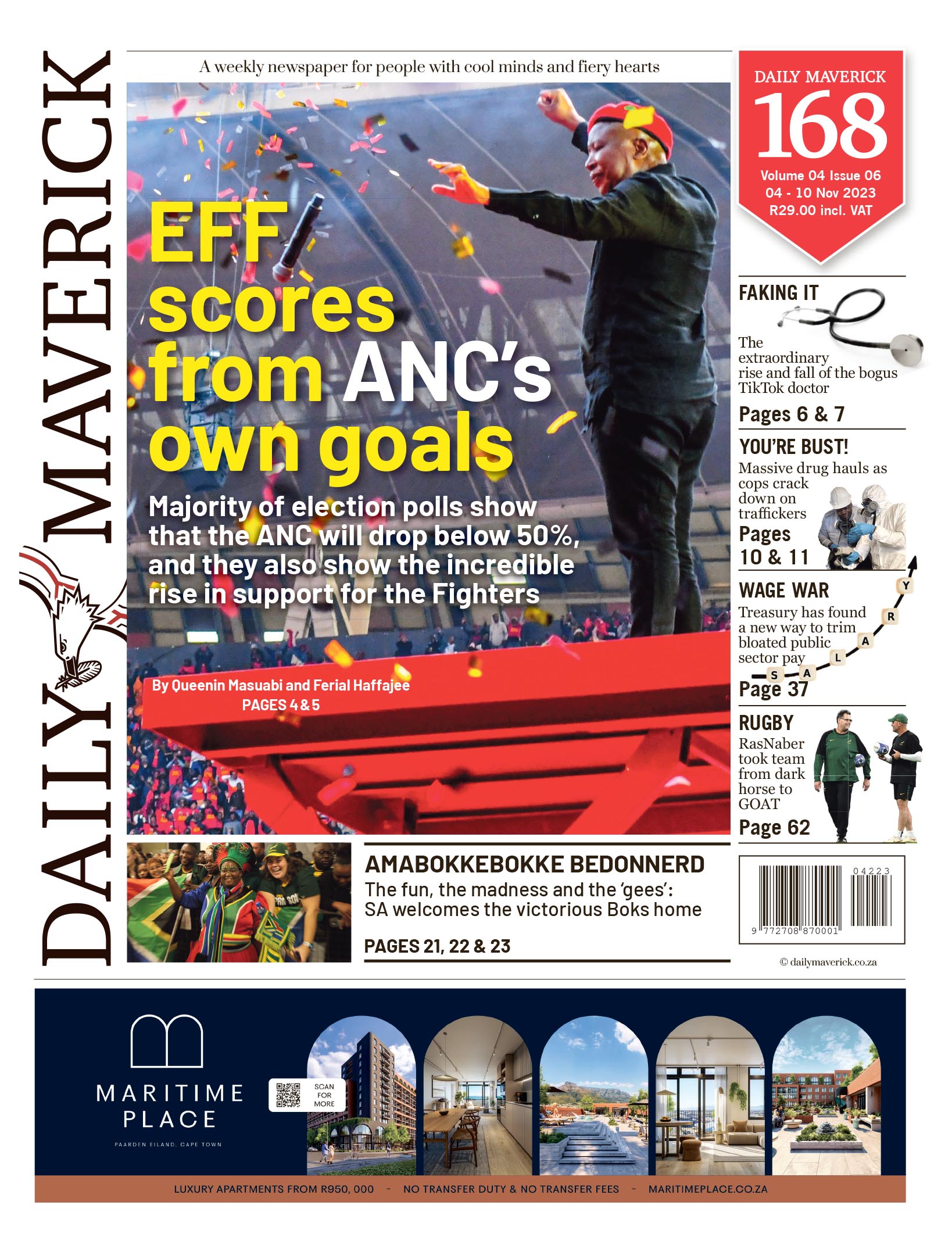 ---