Business Maverick
Nigerian Stock Index Jumps Most Since July to New Record High
Nigerian stocks rose the most in nearly four months and hit a record high on Wednesday, driven by strong earnings releases from banks and some manufacturers including Dangote Cement. 
The All Share Index rose 1.9% at 2.30 p.m in Lagos, the most since July 10, to 70,581.76, the highest on record, according to data compiled by Bloomberg. The Nigerian index outperformed the MSCI Emerging Markets Europe, Middle East and Africa Index, which advanced 0.6%.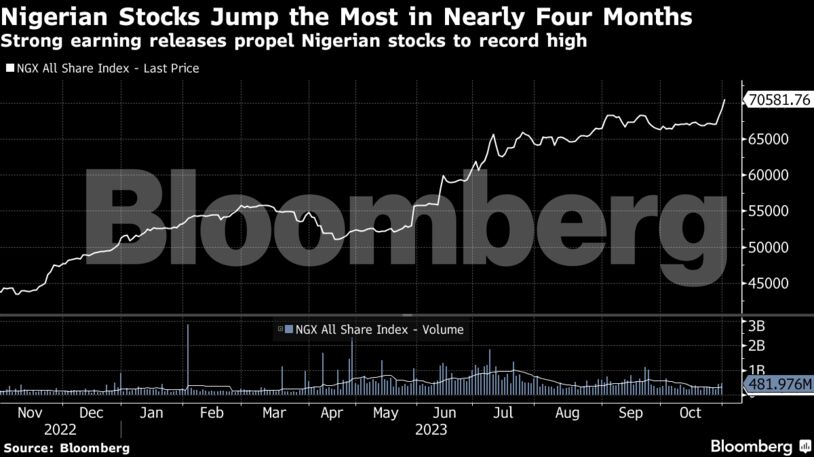 Earnings from banks have been solid, alongside reports from manufacturers including Dangote Cement, Tunde Abidoye, a securities analyst at investment bank FBNQuest in Lagos, said by phone.
The banking index was up 2.2% to 732.24 points, the highest since Oct 2008. The index is up 75% this year and is heading for its best performance in at least 10 years.
"The interest-rate environment and revaluation gains are positive for the banking stocks and are helping the index," Abidoye said.
Nigeria's biggest lenders have seen their third-quarter earnings more than double, boosted by foreign-exchange revaluation gains. Zenith Bank, the country's second-biggest bank by assets, reported net income for the nine-month period of 433.9 billion naira, compared with 174.23 billion naira a year earlier. UBA Plc's net income of 442 billion naira was nearly 400% higher compared with the previous year.
Dangote Cement, Nigeria's second-biggest firm by market value, also saw net earnings jump 44% from a year earlier, driven by double-digit increases in prices of the building material. The company's shares are up 5.8% in the last five days and 26% year-to-date.
Leadership Change
Stocks have rallied since President Bola Tinubu's government scrapped costly fuel subsidies and devalued the naira, rising 38% year-to-date in local currency. However, a 42% devaluation of the naira means that they are down 22% year-to-date in dollar returns, making it one of the worst-performing equity markets globally.
Gains in local currency have been driven mainly by local investors looking to protect their savings against soaring inflation, which quickened to 27% in September, and the weakening naira. Foreign investors sold a net 7.9 billion naira ($9.86 million) of Nigerian stocks in September, according to the Lagos-based Nigerian Exchange.
Airtel Africa Plc led gains on Wednesday, advancing 10%, the most in about 22 months. The firm's share price traded at 1,694.10 naira, the highest since Oct. 14, with trading volume at about 11 times the 20-day average.
"More banks are going to be releasing results, so it's a trend that should continue," Abidoye said. "The pace can only be weakened by the non-financial companies that are affected by naira devaluation and seeing higher finance costs that have affected their financials."
---