The government will show "zero tolerance" for monopolies in spot and futures markets, and for speculation and hoarding, the National Development and Reform Commission said in a statement after leaders of top metals producers were called to a meeting on Sunday. China's strengthening push to rein in surging prices rippled across its markets, with aluminum falling, steel dropping more than 5% and iron ore almost tumbling by the daily limit.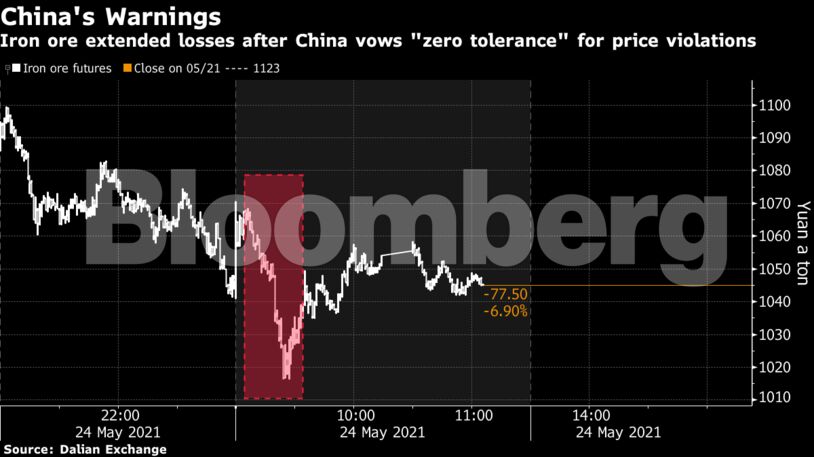 "With policy risk shifting toward government intervention, prices will surely be affected by market sentiment," Li Ye, analyst at Shenyin Wanguo Futures Co., said by phone from Shanghai. "The rapid surge in commodity prices have badly affected manufacturers and market orders, leading to losses and defaults."
Commodities have climbed this year as optimism over a global economic rebound fuels demand bets, with a Bloomberg gauge of materials rising to a decade high. But Beijing is also tackling the consequences of its own, separate efforts to control output on emissions or safety grounds. That's also fueled price gains.
The NDRC's statement is the toughest comment yet from the government, which started warning about higher raw materials prices in April. The officials from iron ore, steel, copper and aluminum firms that met with five government agencies in Beijing on Sunday were told excessive speculation and rising international prices were to blame for recent advances.
China's efforts to put the brakes on the commodities rally will feed an increasingly sharp debate about the threat of global inflation as the world economy ramps up. The country's factory-gate prices rose at the fastest pace in more than three years in April, sparking concerns that costlier raw materials could hurt its recovery or feed into higher consumer prices.
But the fact that Beijing is dealing with a problem partly of its own making is most evident in steel, where prices spiked to records after the government launched targets on output curbs and ordered production to fall this year.
"Another week, another Chinese government announcement trying to soothe the self-inflicted wounds caused by regular statements on steel capacity reforms, which fueled steel prices and margins," said Atilla Widnell, managing director of Navigate Commodities.
Chinese steel rebar futures were 3.7% lower at 11:04 a.m. local time, while hot-rolled coil fell 4% and iron ore dropped 4.5%.
–With assistance from Annie Lee.