BUSINESS MAVERICK 168
Pandemic punches: Gym memberships hit the mat as industry is forced to adapt
Fewer people are going to train, so gyms are learning to adapt.
First published in the Daily Maverick 168 weekly newspaper.
Global research from RunRepeat this year has found that about 71% of gym members are not using their subscriptions and that more than a quarter don't plan to return, even after being vaccinated. Locally, gyms are hanging on, but are adapting.
Nick Rizzo, fitness research director at RunRepeat, says he was expecting a more positive response.
"What this shows us is that the fitness industry has changed permanently, and a return to 'normal' is impossible."
Of South African respondents, he says, 35% do not plan to return, regardless of whether they are vaccinated. Less than half of South Africans with gym memberships are using them in person, and 29% have cancelled or paused their subscriptions.
Gillian Elson, head of marketing at Planet Fitness, says that although it has had some cancellations of contracts, membership has stayed "pretty consistent" and did not experience the large decrease the company would have expected amid the pandemic.
"People have realised that to build up their immune systems to combat the virus, whilst they wait for the vaccine, they need to be fit and healthy and that in turn has created an upsurge in attendance and new memberships." Elson also attributes this to the company's safety protocols having given people the confidence to return to the facilities.  
Mark Field, managing director of Virgin Active South Africa, says that although the pandemic has created a decline in membership, year-on-year cancellations have remained consistent. "The bigger challenge to our business was not being able to sell during the lockdown period. However, since resuming sales we have seen an encouraging steady improvement."
Field expects "the market to remain relatively tepid until we have achieved some form of mass immunity". Use of Virgin Active facilities has recovered to about 70% of pre-pandemic levels.
Although Virgin Active has had tensions with landlords in places such as the United Kingdom, Field says: "In South Africa we have found most landlords to be supportive in the circumstances and have worked with tenants in the spirit of a long-term partnership."
Planet Fitness CEO Manny Rivera says "the business burnt a significant amount of cash as we were not billing our members at all during lockdown".
The company has avoided retrenchments, but did use UIF funding for staff who suffered pay cuts. Rivera also says the group was supported by landlords and banks. "We also had significant cash reserves due to the previous year being a record year, which allowed us to have enough cash to absorb the pain during lockdown."
Rizzo says the statistics showing declining memberships do not mean the demise of gyms; the industry must adapt to the particular needs of the fitness community in the area of a particular gym. This could be that people want particular features they don't have available at home workouts, like a pool, or that they want particular exercise classes.
"When vaccines are widely distributed, many will seek to shop around for the gym that is going to suit their needs and best help them achieve their fitness goals."
Rizzo projects that one of the possible major changes to the industry may be an unbundling of services: instead of a gym catering to various needs, smaller business opportunities pop up to cater to specific types of exercise. "Companies are receiving major million-dollar rounds of funding just to tackle smart home rowing equipment or interactive boxing workout equipment."
He expects there to be greater competition with the traditional gym model, but that consumers may start to rely on several services. "Because of this, I think it is possible that larger gyms with poor membership retention and engagement will likely continue to struggle, as the one-size-fits-all approach means they are not serving any specific need exceptionally well."
Elson says that not only has Planet Fitness not closed any fitness clubs, but it is also opening up additional branches. "We are confident and optimistic about the country's economy and we are therefore sticking to our aggressive expansion plans with the roll out of another 12 … clubs over the next 15 months."
Field echoes Rizzo's view that the industry is likely to evolve, for instance through digitisation. "While we expect some near-term consumer weakness as the economy recovers from the pandemic, our long-term prognosis is that Covid-19 will be positive for the industry." DM168
This story first appeared in our weekly Daily Maverick 168 newspaper which is available for free to Pick n Pay Smart Shoppers at these Pick n Pay stores.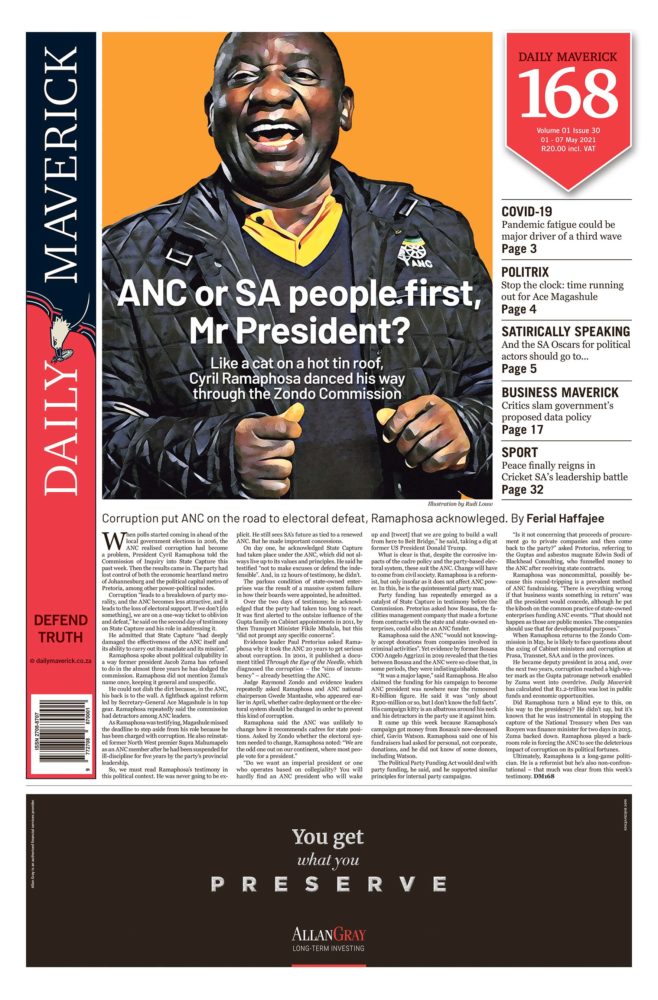 ---