Newsdeck
Apple Selloff Deepens to $212 Billion on China iPhone Curbs
Apple Inc. shares tumbled Thursday, on track to wipe out $212 billion of market value in just two days, as China plans to expand a ban on the use of iPhones to government-backed agencies and state companies. 
Shares of the Cupertino, California-based company fell as much as 5.1%, bringing its two-day slump to 7.1%. Apple is the biggest component in major US equity indexes, adding to a broader selloff sparked in part by a litany of woes in China.

The world's second-biggest economy has been slumping amid a protracted crisis in its real estate market, threatening demand for everything from commodities to consumer electronics. The iPhone maker counts China as its biggest foreign market and global production base. Adding to Apple's troubles are rising US Treasury yields as bonds sell off on worries the Federal Reserve will have to step up its fight against inflation as the US economy remains resilient.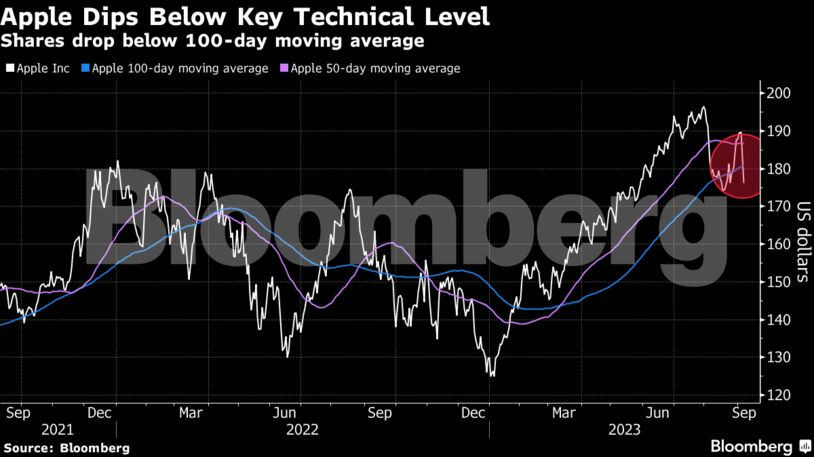 Bank of America Corp. analyst Wamsi Mohan notes that the "timing of the potential ban is interesting" given the recent launch of Huawei Technologies Co. high-end 5G-capable smartphone.
Huawei's Mystery Phone Shows Wireless Speeds as Fast as Apple
If Beijing goes ahead, the unprecedented blockade might also affect several other US technology companies that rely on sales and production in China. Apple suppliers across continents were trading lower on Thursday as multiple reports confirmed China's latest changes.
However, bullish analysts like Wedbush Securities' Daniel Ives think the effect of an "iPhone ban is way overblown" as it would affect less than 500,000 iPhones of the roughly 45 million he expects to be sold in the country over the next 12 months.
"Despite the loud noise Apple has seen massive share gains in China smartphone market," Ives, who has an overweight rating on the stock, wrote in a note.
---