Thematic exchange-traded funds – ones that focus on stocks around a particular subject – have taken over as the most common way to launch products in areas like clean energy or gender diversity. According to a report by RBC Capital Markets, 56% of sustainable fund debuts so far in 2023 have been labeled thematic rather than ESG. This follows a similar breakdown seen last year, writes RBC's Sara Mahaffy.

How toxic has the "ESG" label become? BlackRock Inc. Chief Executive Officer Larry Fink spent years positioning his firm as leader in ESG investing, only to face outcries from Republican politicians who pulled more than $3 billion in state funds from his firm. On Sunday, Fink said he's retiring the "weaponized" term since it has been "misused by the far left and the far right."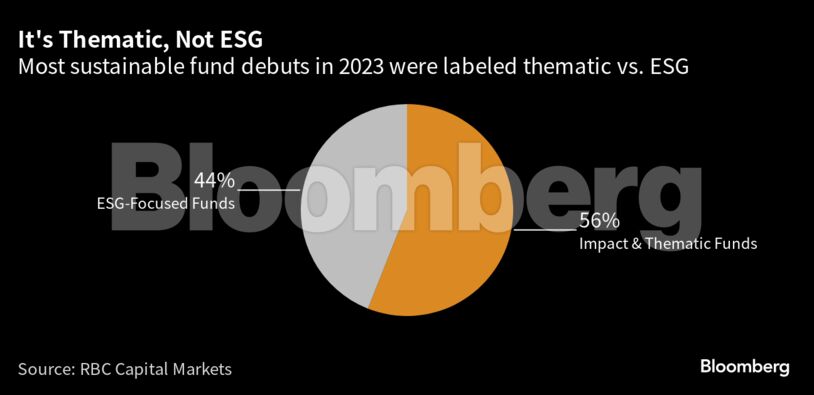 This is why Avantis Investors' Phil McInnis says staying away from labels and focusing on client returns is the best bet.
"If I try to force tofu on a steak lover, or a rib-eye on a vegetarian, chances are nobody will be happy," the chief investment strategist wrote in an email.
Thematic funds aren't only used for sustainability products; they're also used for categories like energy, and artificial intelligence. A thematic label isn't enough to guarantee success — fad ETFs on themes like mind-altering drugs and cryptocurrencies have closed this year. And the sustainable thematics have a mixed track record, RBC found, with strong recent flows into low-carbon index funds but outflows from ETFs focused on sustainable agriculture and diversity and inclusion.
"You could look at ESG in two categories: broad and targeted," said Eric Balchunas, an ETF analyst at Bloomberg Intelligence. "Broad, you can compare returns to the S&P 500. The targeted ones are a bit more like sector funds."
Read more: Why Wall Street's Climate Efforts Are Failing
Even as some fund managers rebrand their ESG-related products, others are urging proponents to push back against those who decry "woke capitalism." And their opposite offerings — anti-ESG funds — have largely failed to draw major investor interest.
In fact, ESG funds crossed $2.3 trillion in assets during the first quarter of this year, according to Bloomberg Intelligence, though BI's Shaheen Contractor predicts this growth will likely see a slowdown driven by political and concentration risks.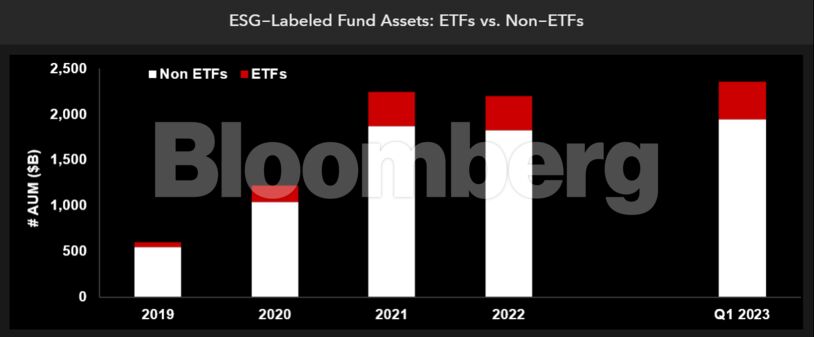 The splicing and dicing of ESG is a natural evolution of an industry that is seeking to widen its approach and investor base, according to Todd Sohn, a technical strategist at Strategas Securities.
"It's a step in the right direction," he said.