As he presented his Recovery Plan to Parliament on 26 April to relaunch the Italian economy, Prime Minister Mario Draghi warned that the 'destiny of Italy' depends on the plan's success.
First published in the Daily Maverick 168 weekly newspaper.
He might have added that the future of Europe does too.
At stake is an audacious gamble on relaunching and redefining the European economy. Conceived after the first wave of Covid-19, the European Recovery Fund has been hailed as a make-or-break moment for the European project of integration and "ever closer union".
At its heart is the European Commission's vast programme of borrowing more than €800-billion, which will then be disbursed from Brussels to member states as loans and grants, in return for those states undertaking extensive structural reforms as agreed with Brussels. The idea is to make the European economy more productive, greener, more digital and more equitable.
Italy is by far the largest beneficiary of the programme. It argued successfully last summer that not only was the country cruelly on the front line of the pandemic in Europe, it has also suffered from decades of European Union-imposed austerity and underinvestment. About €240-billion was therefore earmarked for Rome to spend on its post-pandemic renaissance or about 12% of GDP.
The reality is that the Italian economy has been a consistent underperformer and handbrake on European economic growth for decades. Draghi writes in his introduction to the 340-page Recovery Plan that in the 20 years since the euro was adopted there has been negligible economic growth in Italy, while the economies of Germany, France and Spain have expanded 32%, 33% and 42% respectively.
Similar to South Africa, Italy's economy was battling before the devastation wreaked by the pandemic. The past 13 months have threatened to be the final knockout blow.
Draghi's plan is therefore to allocate unparalleled investment to areas like investing in the green economy, digitalisation of the Italian state and under-resourced areas like healthcare and education. High-speed rail links to the poorer south will be constructed, a nationwide electric car-charging network rolled out, and a countrywide high-speed 5G network built. A total of €4.6-billion will be allocated to new kindergartens alone.
But the crux of the European Union's plan is that it is not all about spending. Alongside these investments, cuts and reforms will be made in the areas that have most hindered the Italian economy. The notoriously bureaucratic public administration will be cut and simplified, Italy's sclerotic justice system will be reformed, and the unfathomably complicated fiscal system will be streamlined.
The former European Central Bank governor and economics professor forecasts that the combined effect will be to raise the Italian GDP growth rate to 3.6% by 2026.
But the reality is that, regardless of what happens in Rome and Italy over the next 10 years, it will have profound effects outside its borders, in Europe and the rest of the world.
Committed European integrationists like Draghi are gambling that if this plan plays out as forecast it would have the effect of turning the third-largest European economy from a laggard into a growth engine for the continent, and would therefore be a massively compelling argument for the establishment of a permanent European fiscal union alongside the existing monetary union.
However, this outcome is far from certain.
If, as Eurosceptics believe, the money will be wasted on white elephant vanity projects and corruption while the reforms are blocked by the formidable entrenched stakeholders and patronage networks, it could put a halt to the European project permanently, and could potentially put it into reverse.
For countries like South Africa, a strong, growing and united Europe is important. It is South Africa's second-largest trading partner, and acts as a critical liberal democratic counterbalance and bulwark against Russia and China.
"I am certain that we will succeed in implementing this plan," said Draghi. "I am sure that honesty, intelligence and a care for the future will prevail over corruption, stupidity and vested interests. This certainty is not unconsidered optimism, but trust in Italians, my people and our capacity to work together…"
The rest of the world can only wish him well. DM168
This story first appeared in our weekly Daily Maverick 168 newspaper which is available for free to Pick n Pay Smart Shoppers at these Pick n Pay stores.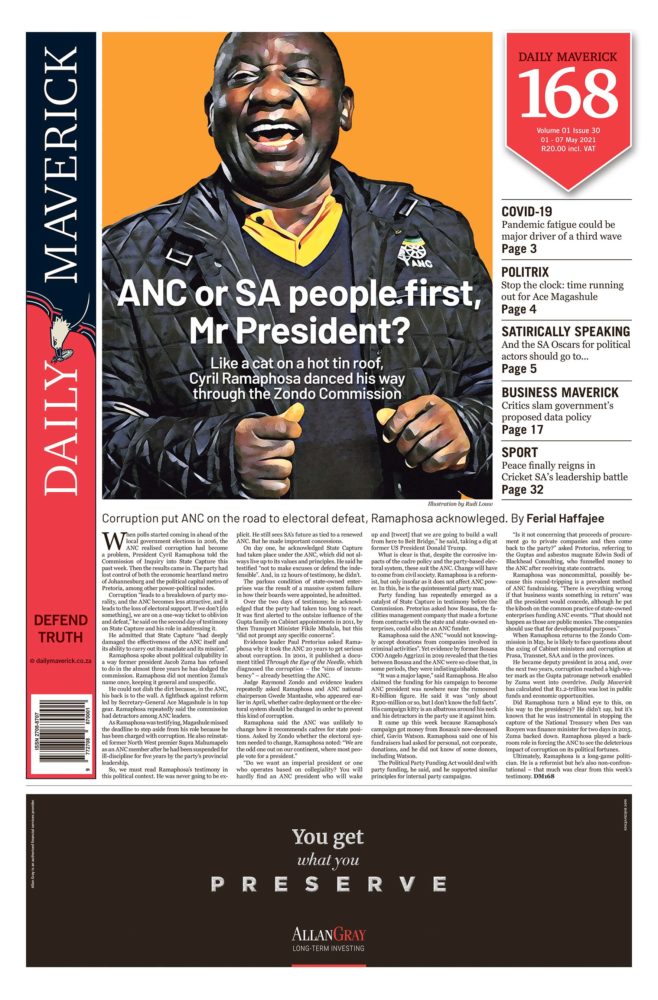 ---