Overseeing SA's biggest infrastructure investment in two decades while managing a massive manufacturing and export operation is only achieved with total commitment by all personnel.
First published in the Daily Maverick 168 weekly newspaper.
Nobody would dispute that Ford knows how to build motor vehicles.
Ford Motor Company of Southern Africa is closing in on a century of doing so, having started assembling the Ford Model T in a converted woolshed in Gqeberha, Port Elizabeth then in 1923.
We contribute more than 1% of South Africa's GDP by exporting two-thirds of our local production of nearly 170,000 vehicles to more than 100 global markets. Ford invested R11-billion in South Africa between 2009 and 2018 to bolster that output.
Naturally, we're proud of that. But business, like life, is never static. In February 2021 we announced an investment of $1.05-billion in our South African manufacturing operations – the biggest investment in Ford's 97-year history in South Africa.
It's a massive undertaking that will transform our Silverton operation specifically, increasing our annual installed capacity to 200,000, supporting production of the all-new Ford Ranger pick-up for the domestic market and export. The expanded production will help create 1,200 incremental Ford jobs in SA, increasing our local workforce to 5,500 employees and adding about 10,000 new jobs across our local supplier network.
Ford is also working closely with all three spheres of government and relevant state-owned entities such as Transnet in developing the Gauteng Province – Eastern Cape Province High Capacity Rail Freight Corridor. It will link the Silverton Assembly Plant and the new Tshwane Automotive Special Economic Zone (TASEZ), located adjacent to the Silverton plant, with Gqeberha, home to Ford's Struandale Engine Plant and the Coega Special Economic Zone.
It is projected to create thousands of jobs within the value chain.
The expansion at Silverton will add nearly 8km² to our facilities, including 58,000m² of earthworks, 31,400 tonnes of structural steel, nearly 7,000m² of concrete and 6km of sprinkler lines.
This upgrade will take place while we continue our normal production. And here's the crux of the matter: the only way to expand your facilities during a pandemic without affecting ongoing production, is if you have unwavering buy-in from your people.
So how does one achieve that? I can't claim a definitive answer, but I have three insights from 30 years at Ford, since I started as a trainee in the Paint Shop in 1991.
The first is to spend time looking and listening. I do that by walking the floor of the plant. I spend 90% of my time at work doing so. "Managing by walking around" helps unlock something very powerful for managers: the insights of your people. That changes your outlook. I don't see ranks. Irrespective of whether you are an hourly operator on the assembly line or a plant manager, we are all the same. We are all part of Ford Motor Company, working from the same manual, towards the same goal.
We listen to our customers, and we also listen to our employees. I spend so much time on the plant floor because I know that respect and trust are earned, not given. Ensuring that everyone's voice is heard within an environment of mutual accountability allows you to leverage the team effect, which makes for a lean operation. Empowered employees are happy employees. And happy employees are productive employees.
My people know exactly what I stand for, what is expected of them and what I will not tolerate.
As a leader, you have to communicate and clarify any changes in direction with your employees. People like to know where they're going. Uncertainty creates anxiety, and when people are anxious, they become distracted, demotivated and unproductive.
Your people want to see the bigger picture. In the automotive manufacturing industry, for example, we know that customers are moving from a product-based mindset to a values-based mindset. But I need to break down this concept into lay terms and explain what it means to each and every one of our employees and their role in our company.
They need to understand that the vehicles they are building today are destined for living, breathing customers tomorrow. Not just customers in South Africa, but customers in more than 100 countries around the globe.
They also need to understand we have an important role to play in growing SA's economy. We aren't just building vehicles here. We have been given an opportunity to help create a prosperous nation, and when times are tough, we have to hold on to that perspective.
This touches on business strategist Sidney Yoshida's "Iceberg of Ignorance" model, which found that in very hierarchical businesses, workers on a factory floor knew exactly which problems faced an organisation, and that the level of understanding decreased sharply with seniority. That decline can be countered by spending time experiencing what your personnel experience.
The second insight is to embrace – and insist on – diversity in your teams. The automotive sector, like any sector of industry, is better and stronger for having a diverse workforce.
I can proudly cite the examples of colleagues like Lesego Madiba, Dorah Mmekwa and Yandiswa Mdlalose, each a shining example of what a woman who doesn't let gender stereotypes get in her way can achieve. Through sheer hard work and driving passion, they proved to have no limitations in a traditionally male-dominated environment.
The third insight is to embrace change. This is a dynamic industry, and the cars we are building now look very different from those that Henry Ford was building – or even the cars we were building when I started at Ford in the early 1990s. And they will change significantly over the next decade.
The workers on our assembly line nowadays are far more than operators. They must also be problem-solvers and should be able to contribute to the company with cost-saving and productivity improvement proposals. We also need to develop team leaders and process coaches from within our ranks.
Considering the importance of our export business and the global shift towards electric-powered vehicles, we must and will be ready for this in SA too, and we must be ready to help stakeholders like our dealer network adjust to that when the time comes.
Noble-sounding words, yes. But when that ethos of humanity is backed with actions, it can achieve great things. The jobs that will be created – by the R15.8-billion investment and by Ford's commitment to the TASEZ, the rail corridor and our green energy project – lend weight to that humanity. The fact that we've been able to avert job losses in Covid-19 is a source of incredible pride and gratitude. DM168
This story first appeared in our weekly Daily Maverick 168 newspaper which is available for free to Pick n Pay Smart Shoppers at these Pick n Pay stores.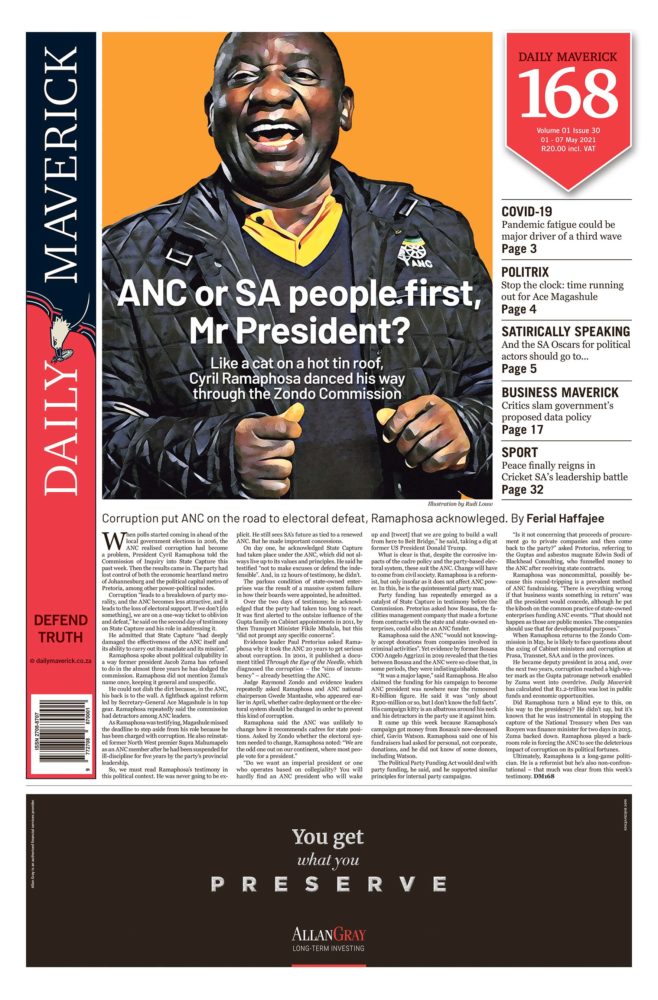 ---