ChatGPT creator OpenAI sparked a storm of controversy and speculation Friday with the ouster of its co-founder and chief executive officer, Sam Altman. The news shocked investors, partners and employees and has left the world's preeminent artificial intelligence startup in a precarious state. 
Here's what you need to know:

Why is OpenAI so important?

The San Francisco firm released ChatGPT a year ago and the AI chatbot now has 100 million weekly users. ChatGPT's huge success triggered a tidal wave of investment in generative AI and thrust artificial intelligence into the mainstream consciousness. OpenAI's technology has also become the benchmark for a growing list of rival AI companies around the world.

OpenAI was valued at about $86 billion in a tender offer that was approaching completion in the days before Altman's exit. That share sale now hangs in the balance. OpenAI's close relationship with Microsoft Corp., which holds a roughly 49% stake of OpenAI and is its key provider of computational power, only adds to the startup's stature in the industry. Microsoft shares gyrated in response to the twists and turns in OpenAI's leadership upheaval.

What just happened at OpenAI?

On Friday, a somewhat vague statement from the OpenAI board said Altman was being terminated as CEO because "he was not consistently candid in his communications with the board." Greg Brockman, a fellow co-founder, was demoted from the board and quit in protest. Both men returned on Sunday to try and negotiate a return to OpenAI, conditional in part on replacing existing members of the board. OpenAI's investors and top executives also pressed for Altman to be reinstated.

Instead, OpenAI's board named Twitch co-founder and former chief Emmett Shear its second interim CEO, after the first — Chief Technology Officer Mira Murati — advocated in favor of Altman and Brockman returning to the company. Microsoft boss Satya Nadella then said Altman and Brockman would lead a new in-house AI research group at the $2.8 trillion software company. Nearly all of OpenAI's employees have since threatened to quit and join Microsoft unless Altman is reinstated and the board resigns.

What do the rival factions want?

Altman has been the figurehead driving OpenAI from its roots as a nonprofit outfit into a globally known brand associated with the cutting edge of AI research. But Altman also clashed with members of his board over how quickly to develop generative AI, how to commercialize products and the steps needed to lessen their potential harms to the public, people with knowledge of the matter have said. The board of directors has notably not made any additional public statements clarifying the reason for Altman's departure.

For Microsoft, OpenAI is the key to its AI strategy. Nadella has signaled he'd be happy with Altman and his team either within Microsoft or returning to OpenAI — so long as he can still count on the collective strength of expertise and research he had this time last week. Others in the industry, such as Nvidia Corp. and Salesforce Inc., have already offered to hire OpenAI's unsettled software engineers. AI talent is the most scarce resource in the industry, after Nvidia's gold-standard accelerator chips.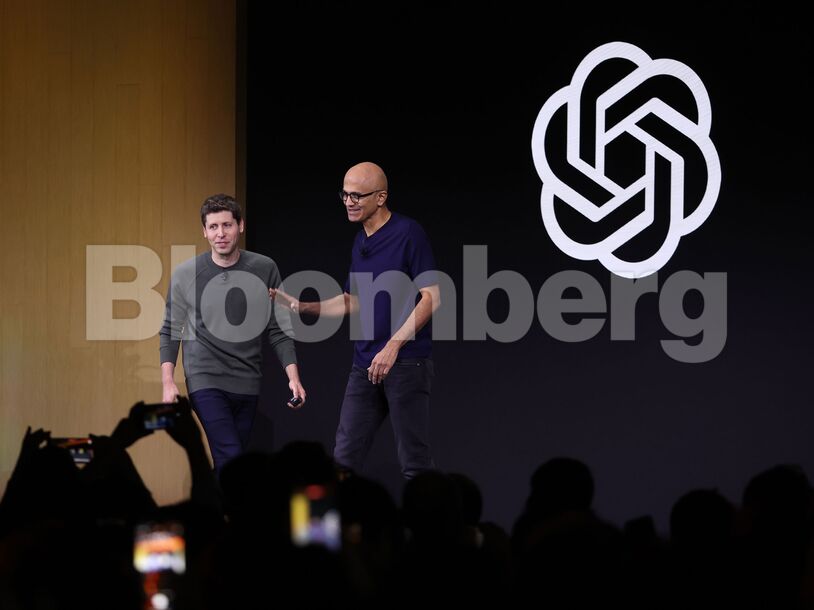 Why do some people think OpenAI's technology could be dangerous?
For the same reason they worry AI in general poses a threat. There's a widespread fear that the hasty development of AI that can learn and improve without human help may yield an intelligence that spirals out of our collective control. However, the technology likely remains a long way from this theoretical scenario. People are also working to understand the full implications of smarter computers that can augment or displace jobs, make accurate predictions about the future and simulate human reasoning and conversation.
How does OpenAI's turmoil reflect the bigger debate over AI?
While we still don't have a full explanation of the board's reasons for terminating Altman, the schism over the pace of commercialization appears to have been a key issue. That has played out in several other arenas. Google, for instance, has long advocated a slow and cautious approach, which made it look like a laggard when OpenAI made a splash with ChatGPT, despite more than a decade of investment and research into AI.
Labels such as "accelerationist" and "safetyist" have emerged, drawing dividing lines around how optimistic a person's viewpoint is about the potential benefits and harms of AI. Some accelerationists have argued that the US must move as fast as possible in order to avoid being passed by China, whose investment and work in AI are "just astounding to see," according to Google CEO Sundar Pichai.
Alphabet's Pichai Says China Will Be at Forefront of AI (1)
Why do people want Altman back at OpenAI?
He has been instrumental in raising OpenAI's profile and negotiating the multibillion-dollar deal with Microsoft that set up the company with the technical resources it needed. His background working at startup accelerator Y Combinator and mixing in Silicon Valley venture capital circles also means he's well positioned to lead the firm as it seeks further investment and support.
The $86 billion tender offer, led by Thrive Capital, has not yet been canceled outright, but it now appears contingent on Altman's return and the restoration of OpenAI to the business it was before Friday's drastic change.
What's next for artificial intelligence?
The novel technology is the subject of regulatory reviews and consideration worldwide, with the UK recently organizing an international conference to discuss proper approaches to its adoption. Private companies and governmental bodies are in the process of negotiating how to mitigate the potential harms without stifling innovation. Even in China, where Beijing has been first out of the gate with a defined set of stipulations around AI's use, the approach is mindful of the benefits and competitive advantages of leading in the technology.
As to AI's development and uses, right now the task for most is to acquire as much computational power to train large foundational models as possible. Next on the agenda will be optimization and specialization. Before the chaos of the last week, OpenAI was working toward developing AI "agents" that can tackle more complex tasks for users.
---