Newsdeck
Microsoft on Pace to Hit All-Time High After Hiring OpenAI's Sam Altman
Microsoft Corp. hit a new all-time high after the software giant hired OpenAI co-founders Sam Altman and Greg Brockman to lead its new in-house advanced artificial intelligence research team.  
The Redmond, Washington-based company's shares had edged lower on Friday after Altman's shock exit from the creator of ChatGPT. The shares recovered on Monday, rising 1.9%, as analysts noted that they don't see the firing affecting the OpenAI-Microsoft relationship and said they were positive about Altman's new role at the Windows software maker.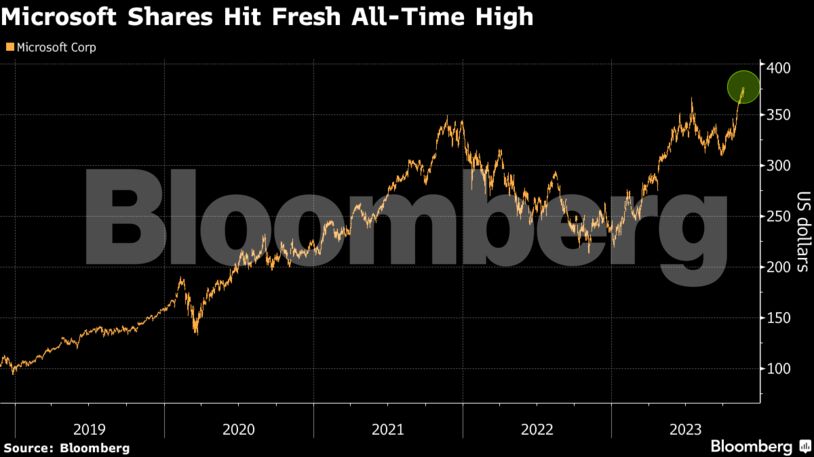 This is a "clear win" for Microsoft and "should help offset concerns regarding potential near-term uncertainty at OpenAI," Evercore ISI analyst Kirk Materne wrote in a note.
Meanwhile, OpenAI's board replaced Altman with Emmett Shear, the former CEO of Twitch, defying calls from investors to reinstate the startup's ousted chief. Separately, Wired reported that about 500 OpenAI employees threatened to leave the startup and join Altman at Microsoft unless the board resigns and reinstates him as CEO.
Microsoft Ends Weekend of OpenAI Drama With Coup of Its Own
"While it remains to be seen how much 'brain drain' there will be at OpenAI, we think the fundamental risk to Microsoft is largely contained with Altman and team on board," said Materne.
Technology stocks have been rebounding in recent weeks as cooling inflation lifted hopes that the Federal Reserve was near the end of its rate-raising cycle. The rallies have meant that both Apple Inc. and Microsoft are inching closer to $3 trillion market capitalizations.
---