Newsdeck
Tencent's Profit Beat Allays Fears of China Downturn Fallout
Tencent Holdings Ltd.'s earnings beat estimates after video advertising on WeChat propelled growth, a sign that Chinese consumers are turning to social media and games despite a nationwide downturn.
The WeChat operator reported growth across divisions from gaming and advertising to fintech, driving a 10% gain in revenue to 154.6 billion yuan ($21.4 billion) for the September quarter. Net income slid a less-than-expected 9%, reflecting both ramped-up spending on content and a big one-off gain in the year-ago quarter when Tencent disclosed it would pare its stake in Sea Ltd. Shares in Prosus NV, a proxy for Tencent as its largest shareholder, climbed more than 6% in Europe.

The results may help assuage concerns that the world's largest internet market has lost steam after years of regulatory and economic turmoil. They suggest lower-cost and leisure spending remain resilient despite pullbacks in segments from luxury to overseas travel. Investors worry the Chinese economy may enter a deflationary spiral, a fear reinforced by lackluster spending on e-commerce platforms during this year's Singles' Day shopping festival.

Online advertising, typically associated with the economic climate, was Tencent's fastest-growing division with a 20% gain in revenue. That was driven in part by growing user engagement in WeChat's video accounts, where total views climbed 50% during the quarter. That's good news for Tencent, which has tried for years to fend off a charge by TikTok-owner ByteDance Ltd. into online media.

Notably, the company's gross margins neared 50%, or levels not seen since 2018. Its adjusted net income, which strips out exceptionals, gained 34%. Executives will continue to look for ways to return cash to shareholders, despite already doling out some $24 billion to investors so far this year. The company for now favors buybacks over dividends or sales of assets given valuations are historically low, President Martin Lau told analysts on a conference call.

The "current level of gross margin is sustainable and we believe there is room for it to grow further," Chief Strategy Officer James Mitchell said.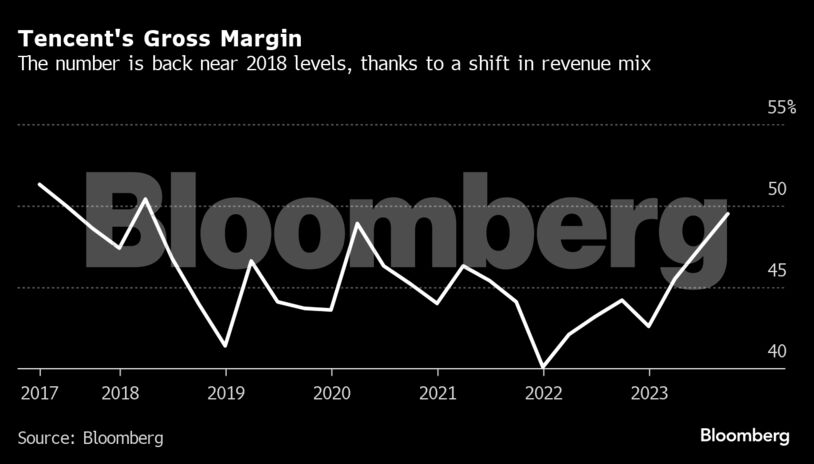 Read More: JD.com's Revenue Beats Estimates After Discounts Drive Sales
More broadly however, Chinese consumption remains muted due to a plethora of headwinds from a crumbling property market to rising youth unemployment. Deflationary pressure worsened in October, fueling expectations the world's No. 2 economy needs more stimulus. And Tencent's own pace of expansion remains well off a pre-Covid peak. Some of the quarter's growth came from abroad, after international gaming revenue surged 16%.
Alibaba Group Holding Ltd. and NetEase Inc. will report earnings Thursday in another set of signals on how e-commerce and gaming fared during the post-pandemic reopening. Online retailer JD.com Inc. on Wednesday reported results that surpassed expectations.
"The substantial year-over-year improvement in gross margin points to structural profit gains driven by a shift in revenue mix," Union Bancaire Privee analyst Vey-Sern Ling said. But "the positive stock response also underscores how low expectations have sunk, a factor to bear in mind across the remainder of China tech reports the next few days."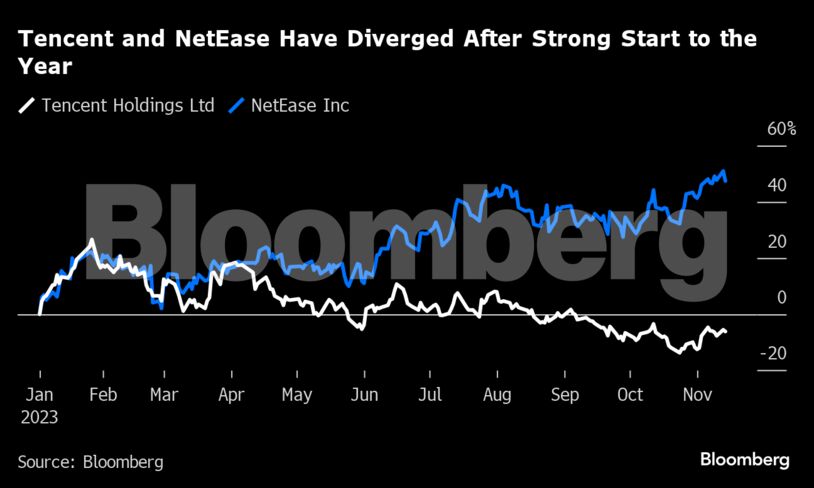 Tencent hopes its mainstay businesses from gaming to payments are less vulnerable to the downturn as consumers keep spending on low-ticket items. Monetization by summer hits including Valorant and Lost Ark is expected to fully kick in during the remainder of this year, while the world's biggest games publisher expands Honor of Kings – its most lucrative intellectual property – into more genres.
There're signs that Tencent is beating back a foray by its main social media rival into gaming. ByteDance is considering the sale of Moonton, a high-profile studio it bought for $4 billion just years ago, in what would be the TikTok operator's biggest retreat from the space.
Read More: ByteDance Weighs Sale of Gaming Studio Behind Mobile Legends
Longer-term, Tencent joins much of the Chinese tech sector in exploring the potential of generative AI. Its in-house large language model, Hunyuan, is now integrated with more than 180 services including search and online marketing. Together with arch-foe Alibaba, the Shenzhen-based company also made multiple bets on domestic AI upstarts in the so-called "war of a hundred models," helping mint new unicorns like Baichuan. On Wednesday, the company pledged to continue investment.
Lau said Tencent won't run out of the high-end chips essential to training AI, which Washington just banned from selling into China. The company had built up one of the country's largest stockpiles of Nvidia Corp. H800 chips, enough to train at least a couple generations of Hunyuan, he said.
Read More: Tencent Stockpiled Nvidia AI Chips for 'a Couple of Generations'
For now, WeChat remains a more dependable growth driver than any AI foray.
China's go-to super app is credited with engineering a turnaround in ad sales, after its short video feed lured users and marketers back from ByteDance's Douyin, Mitchell said.
But TikTok's Chinese twin, meanwhile, is rapidly encroaching on WeChat's territory, adding real-world services like e-commerce and food delivery.
Shares of Tencent have plunged roughly 25% since its January high, trailing the Hang Seng Tech Index despite the buybacks and dividends this year. Tencent's largest shareholder Prosus remains an overhang, as the Dutch investment arm of Naspers Ltd. has been gradually offloading its Tencent stake to fund its own buybacks.
---