Business Maverick
China's Economic Recovery Is Losing Momentum, Data Show
China's consumption rebound slowed and private business confidence lost momentum in October, according to independent surveys and alternative data that suggested the economic recovery remains bumpy.
An indicator of Chinese consumer demand for recreation and transport published by Paris-based QuantCube Technology, along with an independent survey of consumer sentiment by US company Morning Consult, both fell in October from the previous month. A poll of private business sentiment from the Cheung Kong Graduate School of Business also declined in the month.Those measures — together with official data showing weak service sector growth and falling consumer prices in October — imply the nation's consumption rebound struggled last month, even as Beijing announced more fiscal stimulus. China's leaders in July warned the world's second-largest economy is following a pattern where short growth upturns are followed by downturns.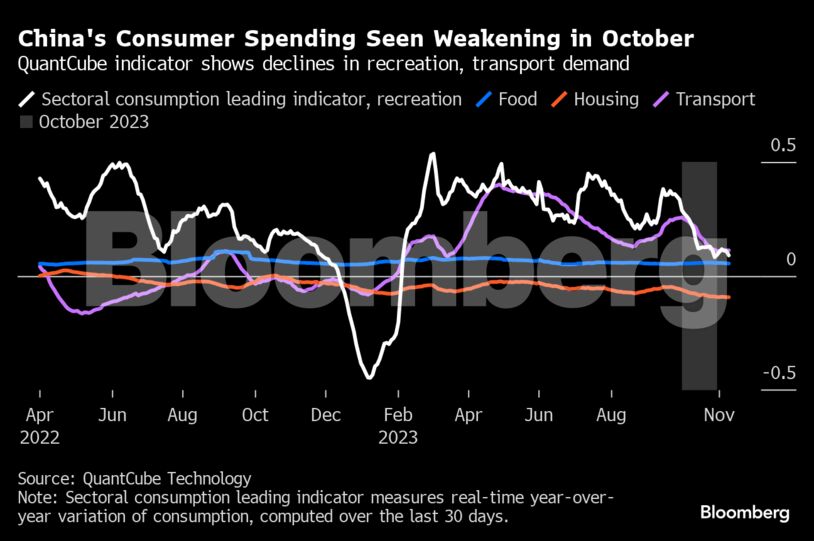 "We are looking at a zig-zag recovery that needs continued stimulus to keep growth close to the 5% area that the government is aiming for," said Allan Von Mehren, chief China economist at Danske Bank A/S, referring to this year's official growth target. "I think the key areas to put efforts on stimulus is the housing market and consumers."
Credit data released by China's central bank Monday showed corporate and household demand for long-term loans remained weak in October. Government borrowing made up a record share of new financing, suggesting fiscal stimulus is the main economic support for now.
The outlook for consumption is especially important, as it has been the main contributor to demand growth in the economy this year, according to official statistics. October began with the eight-day Golden Week national holiday, where tourist spending per person remained below pre-pandemic levels.
Beijing in late October announced an unusual 1 trillion yuan ($137 billion) additional government bond issuance, earmarked for post-flood recovery and disaster prevention. While that can help support employment, "it still does not seem sufficient to improve consumer demand," Von Mehren added.
The QuantCube indicators are based on alternative data sources, such as web search queries, transportation figures reflecting people's movements, and consumer reviews.
"Despite the government's latest financial stimulus, during October our data indicates a persistent deceleration across all sectors, notably in transportation," the company said in a report.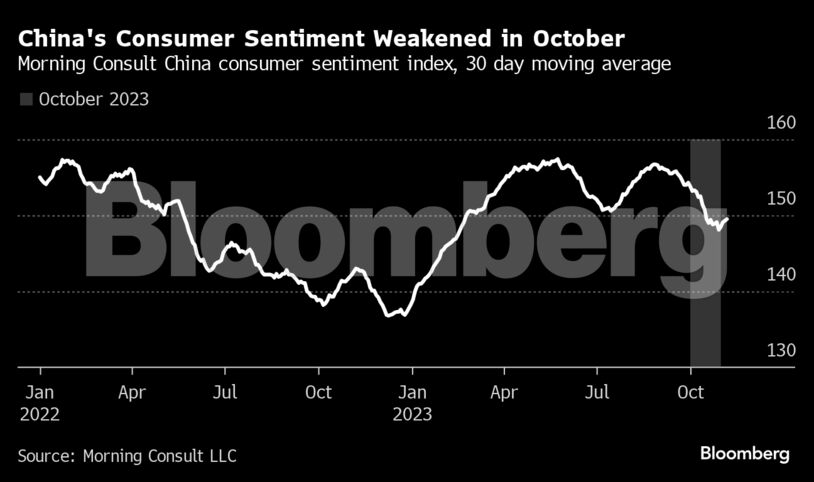 Morning Consult's consumer sentiment index — which asks consumers about their personal finances, expectations for business conditions and attitudes on major household purchases — fell below 150 for the first time since February, the company said in a report.
"Confidence in China is falling fast," it added.
In addition, an index of private sector business conditions by CKGSB in Beijing fell slightly in October from the previous month and remained below the threshold indicating confidence. The survey covers privately owned companies that are generally relatively successful within their sectors.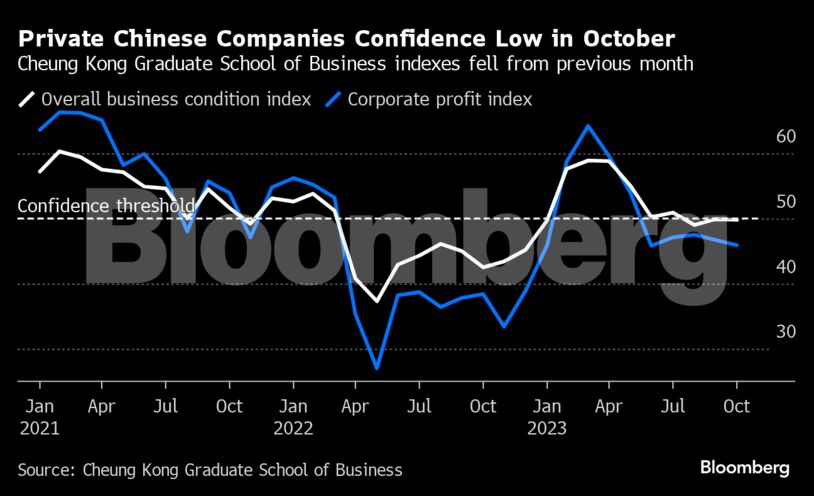 The survey's index of profit expectations has remained below the confidence threshold for five successive months. "For profit expectations to stay below the confidence threshold for an extended period has not been often seen in our 12-year-long survey," the business school said in a report.
On Wednesday, China is set to release official data including retail sales for October. Several indicators are expected to improve from September in year-on-year terms, partly because many cities tightened coronavirus restrictions in October last year, resulting in a lower base of comparison.
Goldman Sachs Group Inc. economists expect retail sales growth to rise to 6.2% on-year in October, from 5.5% the previous month. But that implies a 0.5% drop in month-over-month annualized terms, compared with an increase in September.
"With PMIs disappointing and exports declined by more than expected, we think activity probably softened from September to October," Goldman economists led by Hui Shan wrote in a note. Combined with signs of weaker housing and steel demand in early November, "growth appears to be hitting a soft patch" in the first half of the fourth quarter, they said.
Property Worsens
Retail sales growth generated by China's biggest online shopping festival, which runs from October through November, was slower than in previous years. The value of sales rose 2.1% from last year, significantly lower than the 14% increase recorded in 2022, and apparently the lowest in many years, Nomura Holdings Inc. economists led by Lu Ting said in a note citing third party data.
China's property sector also shows signs of worsening this month, Nomura said, with sales in 21 major cities falling 44% from 2019 levels in the early weeks of November. That's similar to the pace of contraction in July, before Beijing started a new round of property easing measures, the bank said.
"Beijing needs to take stronger action to rescue the property sector and clean up local government debt to secure a more sustainable recovery," it added.
The next scheduled opportunity to assess the government's support for the economy also comes on Wednesday, when the central bank reveals the volume of funds it will inject into the banking system through its medium-term lending facility, and the interest rate on that lending. China's money-market saw a liquidity scare in late October.
"Weak inflation and the recent liquidity squeeze call for stronger policy support this week," Carlos Casanova, senior Asia economist at Union Bancaire Privee in Hong Kong, wrote in a note, adding that a 10-basis-point cut to the lending rate from its current 2.5% level was possible. "Frankly speaking, the sooner the better," he said.
---