PUBLIC SECTOR PAY
Treasury adopts a new approach to rein in bloated public servants' wage bill
Treasury will provide new money to fund pay increases for critical and personnel-heavy professions; others will be funded from departments' existing budgets.
The government has taken a new approach in an attempt to rein in the rising cost of paying public servants: only give increases to frontline and labour-intensive professions. National Treasury has allocated R111.4-billion over the next three years to adjust the pay of public servants in the departments and professions that it deems to be critical, such as education, health, police, defence and correctional services.
It is a step change in how Treasury approaches remuneration in the state. In previous years, all public servants, regardless of which department they worked in, would be in line to receive a pay rise.
Of the R111.4-billion pencilled in by Treasury, about R24-billion will immediately go towards helping to fund pay increases of 7.5% for public servants in the current fiscal year (2023/24) that it didn't fully budget for, which left a big hole in public finances.
The balance will go towards remuneration only in personnel-heavy sectors, including health, education and the police service, over the next three years.
Since 2020, Treasury has attempted to implement a pay freeze in the public sector to stabilise the cost of paying SA's 1.2 million public servants. But it failed to do so as it faced pushback from public sector trade unions, which embarked on several strikes.
Set at R646.4-billion in 2023/24, the cost of paying public servants is the single largest component of government expenditure. It gobbles up 30% of total expenditure of R2.26-trillion in the current fiscal year, crowding out spending on capital projects for future growth as well as items crucial for service delivery. In other words, 30% of the government's expenditure goes to just 2% of the population (public servants).
Ballooning public sector pay
An analysis by Treasury of public sector pay – contained in the 2023 Medium-Term Budget Policy Statement documents – found that unsustainable pay levels since 2013 have resulted in more public servants moving into higher-earning categories. The number of public servants with annual earnings of more than R1-million has increased from just more than 10,000 in 2013/14 to over 55,000 in 2023/24.
Almost half (48%) of public servants will earn between the annual ranges of R350,001 and R600,000 in 2023/24, Treasury found.
It is struggling to wrestle down the cost of compensation. Its projections show that the cost to remunerate public servants or compensation cost will continue to rise over the next three years, from R646.4-billion in 2023/24 to R720.3-billion in 2026/27.
But Treasury is now intent on limiting above-consumer inflation percentage increases to the pay of public servants, which has been the main driver of the growth in the compensation cost since 2013.
To this end, Treasury is now prepared to allocate new money to frontline and labour-intensive professions. For others, it is increasingly asking provincial government departments to accommodate pay increases from their existing budgets.
However, provinces argued that it would be unfair for the national government to negotiate unaffordable pay increase settlements centrally and then to deny provinces the funds to implement them. Treasury was sympathetic to the argument as it provided partial funding of R17.6-billion for provinces to be able to implement pay increases.
However, a Treasury official told Daily Maverick that asking provinces to bankroll pay adjustments for public servants independently, especially those whose professions are deemed not to be labour intensive, would be the norm in future.
"Departments will be expected to absorb the wage increases within their baselines, including, where necessary, by managing headcounts. The government will assist in managing headcounts, including implementing controls on payroll systems to ensure executive authorities operate within their budgets when creating and filling vacant posts," said the official.
The labour movement response
Trade unions and federations are divided on Treasury's new compensation approach.
Reuben Maleka, the general manager of the Public Servants' Association (PSA), welcomes the allocation of additional money to frontline professions but said Treasury's insistence on managing headcount (the possible freezing of posts) will harm service delivery.
"These measures will have a negative effect on filling vacancies while there is a critical need to fill such vacancies. Public servants' capacity is stretched to the limit and this impacts on their ability to render efficient services to citizens," said Maleka. The PSA claims to represent more than 245,000 public servants.
Matthew Parks, the acting national spokesperson and parliamentary coordinator of labour federation Cosatu, agreed with Maleka. "What it will do is fuel the brain drain of skilled public servants to better paying and less stressful jobs overseas. We should not fall for a reckless narrative that says the public service is bloated. In 1994, we had one million public servants for 34 million South Africans. Today, we have 1.2 million public servants, yet the population has nearly doubled to 62 million," said Parks.
What might undermine Treasury's plans to limit above-consumer inflation pay increases is that the two-year compensation agreement it signed with public sector trade unions – running from 2023 to 2024 – will soon end. Maleka said the union "will probably table [pay] demands during the third quarter of the 2024/25 fiscal year".
Another risk to Treasury's projections for the money it would allocate over the next three years was the impact of inflation, said Peter Attard Montalto, the managing director of consultancy firm Krutham.
"Wage bill pressures were fully recognised now we are in a two-year agreement, though we think National Treasury marginally underestimates the [wage/pay] bill from next year given higher inflation and in the medium run, given we see some attrition [reduction in headcount as public servants retire and for other reasons]," said Attard Montalto. "As such, through the next three years, we have an extra R23-billion of wage spending." DM
This story first appeared in our weekly Daily Maverick 168 newspaper, which is available countrywide for R29.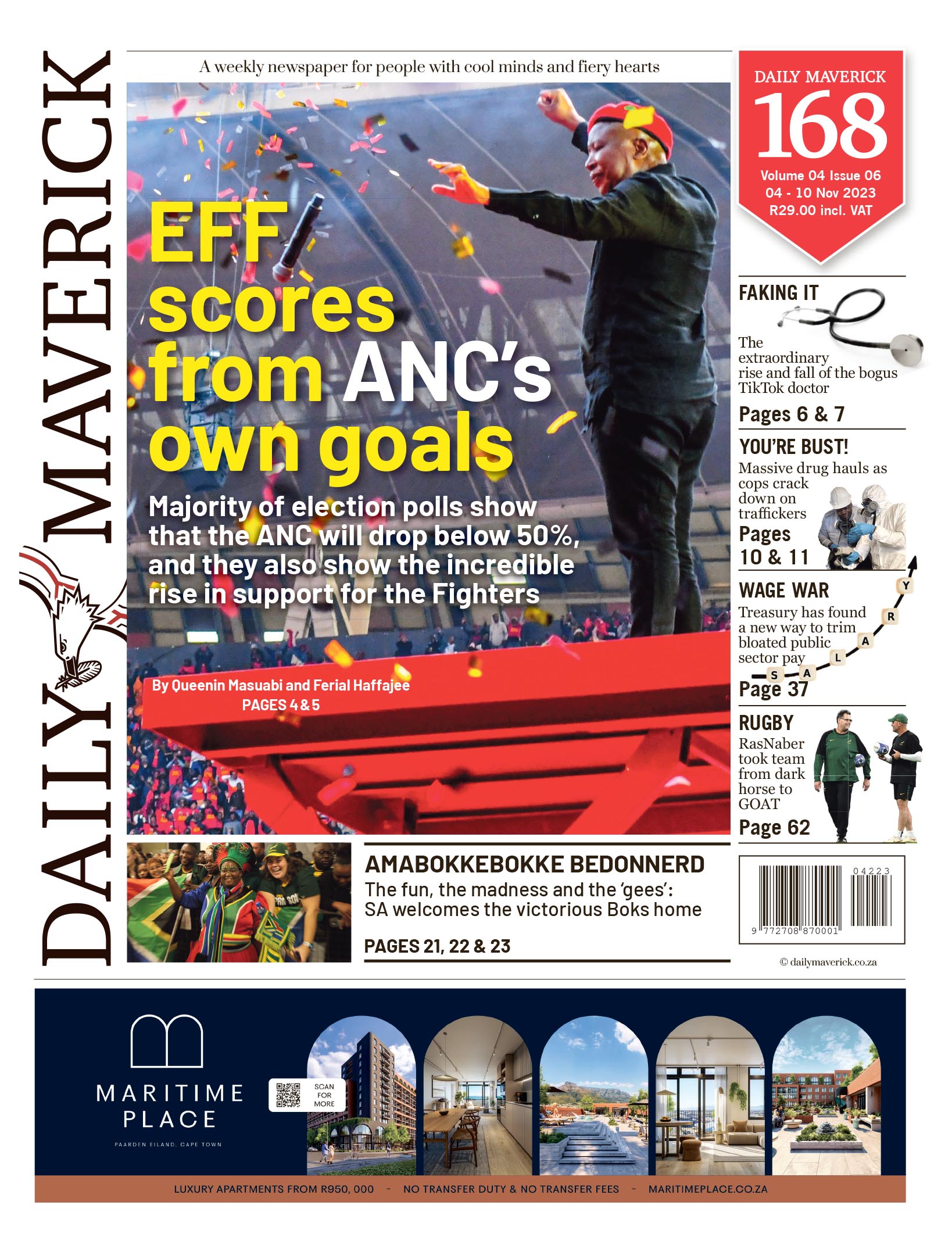 ---