RWC 2023 REFLECTION
South Africa's Rugby World Cup heroes – from dark horses to the GOAT
A trawl through results and records of the RasNaber Springbok team reveals much to back up former Bok captain John Smit's assertion that this is the greatest side to don the green and gold.
We've seen this movie before. It begins with hundreds of fans flocking to OR Tambo International Airport to welcome home a world champion Springbok team. It continues as tens of thousands line the streets of the city centres and townships. People of every age, culture and colour dance together in the streets, and sing with one voice as they see the team bus coming into view.
The 2019 instalment of this saga was pretty inspiring. The 2023 sequel looks set to break all records. This group of players and coaches – and what they have achieved over a six-year period – cannot be celebrated enough.
Dark before dawn
During the dark days of 2016 and 2017, that group was widely recognised as one of the worst Bok teams of all time, and the results certainly supported that belief.
Allister Coetzee's Boks made history for all the wrong reasons. They finished the 2016 season with the worst win record (33%) of any South African team. The individual results across those two years, of course, told a far sadder story.
A first-ever loss to Ireland at home, an inaugural Test loss in Argentina, a historic defeat to Italy. Record defeats to New Zealand home and away, and the heaviest-ever losses to Wales and Ireland abroad. After the 57-0 loss to the All Blacks in 2017, some fans took to social media and set their replica jerseys on fire.
Six years later, South African fans are wearing those jerseys with an unprecedented sense of pride. That is largely thanks to the progressive approach by coaches Rassie Erasmus and Jacques Nienaber, who managed to transform the national side while winning big matches and trophies.
It speaks volumes that the most successful Bok team in history is also the most well-represented side of all time. It's little wonder they're being held up as example, because they have walked the talk.
The turnaround has been remarkable, and is best reflected by the results. There are many objective reasons why this group will go down in history – and it's debatable whether some of these feats will ever be matched.
South Africa became the first country to win four World Cup titles when the Boks edged New Zealand 12-11 in the recent final staged in Paris. RasNaber's charges became the first Bok team to win back-to-back World Cups, and the second Test side – after the great All Blacks outfit of 2011 and 2015.
Read more in Daily Maverick: Rugby World Cup 2023 News Hub
In the wake of the result at the Stade de France, former Bok captain John Smit described Siya Kolisi's team as the greatest South African side of all time. It was some statement, given what Smit and his teammates achieved in Bok colours in the mid to late 2000s.
Smit will be remembered as one of the greatest-ever Test captains, having presided over a Bok team that won two Tri-Nations titles, (2004 and 2009) a Lions series (2009) and a World Cup (2007). His side tried to do a back-to-back in 2011, but fell short.
It would be a decade before some of those achievements would be equalled or surpassed. RasNaber's Boks won the 2019 Rugby Championship, ending a 10-year wait for a southern hemisphere title.
They then became the first team to win a Rugby Championship and a World Cup in the same year. Covid-19 and the resultant restrictions compromised their plans to build in 2020, but they managed to win the Lions series in 2021. When they won the 2023 World Cup, they became the first Test side to win a Lions series and a World Cup in the same four-year cycle.
They were written off after they lost their first match against New Zealand in 2019, but went on to become the first team to win the World Cup after losing a pool game. They were similarly dismissed after losing to Ireland during the group stages of the 2023 tournament, yet found a way to win every subsequent match – including the grand final against the All Blacks.
When it rains, it pours
When Nienaber succeeded Erasmus as head coach in 2020, he said that the Lions series in 2021 and the World Cup in 2023 were the team's biggest priorities. However, he also made it clear that the group wanted to be more consistent at home and abroad over a longer period of time.
They ticked a big box in 2018 when they beat the All Blacks in Wellington. That result ended a nine-year drought on New Zealand soil and marked a turning point in the rivalry.
Apart from winning big series and tournaments, the Boks continued to claim significant one-off victories in subsequent seasons. They ended their eight-year losing streak in Cardiff (2021), a nine-year drought in Australia (2022) and an eight-year winless run against England at Twickenham (2022).
No rush to appoint new coach
Although it's fair to say that they weren't consistent enough across that four-year cycle, they were certainly more successful than past South African teams in terms of winning more big matches staged abroad.
SA Rugby will not rush into a decision regarding Nienaber's successor. Assistant coaches Mzwandile Stick and Deon Davids are the frontrunners, but until the call is made, Erasmus will handle the responsibilities.
One would hope that Erasmus himself remains in South Africa – at least for another four-year cycle. Although the director of rugby is contracted to SA Rugby until 2025, it's believed other teams, such as England, are gunning for his services.
The Boks have achieved a great deal over the past six years. What Erasmus and Nienaber built, and what this group of players achieved, will not be forgotten.
But the story doesn't have to end here. The Boks need to push for more success in 2024, and look towards reclaiming the Rugby Championship title. Beating the All Blacks twice in succession will earn them the Freedom Cup trophy, which they last held in 2009.
Their recent achievements deserve to be celebrated, but they should also be viewed as an opportunity. It's something that Erasmus and Nienaber spoke about after they won their first World Cup in 2019. A similar attitude will ensure South African rugby scales new heights. DM
This story first appeared in our weekly Daily Maverick 168 newspaper, which is available countrywide for R29.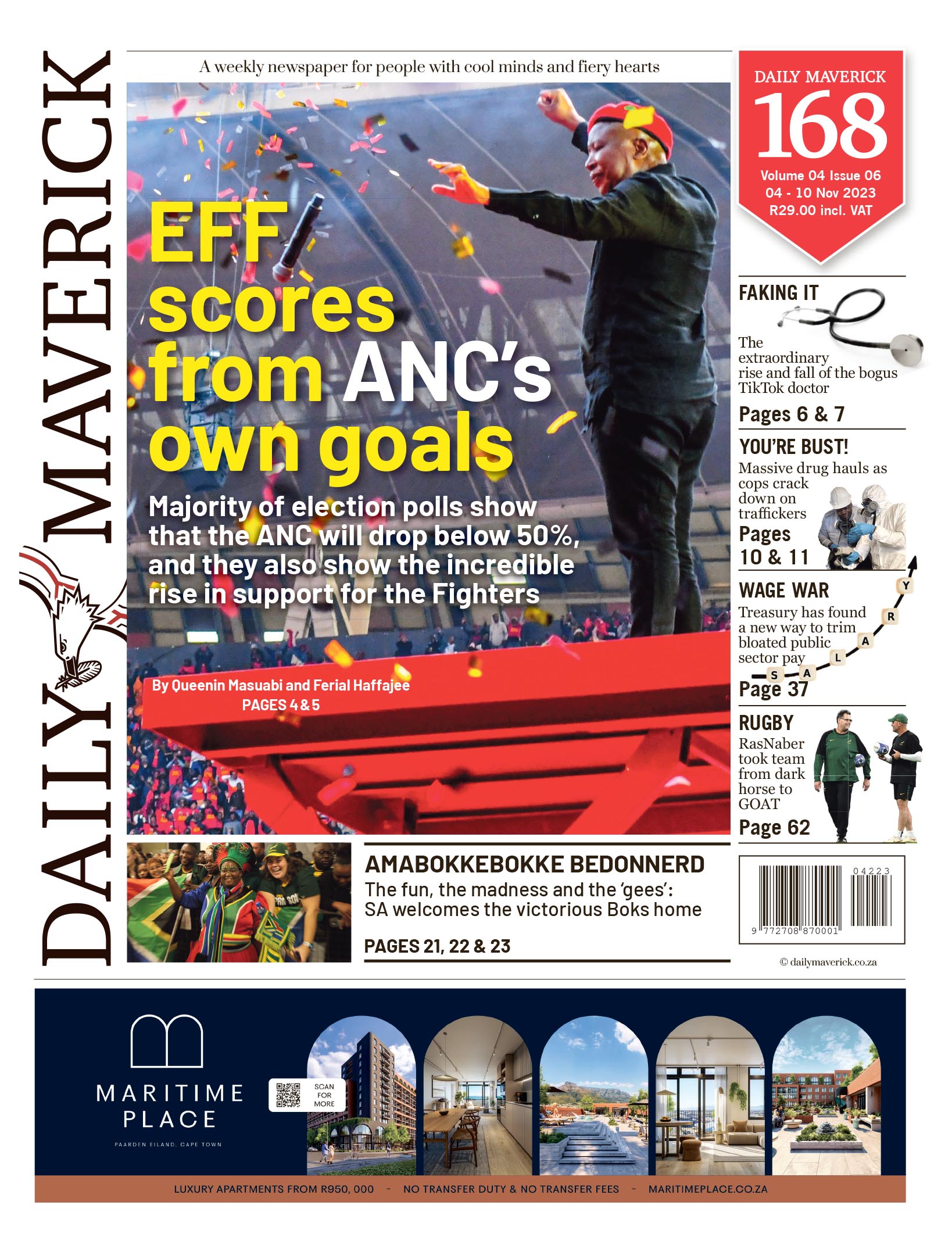 ---