COMMUNITY IN CRISIS
In the heart of Eastern Cape's deadly gang warfare, a job 'opportunity centre' builds hope
Eastern Cape DA politician opens up his office for young people to get help to find jobs.
'This is an absolute crisis."
Even though Eastern Cape DA provincial chairperson Yusuf Cassim has done a very helpful thing, there remains a sense of urgency as he works in Nelson Mandela Bay's northern areas.
The northern areas community has been bearing the brunt of continuing gang violence, and thousands of people live in fear.
This is a place where WhatsApp groups send out regular warnings to law-abiding citizens, telling them not to leave their homes as they run a high risk of being shot in the streets.
Between 2021 and 2023, more than 88% of all gang-related violence in Nelson Mandela Bay occurred in the northern areas.
Over this period, 361 shooting incidents related to gang violence were reported by the police, 319 of which were reported in the northern areas.
This resulted in 180 individuals being killed, of whom 22 were children.
These statistics included 14-year-old Kurtley Rossouw, killed by a stray bullet while playing with a soccer ball outside his home in June. Another soccer player, Larrigan Finnis (26), was fatally shot in the back in July, and 89-year-old Sophie Erasmus was brutally beaten and murdered in West End in October.
MEC for Community Safety Xolile Nqatha in October told the provincial legislature that, of the 56 shooting incidents reported in the northern areas since April this year, 31 were in Gelvandale.
Also, from April to September, eight children were killed  in gang-related violence in the area.
Here, in the heart of deadly gang warfare, Cassim opened his first "opportunity centre", at his ward office in Gelvandale. The pokey little office is squashed between a KFC outlet and other shops in an alley.
"The murders and the shootings really shocked me," said Cassim.
"A month or so ago a chilling WhatsApp message did the rounds to tell us that those who are found outdoors will be shot. It is like we are living in a war."
Cassim saw the struggles of young people who were trying to find work and, though he was continuing his advocacy work for improved policing, he thought there was something he could do, in one respect, to loosen the grip of gangs in the area.
"I realised that we could help people to find jobs. This is a crisis. It cannot be business as usual."
Last week he celebrated the official opening of the ward office as an "opportunity centre" – a place where young people can access internet services, get help with compiling CVs and get assistance with applications for jobs that are available to them.
"I held many meetings and realised that one of the major barriers faced by young people looking for jobs was that they had nobody who could help them.
"Many have no real family structure to support them and the printing and uploading of CVs and the like is very expensive," explained Cassim.
He and the staff in his ward office compiled a list of opportunities for young people and what would be needed for anyone to apply for each of these jobs.
"We are also there to help follow up on applications for them."
He added that some government help programmes in the province, notably the Isiqalo Youth Fund, where young entrepreneurs can access grants for start-up businesses, are mired in secrecy and bureaucracy.
Answering a recent question posed in the Eastern Cape legislature, the Office of the Premier confirmed that funding had been given to one coloured and one Indian applicant – and no white applicants.
In September, while answering questions in the legislature, Premier Oscar Mabuyane admitted that applications for the 2021/22 financial year had not yet been finalised. No applications for the 2023/24 financial year had been processed. Applications for the current year's funding had not opened.
The opportunity centre has been welcomed with enthusiasm. When it opened last week, every chair in the office was taken and more had to be brought in.
"People are seeing this as a godsend," Cassim said.
Young people have told him that the cost of applying for jobs is prohibitive; they have  to pay R2 or R3 per page for copies of documents, and R30 for a CV.
"These are really poor communities," Cassim said. "With the current cost-of-living crisis this is beyond their abilities to afford because sometimes people are applying for over a hundred opportunities.
"It breaks my heart to see people struggle like this. This is where I was born. For me this is personal.
"My dad grew up very poor. It took him 14 years but he qualified as a medical doctor. I know in my heart that there is hope for a better future," he said.
According to the latest Quarterly Labour Force Survey statistics released by Stats SA, there are about 10.2 million young people in South Africa aged between 15 and 24 who are not working, in school or universities or in training.
The latest available data for the Eastern Cape, the province with the highest unemployment rate in the country, showed a decrease from 40% to 39.7% and an expanded unemployment rate decrease from 45.3% in the first quarter to 43.3% in the second quarter.
DA leader John Steenhuisen, who attended the opening of the opportunity centre in Gelvandale, said similar initiatives should be undertaken at every DA office in the country. DM
This story first appeared in our weekly Daily Maverick 168 newspaper, which is available countrywide for R29.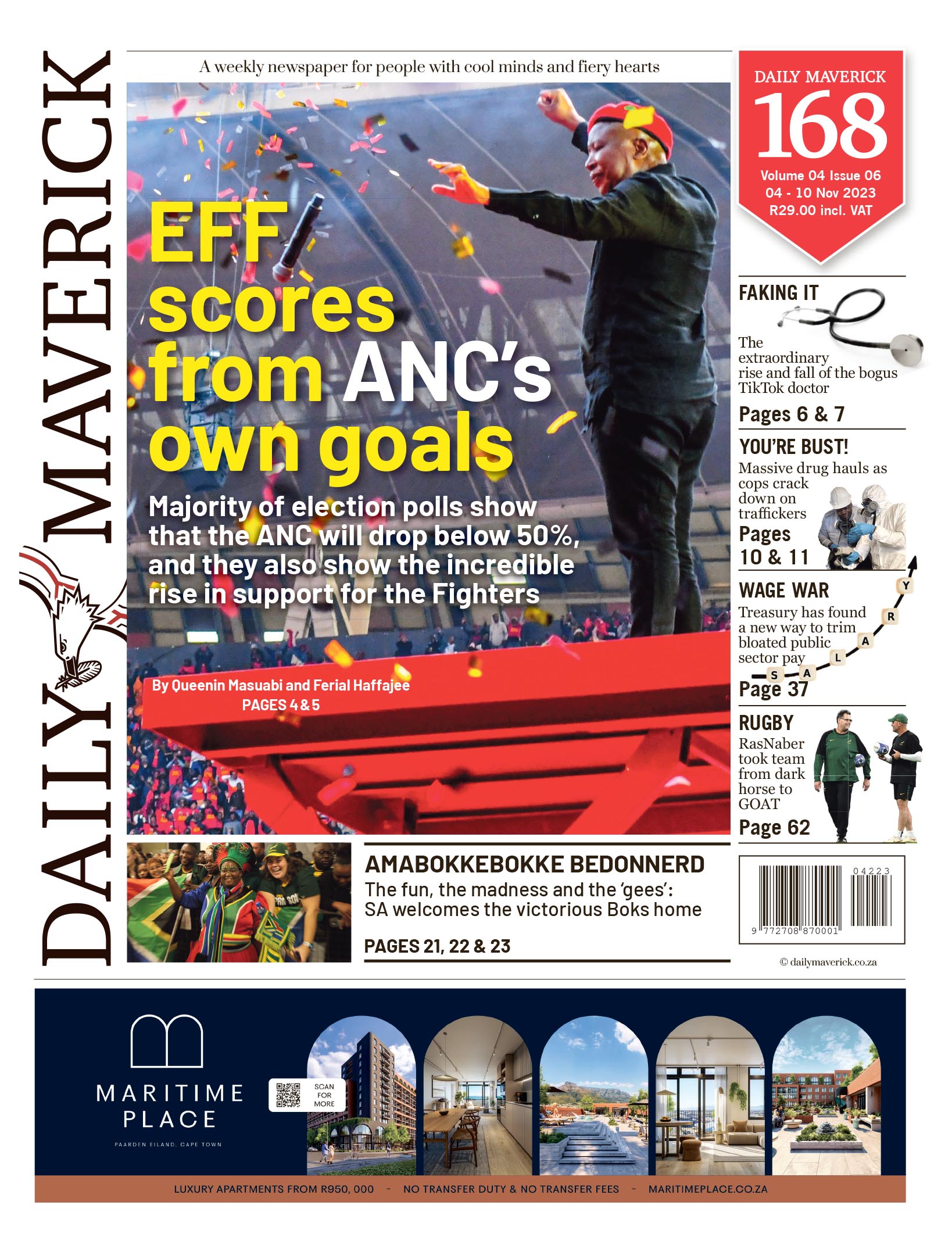 ---