LETTER FROM THE DM168 EDITOR
Let's transfer this World Cup victory ʻgees' to our efforts to make SA better
I hope this win by this team goes a long way to not just change but obliterate, once and for all, this backward mindset that is so detrimental to any chance we have of building and fixing our country with the best that each and every one of us has to offer.
Dear DM168 reader,
I had never shown any interest in rugby until one Saturday afternoon in 1995, when some friends invited me to watch the Rugby World Cup final between the Boks and the All Blacks at their flat in Yeoville in Joburg. Most of my friends supported the All Blacks, the Kiwis looking more representative of us people of the South, with the late Chester Williams the only player of colour in Francois Pienaar's team.
We all identified with the non-racial South African Council on Sport (Sacos), and supported the boycott of international tests and tournaments being played in South Africa during apartheid. Sacos' slogan, "there can be no normal sport in an abnormal society", resonated with us as the South African teams were all white and most of the schools we attended had no sports fields or sports facilities.
My father was a keen cricketer, golfer and footballer, and I grew up on his stories of racial exclusion. He spoke of great sportsmen, such as cricketer Basil D'Oliveira, who left the country to play for England, and golfer Sewsunker "Papwa" Sewgolum, who won a provincial tournament but received his trophy outdoors in the rain because he was not allowed to enter the clubhouse. The association of sport with racism had everything to do with my disinterest in the games.
It was that World Cup in 1995, when our first democratic president Nelson Mandela held the Web Ellis Cup with Francois Pienaar and donned that Springbok jersey, that slightly shifted my "couldn't care less" attitude towards the Springboks. I say slightly shifted because later, in 1998, that same reconciliatory and forgiving President was dragged to the Pretoria High Court by then national rugby boss Dr Louis Luyt to explain his decision to set up a commission to investigate alleged racism, graft and nepotism in rugby. We've come a long way since then.
I stayed up last Saturday night with my partner and two sons to watch the excruciating Rugby World Cup final that the Springboks won by sheer grit and unity of purpose against the All Blacks, my spirits buoyed by the cacophony of shouts, hooting cars, hugs, tears and jubilation all around me in my Pretoria East suburb, as it was felt in every corner of South Africa. My 18-year-old son, who is more into music and manga than sport, surprised me with his enthusiasm, shouting: "We did it. I'm so proud of my Mzansi, my people, my boys!" This World Cup win against the All Blacks was somehow different from that win in 1995; these Boks were more representative of all of us and supported by everyone.
My colleague, Daily Maverick's chief photographer Felix Dlangamandla, told me about the amazing feeling of togetherness and joy, as people of all races and all walks of life gathered at OR Tambo International Airport in Ekurhuleni for the Boks' arrival on Tuesday.
He said this same spirit of pride and joy was palpable in the streets of Soweto on Thursday during the Boks' Trophy Tour. Felix's photographs show ululating grannies, children from school and people singing, thrilled to be in the presence of homegrown world winners.
This gees, this spirit of hope and togetherness that this group of rugby players has infused into our broken, broke country, is infectious. We all feel a spring in our step. A sense of pride in being part of a country that raised, reared, trained and developed world-class winners. Who come from all our communities. Who reflect our diversity. Captain Siya Kolisi was spot-on. South Africans needed this win. Since the Boks last won the World Cup in 2019, the only other world title our country has persistently acquired is that of being the most unequal society in the world.
Over those four years since 2019, our collective psyche has been hammered by catastrophe after calamity: Covid, load shedding, water shedding, job shedding, political paralysis, and criminal syndicates makin' whoopee out of our weak and dysfunctional criminal justice system.
And despite us saying a final voetsek to apartheid in 1994, racism, sadly, still persists.
It put a dampener on my gees, but I was not surprised to hear on the radio this week director of rugby Rassie Erasmus, the man who inspired and guided the Boks to work as a team for their country and win, recalling the flak he and his family endured, in particular his children at school, when he decided to make Kolisi captain.
Erasmus reflected on this prejudice in an interview with Nik Simon for the UK's Mail on Sunday published in March last year. "I lost a lot of friends when I made Siya captain. There was a lot of nastiness. Before the World Cup, my daughters' friends' parents would say, 'Tell that f****** father of yours to stop sucking up for a paycheque'."
This treatment of Erasmus and his family reminds me of a hideous term progressive, humane white South Africans were called under apartheid if they had any empathy or love for black South Africans. They were called ka***r-boeties.
I hope this win by this team goes a long way to not just change but obliterate once and for all this backward mindset that is so detrimental to any chance we have of building and fixing our country with the best that each and every one of us has to offer. And believe me, we may not all be rugby stars but we all have something to contribute as individuals, families, religious organisations, societies and communities to make us as proud of being South African as we are of our Springboks.
The 2024 elections will be a chance to make one of the easiest, yet most powerful, contributions to choosing a more positive path for our country in which everything possible is done to bring down that iniquitous inequality gap, and make space for economic growth that creates decent opportunities for work, growth, innovation and achievement in all spheres.
In today's lead story, Daily Maverick associate editor Ferial Haffajee and political writer Queenin Masuabi explain why, in some early election polls, the EFF seems to be the beneficiary of the ANC's predicted decline below 50%.
This increasing support for the party that wants South Africa to become Africa's China, a one-party state, makes sense when you realise that the median age in South Africa is 28 years and no other party seems to be speaking to or attracting young black people who experience an unemployment rate of 60.7%.
The DA, ANC, IFP and all the other newer parties could learn from the EFF by finding ways of reaching out to younger voters and older apathetic voters who have understandably lost trust in all politicians and politics. And they need to get everyone to vote for a South Africa that works in sync as a team like the Springboks, for the greater good of all of us.
Please share your thoughts about what political parties should be doing to make South Africa proud, just like the Springboks have done. Send your emails to me at [email protected]
Yours in defence of truth,
Heather
This story first appeared in our weekly Daily Maverick 168 newspaper, which is available countrywide for R29.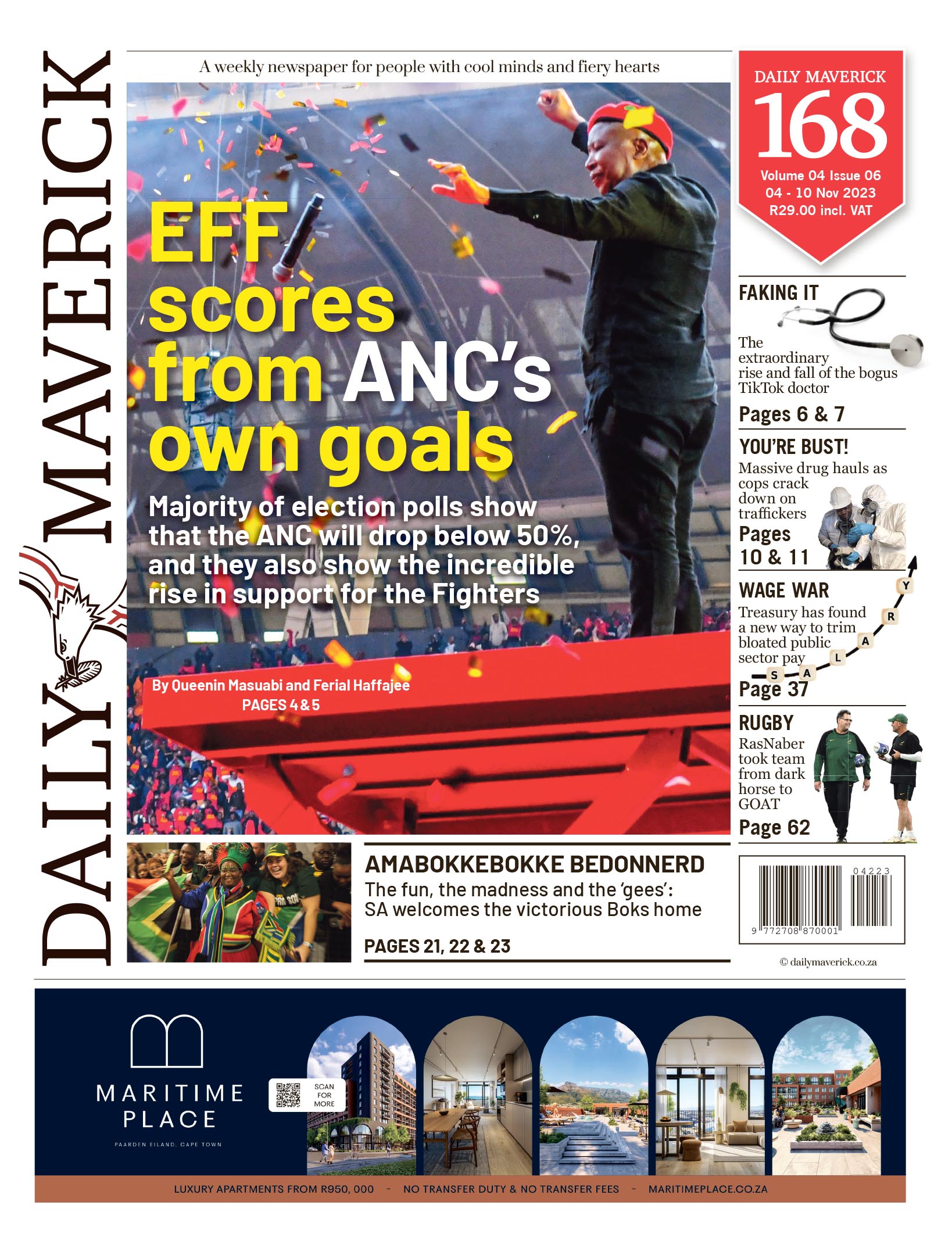 ---