Business Maverick
Nigeria's Rising Food Prices Hit Nation's Beloved Jollof Dish
Nigerians are being pinched by rising food prices where it hurts the most: Rice, the main ingredient for making jollof, a popular delicacy in many Nigerian homes, jumped 61% in September. 
A kilogram of the local variety of the ingredient sold for 757 naira in September from 471 naira a year earlier, the National Bureau of Statistics said on Monday.

Other ingredients used for making jollof are also up, a reflection of the cost-of-living crisis faced by many Nigerian households where about half of income is spent on food.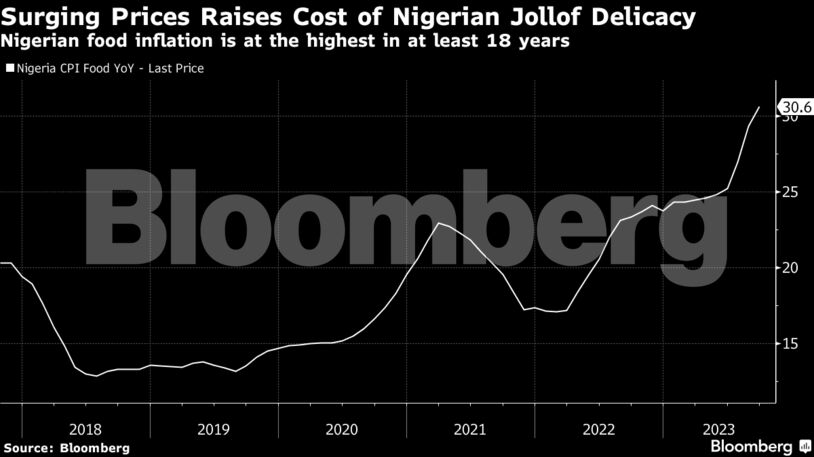 Vegetable oil rose 31%, onions gained 30% and frozen chicken – the preferred protein at the heart of a jollof rice, was 24% higher.
Food prices have surged in Nigeria as a result of higher transport costs after President Bola Tinubu in June announced the end of gasoline subsidies.
The reforms, as well as changes to the country's foreign exchange regime that saw the naira weaken sharply, have been welcomed by investors and the International Monetary Fund, but they've been painful for ordinary Nigerians.
Annual food inflation quickened to 30.6% in September as headline inflation rose 26.7%, the fastest pace since August 2005.
Read more: Nigerians Left Cold by Tinubu Reforms as Investors Applaud
That's leaving many households struggling to survive in Africa's most populous nation, where at least 40% of the people live in extreme poverty.
Tinubu declared a state of emergency in July allowing the government to take exceptional steps to improve food security and supply. It later announced a 500 billion-naira ($625 million) package aimed at improving food supply, easing transportation costs and boosting manufacturing.
The International Committee of the Red Cross warned on Monday that acute food insecurity and malnutrition is worsening. Families are taking on higher debt to cover basic needs, the group said, citing an almost doubling in the price of maize in some parts of the country since the end of fuel subsidies.
---