Business Maverick
Cantor Fitzgerald Is 'Increasingly Confident' a Bitcoin ETF Will Win Approval
Recent revisions made by asset managers to applications to offer a US exchange-traded fund that invests directly in Bitcoin has Cantor Fitzgerald "increasingly confident" that the Securities and Exchange Commission will grant approval. 
Unlike previous applications that were rejected, Josh Siegler and Will Carlson, research analysts at Cantor, said SEC officials are more likely to green-light the newly filed proposals. They cited the application by Wall-Street heavyweight BlackRock Inc. and a victory in the court for Grayscale Investments LLC in its bid to convert its trust over objections from the SEC.

"A Bitcoin Spot ETF approval is the most-important short-term catalyst for Bitcoin's price," Siegler and Carlson said in a note Friday, citing the recent surge in prices triggered in part by an erroneous headline that an application was approved.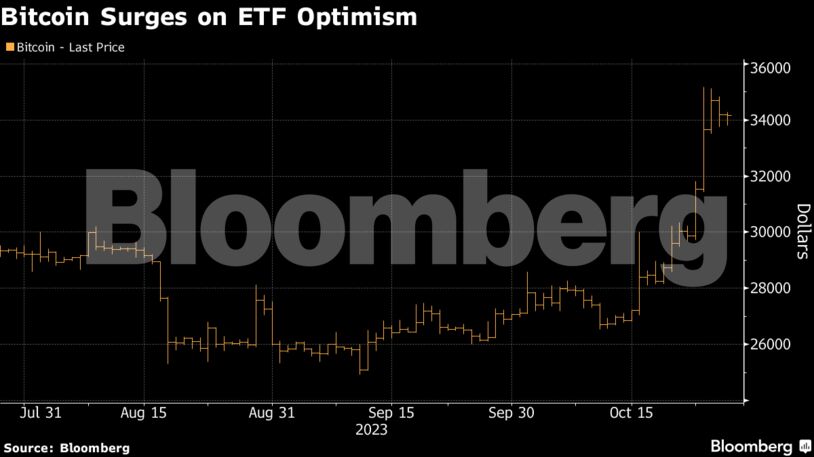 Bitcoin has jumped about 25% in the past two weeks, climbing to more than $35,000, the highest level is almost 18 months.
The SEC has indicated that "a comprehensive surveillance-sharing agreement with a regulated market of significant size" would meet their criteria, the analysts said. And BlackRock's filing has included a so-called surveillance-sharing agreement, which allows Nasdaq to monitor for potential market manipulation. Following BlackRock, other applications also have included surveillance provisions.
Cantor's analysts also pointed out the recent decision by a federal court in Grayscale's fight against the SEC. The court overturned the SEC's rejection of Grayscale's proposal to convert its trust into an ETF. Judge Neomi Rao called the SEC's decision "arbitrary and capricious."
"Ultimately, the court found that the SEC failed to explain why it approved Bitcoin futures ETFs, but rejected Grayscale's spot offering, despite substantial evidence that the two products are similar, across several regulatory factors," they said.
The approval of a spot Bitcoin ETF in the US will be "a bedrock moment for Bitcoin's long-term adoption and legitimization," the analysts said. They added the investment vehicle would streamline the procedure of finding a Bitcoin custodian, self-storage, or investing in futures products.
---