Business Maverick
Lagarde Grants Italy Some Breathing Room With ECB Policy Pause
European Central Bank President Christine Lagarde just visited the scene of one of the bleakest moments in the euro's history, and managed to avoid creating another one for now.
Speaking in Athens after one of the ECB's occasional gatherings away from its Frankfurt home, she unveiled the first pause in interest-rate hikes since June 2022, and insisted any faster wind-down in bond holdings — a prospect that could heap pressure on highly indebted Italy — wasn't even discussed.

With its bond-yield spread over Germany, a key measure of risk, narrowing below 200 basis points in response, the outcome offers respite to Prime Minister Giorgia Meloni at a time when investors are wondering if the country could soon be cut to junk.

By contrast, the meeting in the Greek capital sought to laud the turnaround of a turmoil-stricken economy that almost crashed out of the common currency into a trustworthy borrower slowly regaining investment-grade status.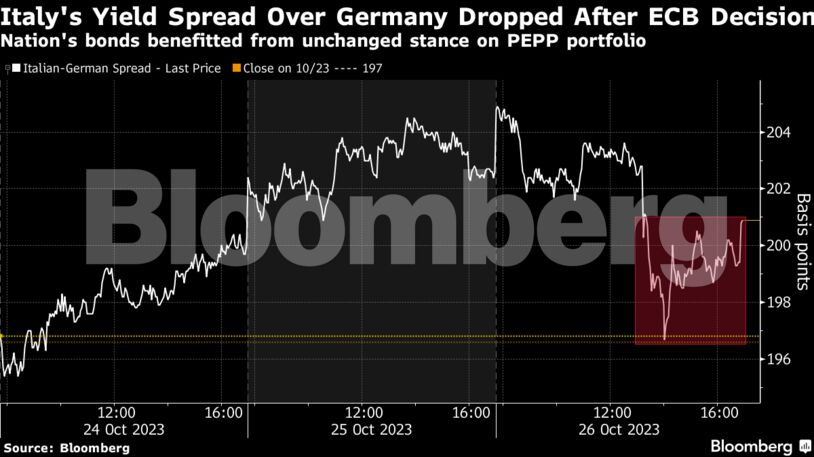 Thursday's decision cements the Governing Council's shift from energetic inflation-fighting to an institution digging in to its high-rate position after delivering a 10th consecutive increase in borrowing costs in September. It also avoided any tightening by other means, like slowing reinvestments from its pandemic debt purchases.
"Sometimes inaction is action — and a decision to hold is actually meaningful," Lagarde said.
Such stasis was a boon for Italian bonds, which led gains across the region as the yield on 10-year notes fell as much as 11 basis points. The spread over Germany is down from 210 basis points earlier this month, when growing fears over Italy's finances and talk the ECB may shrink its balance sheet more rapidly spurred a selloff.
"Good news for Italian bond holders," said Jill Hirzel, a senior investment specialist at Insight Investment.
What Bloomberg Economics Says…

"The sharp rise in sovereign yields, particularly those of Italy, has probably left the ECB cautious about tinkering with PEPP. It did nothing to suggest it will stop supporting the bond market with its large stock of securities – the horizon for reinvesting remains the same and the statement on applying flexibility with its reinvestments was retained."

—David Powell, senior euro-area economist. For full note, click here
Feeding recent market worries on the country were a flurry of comments from policymakers, particularly during their recent visit to International Monetary Fund meetings in Morocco.
Belgian Governor Pierre Wunsch said then that "we need to think about a world where we're going to stop PEPP reinvestment," while his Irish colleague, Gabriel Makhlouf, observed that the Italian spread was "absolutely something that we, the ECB, will be very focused on."
The decision was the first since Meloni's government unveiled looser fiscal plans for years to come. Just before the outcome, Allianz Chief Economist Ludovic Subran was fretting on Bloomberg Television at the prospect of a renewed sovereign-debt crisis reminiscent of 2012.
"We see a selloff in Italian BTPs that is unheard of, and that is not going to get better with the fiscal credibility this government has chosen," he said. "What's happening on the Italian spread is worrying."
As it turned out, Lagarde brushed away any questions on the country and said changing PEPP wasn't on the agenda.
A sense of relief in Italy after the ECB decision was immediate. Antonio Tajani, one of Meloni's coalition partners and a deputy prime minister, signaled satisfaction after months of criticizing the ECB's hikes in borrowing costs. "It's good news for the economy," he said on X, formerly known as Twitter.
It's the second encouraging development for Italy in a week, after S&P Global Ratings maintained its stable outlook on the nation's debt at two levels above junk.
"For Italy, the ECB statement and press conference is supportive," said Mohit Kumar at Jefferies, who's neutral on the country's bonds at the moment.
Further tests of Italy's market presence are due in the coming weeks, with possible ratings reports scheduled including one from Moody's Investors Service on Nov. 17. That company assesses the country's debt at only one level above junk, with a negative outlook.
Kumar is betting that judgment isn't about to change, and that the Italy-Germany spread could narrow further. He has a negative bias on the securities further out however, saying he would use the rally "to set up shorts for December."
Italy Dates to Watch
| When | What | Note |
| --- | --- | --- |
| Oct. 27 | DBRS rating review | 3rd-lowest investment grade with stable outlook |
| Oct. 31 | 3Q GDP | 2Q was -0.4%, est. for 3Q is 0.1% |
| Nov. 10 | Fitch rating review | 2nd-lowest investment grade with stable outlook |
| Nov. 15 | European Commission economic forecasts | May forecast already predicted that Italy's debt reduction efforts would stall this year and next |
| Nov. 17 | Moody's rating review | Lowest investment grade with negative outlook |
| Nov. 21 | European Commission verdict on budget plans | |
| Dec. 1 | Scope rating review | 3rd-lowest investment grade with stable outlook |
For now though, the bigger public worries of the ECB are focused on geopolitics. Their meeting took place just over the sea from Israel, where the war now raging has spurred concern about further shocks to inflation or growth.
"We are very attentive to the economic consequences that that could have, whether in terms of direct or indirect impact on energy prices, or the level of confidence that economic actors will continue to display," Lagarde said.
Greece's rehabilitation seems to have been a key focus of the meeting, however. The country's transformation turned out to be the main topic at Wednesday evening's private dinner for policymakers, according to a person with knowledge of the matter.
---