Business Maverick
Inflow of $10 Billion; to Ban Parallel Market: Nigeria Summit
Nigeria expects to receive $10 billion of inflows in the coming weeks that will help ease a liquidity crunch weighing on the naira.
The government has a "line of sight" on the inflows into the country "in weeks rather than months," Finance Minister Wale Edun said at the Nigerian Economic Summit in the capital, Abuja, on Monday. He didn't give details.

The naira slid about 4% against the dollar on Monday amid insatiable demand for the greenback. The decline came days after the central bank ended curbs on using dollars to buy dozens of imported items, and at a time of the year that typically sees Nigerians making payments for tuition at foreign schools and universities.

Read More: Nigeria Sees $10 Billion Inflows Easing Forex Liquidity Crunch

Read More About Nigeria's Economic Reforms:
Nigeria Mulls Outlawing Parallel FX Market (Oct. 23, 3:19 p.m.)
Nigerian authorities plan to broaden the official foreign-exchange market as a step toward outlawing the parallel market, a senior member of President Bola Tinubu's administration said.
The central bank plans to allow other participants including bureaux de change and financial-technology companies that provide mobile-money services, Taiwo Oyedele, chairman of the presidential committee on fiscal policy and tax reforms, said.
Once the official market has been expanded, the parallel market will be turned into "a black market, which is just for illicits and speculators," Oyedele said.
Read More: Nigeria Will Outlaw Parallel Foreign-Exchange Market: Official
Naira Slumps 4% Amid Scramble for Dollars (Oct. 23, 1:27 p.m.)
Nigeria's currency plummeted about 4% to 1,215 a dollar on the streets of the nation's cities on Monday.
The naira was trading at 1,170 a dollar on Friday, according to Abubakar Mohammed, chief executive officer of Forward Marketing Bureau de Change Ltd., which compiles the data.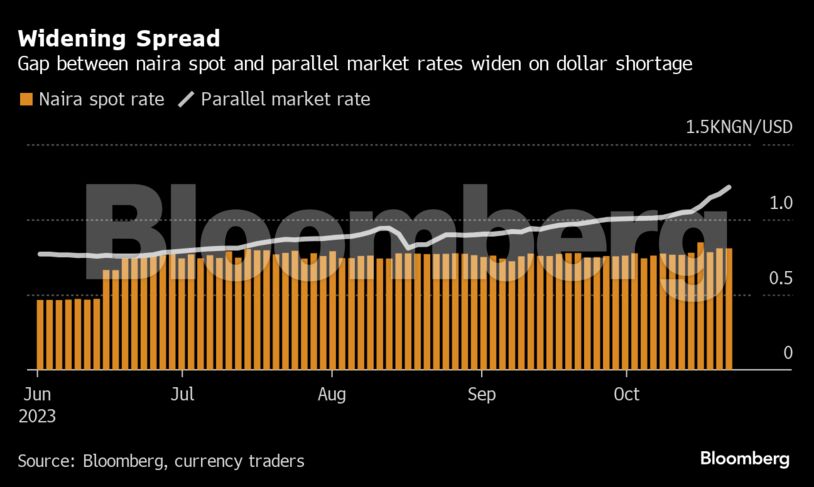 The currency slipped to 808.27 naira a dollar at close on Friday from 782.67 the previous day in the official market, Lagos-based FMDQ, which tracks the data, reported on its website.
Liquidity in the official market declined on Friday compared with the previous day. Spot transactions dropped 14.1% to $76.38 million and forward contracts decreased 66.1% to $2.88 million, investment bank Chapel Hill Denham said in note on Monday.
Read More: Naira Official Rate Sinks to Near 1,000 on Scramble for Dollars
Central Bank Plans to Improve Forex Market Transparency (Oct. 23, 12:45 p.m.)
The Central Bank of Nigeria is preparing a document that will set out clearly the rules of the foreign-exchange market, Governor Olayemi Cardoso said at the summit.
The central bank is focused on ensuring Nigeria has a market that is "predictable and without flip-flops," Cardoso said. "We do need to have a situation where the rules are clear to everyone."
Cardoso said that while efforts to unify the foreign-exchange market have not been perfect, they have led to more revenue coming into the country. Tinubu's government has sought to end multiple exchange rates among other measures to bolster confidence in the naira.
Tinubu Pledges to Ease Forex Liquidity Crunch (Oct. 23, 12:08 p.m.)
Tinubu said the liquidity squeeze that has resulted in the naira weakening to record lows against the dollar will ease.
"My government is not blind to the challenges several of you are facing in the financial markets," Tinubu said on Monday at the summit. "I can only allay this concern by revealing that we have a good line of sight for the additional foreign-exchange liquidity that is required to restore market confidence and we are going to do that soon."
Tinubu also reiterated his pledge to work closely with the private sector to implement the range of reforms he's introduced since coming to power in May.
---