Business Maverick
Treasury Yields Decline After 10-Year Fails Again to Reach 5%
Treasury yields declined in US trading Friday, paring weekly increases that pushed the 10-year note's nearly to 5%, as investors showed interest in risk-free rates at multiyear highs against a backdrop of escalating warfare in the Middle East.
After being spurred to the highest levels since at least 2007 this week, most US government bond yields declined by at least 5 and as much as 10 basis points. The 10-year's traded near 4.91% after touching 4.993% earlier Friday. It remained higher on the week by about 30 basis points, among the biggest moves in the past five years.

Catalysts for higher yields this week included stronger-than-anticipated retail sales data released Oct. 17 that pushed up expectations for another Federal Reserve interest-rate hike as inflation continues to exceed the central bank's target. Short-term yields began tumbling yesterday after Fed Chair Jerome Powell hinted that the Federal Open Market Committee is unlikely to raise rates in November, at least.

The conflict in the Middle East is adding to demand for haven assets including Treasuries, and pushing up crude oil prices.

Bond investors "do not have to worry about the FOMC for the foreseeable future, and now their focus has shifted" to geopolitics, said Tony Farren, managing director in rates sales and trading at Mischler Financial Group. Also, "the Treasury market was oversold."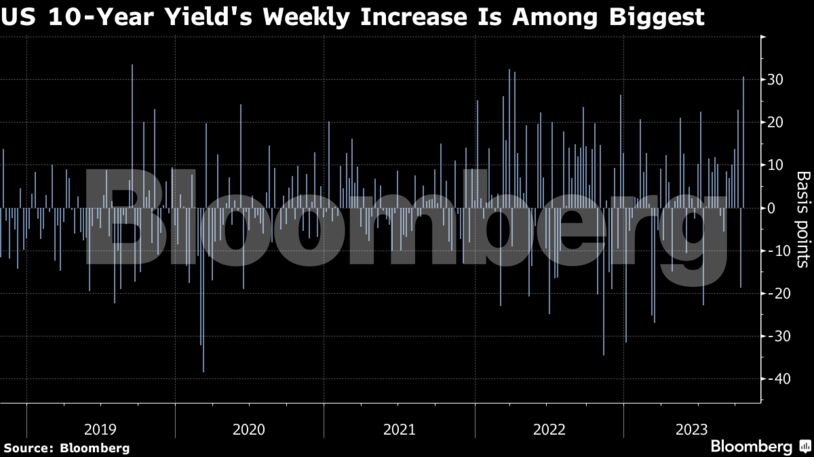 Since the retail sales data pushed the market-implied chances of another Fed rate increase this year toward 60%, those odds have dipped back to about one-in-three, with January given a somewhat higher probability of about 40%.
Bank of America interest-rate strategists, in changing their forecast for another rate hike to December from November, said part of the thinking on January was that a possible US government shutdown could delay the production of economic data the Fed relies on for decision-making.
The Fed is seen keeping its policy rate at the peak level through mid-2024, according to pricing in the swaps market.
"At the end of the day, 'higher for longer' is negative for risk assets," said Kathy Jones, Charles Schwab's chief fixed-income strategist. "Ahead of the weekend with so many risks on the table, it looks like traders are squaring up and taking to the sidelines."
---