Business Maverick
Netflix to Raise Prices After Best Subscriber Gain in Years
Netflix Inc. is raising prices for some customers in the US, UK and France after posting its best quarter for subscriber growth in years, a sign of management's confidence in the future even as rival streaming services lose money.
The world's top paid-streaming service said Wednesday it added 8.76 million customers in the third quarter, far exceeding analysts' forecasts and boosting its overall subscriber base to 247.2 million. The company credited a strong programming slate and its crackdown on password sharing.

Investors have worried that Netflix might lose customers if it forced people who were sharing accounts to buy their own subscriptions. But the crackdown has led to a surge in new customers without a major increase in cancellations. Netflix is now on track to add more than 20 million customers this year, a big jump from fewer than 9 million in 2022.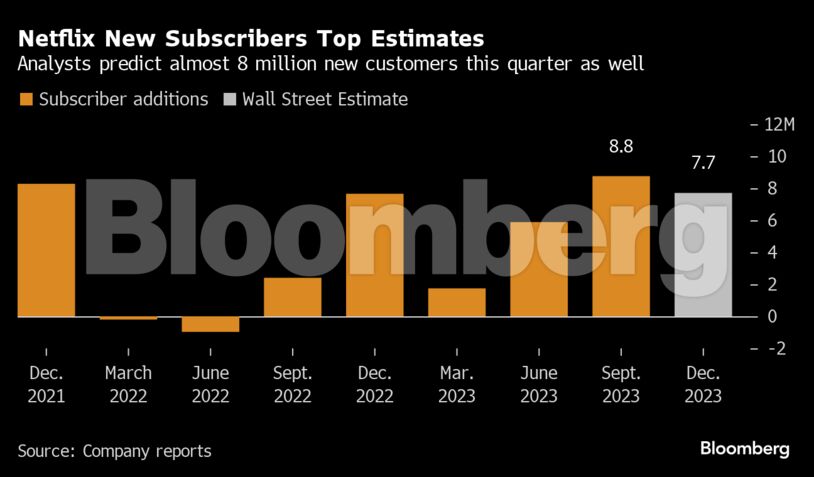 Shares of Netflix rose 14.45% to $396.22 at 9:38 a.m. in New York, the largest gain since January 2021. They are up more than 34% this year, beating the 12% gain for the S&P 500 Index.
The successful rollout of paid sharing, which lets customers purchase additional access for friends or family, has emboldened Netflix to raise prices in some of its biggest markets. Starting Wednesday, the company is increasing the cost of its most expensive plan in the US by $3 to $23 and its basic plan by $2 to $12, while keeping two other plans the same. It's taking similar steps in the UK and France, two other large markets.
Europe, the Middle East and Africa accounted for the largest share of Netflix's growth in the third quarter. The company added almost 4 million customers in that region. The average amount Netflix makes per customers hasn't changed much in the past year.
This quarter, Netflix predicts revenue of $8.69 billion and earnings of $2.15 a share, both slightly below Wall Street projections. The company said subscriber additions would be similar to the just-ended quarter, plus or minus a few million.
The benefits of the password crackdown will continue over the next several quarters because Netflix has been implementing the plan in stages.
"We're incredibly pleased with how it's been going," co-Chief Executive Officer Greg Peters said in a videotaped interview released after results came out.
Cracking down on password sharing is one of a couple major initiatives at Netflix, which is trying to revive growth after a sluggish year or two. The company also rolled out an advertising-supported version of its streaming services in 12 markets. About 30% of new customers in those markets opted for ads last quarter, the company said.
Netflix has returned to growth as many of its peers struggled to figure out their streaming operations. Walt Disney Co., Warner Bros Discovery Inc. and Paramount Global have all cut costs and fired staff to improve their financial performance. They have spent billions of dollars to fund new streaming services that can replace their declining linear TV networks. But most of the newer streaming services lose money.
On the other hand, Netflix reported third-quarter revenue and profit that exceeded Wall Street expectations. Earnings rose to $3.73 a share, beating estimates of $3.56, while revenue grew 7.8% to $8.54 billion, slightly ahead of forecasts.
The company also said profit margins would improve to at least 22% next year and have the potential to grow further in the years ahead.
Cash flow was boosted by the labor stoppage in Hollywood. Management expects $6.5 billion in free cash flow this year, up from a prior forecast of at least $5 billion. This includes about $1 billion less in spending on content due to the strikes.
But the labor stoppage has had little impact on Netflix's release schedule because many programs were already completed. The company released new seasons of the hit shows Virgin River and Heartstopper and created new hits such as the manga adaptation One Piece.
Netflix's biggest hit in the quarter wasn't an original though. Suits, a series that first aired on USA Network, was the most-watched program on streaming all summer thanks to viewing on Netflix. On Wednesday, the company also announced a deal to release animated films produced by David Ellison's Skydance Media.
"We've shown that with discipline and a focus on the long term, you can build a strong, sustainable streaming business," the company said in a letter to shareholders.
---