Business Maverick
Ozempic Threatens Profits at Food and Beverage Makers Worldwide
A new class of weight-loss drugs has rattled global equity markets, sending shares of everything from food and beverage companies to medical-device makers tumbling. As earnings season kicks into high gear, firms are expected to reveal if consumer behaviors are being altered by the likes of Ozempic.
So far, fear has driven investors to sell consumer-exposed stocks. A basket of such companies — including Oreo cookies maker Mondelez International Inc. and Modelo beer producer Constellation Brand Inc. — is down nearly 9% since early August with losses roughly double those of the S&P 500 Index, while makers of things like insulin pumps have wiped out close to a third of their value over the same stretch amid concerns that fewer people will need their products.

Commentary from food company Nestle SA and alcohol purveyor Pernod Ricard SA, along with surgical-robot maker Intuitive Surgical Inc., will shed more light on the impact of Novo Nordisk A/S's Ozempic on consumers' appetite and overall health Thursday.

These weight-loss drugs — known as GLP-1s — are expected to dominate corporate earnings calls. References to the injections — including Ozempic, Mounjaro and Wegovy — have risen in recent quarters.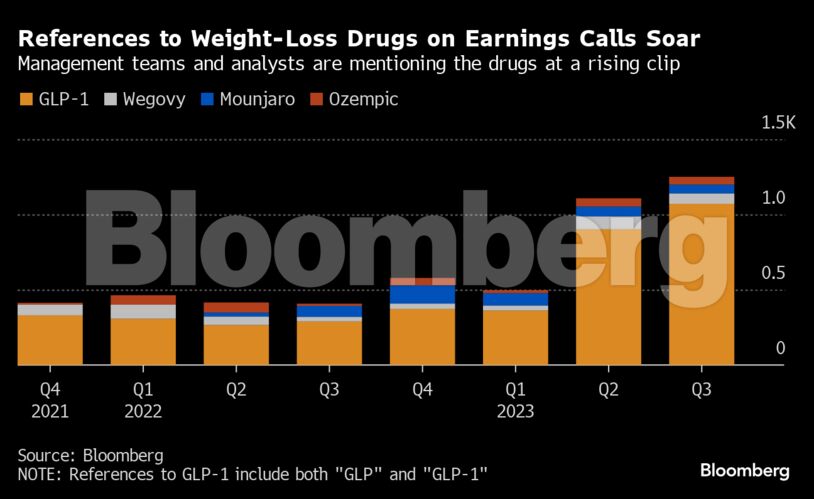 Read more: Ozempic Is Making People Buy Less Food in US, Walmart Says
PepsiCo Inc. set the tone last week, saying the appetite-suppressing drugs aren't affecting it. The soda and snack giant raised its 2023 earnings forecast as consumers splurged on higher-priced snacks. Rival Coca-Cola Co. is next to report results on Oct. 24, followed by Hershey Co. and Keurig Dr Pepper Inc. next week.
"It's going to get addressed on every one of their calls," said Jeff Doerfler, senior lead equity analyst at Huntington Private Bank.
Broader adoption of the weight-loss drugs that cut food and beverage volumes by 1% to 2% could be detrimental to snack wrapper makers, according to Citigroup analyst Anthony Pettinari, who cut price targets on Ardagh Metal Packaging SA and Crown Holdings Inc.
"It might represent half or more of packagers' trend volume growth," the analyst wrote in a note. Crown and Packaging Corp of America are among those set to commence earnings for the group on Monday.
Similarly, restaurant investors are fearing the worst, according to BTIG analyst Peter Saleh. The majority of the S&P Composite 1500 Restaurants Index has spiraled in the past two months, nearing a 12-month low last week before rebounding.
Read more: Restaurants Draw Short Bets on Higher Rates, Ozempic Threat
Investors will need to wait until the end of the month for results from McDonald's Corp. and Chipotle Mexican Grill Inc. Saleh expects the drugs to have limited negative implications for food operators' earnings.
"This is not the only fear impacting restaurant sentiment right now, recent consumer malaise and industry sales softness are also top of mind, but we feel the impact from weight loss drugs is overblown," he wrote.
For health-care companies, management teams will need to assure investors that Ozempic will have little influence on profit expectations. Abbott Laboratories provided some relief Wednesday morning, reporting quarterly results that revealed growth for its medical devices across heart disease and diabetes, shaking off concerns that GLP-1s would hurt business.
"We're not guessing anymore in terms of what the impact is or is not," said Jared Holz, a managing director at Mizuho, adding that whether investors will believe what they hear remains to be seen.
With the market for GLP-1s possibly reaching $100 billion by 2030, according to analysts at Goldman Sachs Group Inc., the drugs will continue to captivate investors and analysts across all sectors. Just this week, some frenzied equity investors looking to find potential winners were burned when a Chinese company apologized for misleading investors after talking up ties to the weight-loss treatments.
---