Newsdeck
Hyped Trio of IPOs Drop Toward Offer Price With Rates Still High
Just when investors looked set to embrace newly public tech companies, the Fed's "hawkish hold" interrupted the romance.
Arm Holdings Plc dipped below its IPO price in early trading, headed for a fifth straight decline that have wiped out nearly a quarter of its value from the peak. A day earlier Instacart briefly dipped below its debut price. While the shares stabilized Thursday, they sit about 28% below a high set two days ago. Klaviyo Inc. was also little changed, but well off levels hit during its debut yesterday.

While investors have micro concerns with the debutants — each stock was already giving up opening day pops before Jerome Powell spoke — it was the broader market drawdown that weighed heaviest. The Federal Reserve's signal that it might raise interest rates again this year, and will almost surely not reduce them any time soon, sent the S&P 500 tumbling almost 1% late Wendesay. The index fell 0.9% in early trading Thursdasy, touching the lowest level in a month.

The higher-for-longer mantra is a brutal refrain for fledgling companies that need cash to expand and whose valuations are predicated on the prospects for big profit growth years into the future. For dealmakers looking to cash in on what looked like strong demand for IPOs, the fading stock prices may push would-be public companies to re-consider the timing for potential debuts.

"This tells us that for now, tech IPOs will need to offer best-in-class growth and profitability, and even then be willing to price at a discount to public peers," said Matthew Kennedy, senior IPO market strategist at Renaissance Capital. "That doesn't apply to the majority of the pre-IPO pipeline, so tech issuance will remain somewhat limited in the fourth quarter."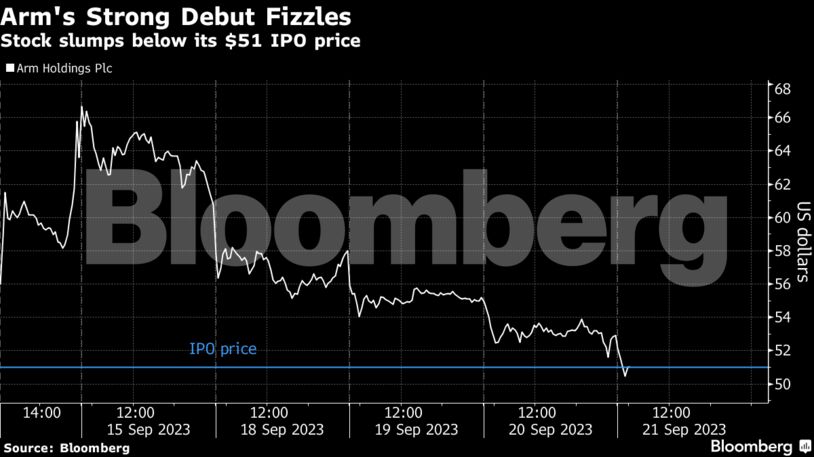 The early success of the three IPOs seemed to signal a revitalization of a market that had gone virtually dormant for two years. They raised a combined $6.5 billion in the past week. All told, just $21.4 billion has been raised this year, roughly in-line with last year's paltry haul through the same period. That's down 92% from 2021's banner year, data compiled by Bloomberg show.
Each of the stocks have now fallen more than 18% from intraday peaks. Instacart, whose formal name is Maplebear Inc., is down 27% from an opening day peak, and Arm briefly traded below its IPO price, falling for a fifth day to erase about one-quarter of its value from a Friday peak.
It's not just newcomers that are under pressure. The Nasdaq 100 has fallen 2.5% since Powell spoke about 19 hours ago. A Goldman Sachs Group Inc. basket of profitless tech companies is down 5.6%. The 10-year Treasury yield has spiked as high as 4.49%, the highest level since 2007.
It all adds up to bad timing — at least for now — for an IPO market that is set to be tested in the coming weeks. German footwear maker Birkenstock Holding Ltd. and Vietnam-based internet platform VNG Ltd. are among those preparing to list. Valuations will be key for bankers and investors, something that has been critiqued for the latest batch of companies.
Arm has drawn caution from analysts with Bernstein earlier this week initiating coverage with an underperform rating, saying it's too soon to declare the company an AI winner while others questioned a now $54 billion valuation. For Instacart, Needham flagged concerns about competition when starting coverage with a lukewarm hold rating.
"Despite mixed trading trends, our 'glass half full' interpretation would be that a stable interest rate environment along with healthy IPO pricing versus original pricing ranges for each of the IPOs should encourage more tech IPOs to consider taking the plunge over the next couple of weeks," said Roth MKM analyst Rohit Kulkarni said in a note before the conference.
---