Newsdeck
Nigeria Inflation Surge Puts Ninth Rate Hike in Row in Play
Nigeria's inflation rate jumped to a more than 18-year high on rising energy and food prices, increasing the odds of a rate hike this month.  
Consumer prices climbed an annual 25.8% in August, compared with 24.1% the previous month, according to data published on the National Bureau of Statistics' website on Friday. That's the highest level since August 2005 and above the 25% median estimate of eight economists in a Bloomberg survey. Monthly inflation soared to a 15-year high of 3.2%.The uptick was broad-based. Annual food inflation quickened to 29% in August from 27% a month earlier and core price growth, which excludes farm produce and energy costs, accelerated to 21% from 20.5%.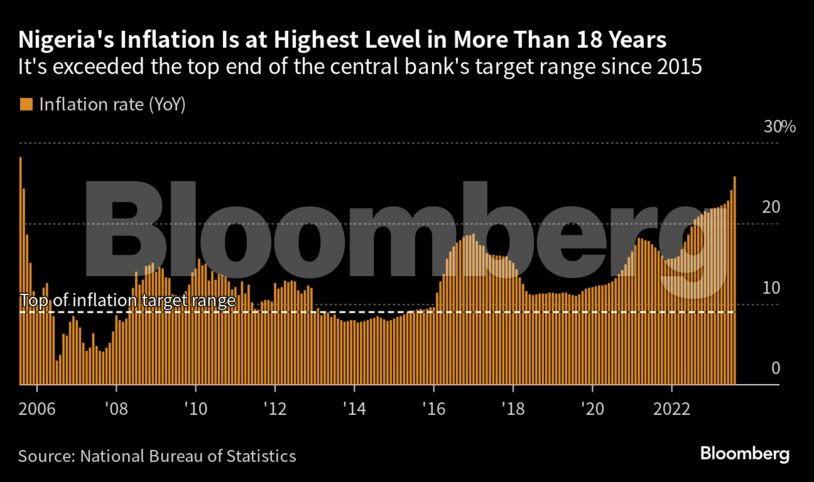 The acceleration continues to be fanned by the removal of costly fuel subsides in May, security issues in Nigeria's food-producing regions, a 40% depreciation in the naira against the dollar since the authorities allowed the local unit to float more freely in June and the continued weakness of the currency on the parallel market.
The drop in the naira and second-round effects on inflation from the removal of the fuel subsidy may persuade the central bank's monetary policy committee to raise interest rates at its Sept. 25-26 meeting for an unprecedented ninth consecutive time.
Read More: African Central Banks Set to Hold Rates as Currency Risks Weigh
"There is only one tried and tested way to end the depreciation on the parallel market: tighten monetary policy and allow price discovery on the official FX market," said Razia Khan, chief economist for Africa and the Middle East at Standard Chartered Bank. "Nigeria's inflation rate speaks to the urgency of doing so."
The MPC has lifted rates by 725 basis points since May 2022 to 18.75% to combat inflation that's exceeded the top end of its 6% to 9% target range for more than eight years.
---