Newsdeck
Gold Trading Hasn't Been This Boring Since the Pandemic Began
Gold markets haven't been this calm since the onset of the Covid-19 pandemic, thanks to a deadlock between buyers and sellers that's showing no signs of breaking.
Six-month historical gold volatility slumped to the lowest since February 2020 on Friday. The measure has plunged due to bullion largely staying confined to a range between $1,900 and $2,000 an ounce since mid-May.

That's despite the dollar and inflation-adjusted Treasury yields surging over the same period, which would usually put bullion under major pressure. Gold buyers have supported the metal every time it slid to around $1,900, essentially putting a floor under the market.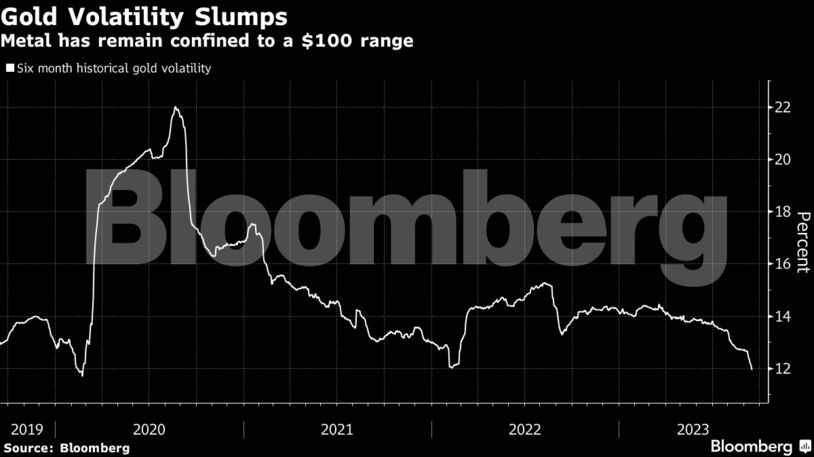 Exchange-traded funds backed by the metal have seen their holdings shrink by 5% this year, according to an initial tally by Bloomberg, but that's not been enough to drive prices lower. Meanwhile, buying by central banks has stayed robust after a record year in 2022, according to data from the World Gold Council.
"The gold price has been remarkably resilient to the rise in long term, real interest rates since the start of 2022," Edward Gardner, commodities economist at Capital Economics, wrote in a note. "Investors, after building up their ETF holdings of gold to record levels during the pandemic, were reluctant to reduce them when interest rates rose."
On Friday, the precious metal gained the most in more than three weeks as traders weighed a slew of economic data ahead of next week's Federal Reserve interest-rate decision.
Spot gold gained 1% to 1,929.79 an ounce as of 10:42 a.m. in New York after earlier rising as much as 1%.
---