Newsdeck
European Stocks Jump After ECB's Dovish Hike; Mining Stocks Soar
European stocks rallied after the European Central Bank raised interest rates and signaled that it is likely to be the last hike in this cycle.
The Stoxx 600 Index rose 1.5%, the most since March, led by a 4.2% rally in mining stocks after iron ore hit a five-month high. Energy, real estate, utilities and banking shares were also among the biggest gainers. The autos sector underperformed after China lashed out at the European Union's investigation into electric vehicle subsidies.

The ECB, which raised rates by 25 basis points, said the new level of constriction will make a "substantial contribution" to bringing inflation under control. New forecasts by ECB staff showed softer economic growth for 2023 through 2025, they also revealed inflation remaining above the 2% target in 2025.

"With the business surveys indicating an imminent sharp slowdown in growth, the ECB are probably done hiking," said Mike Bell, global liquidity market strategist at JPMorgan Asset Management. "Against the weaker growth backdrop, the ECB can probably pause at the next meeting and if the growth outlook continues to deteriorate a pause could morph into a peak."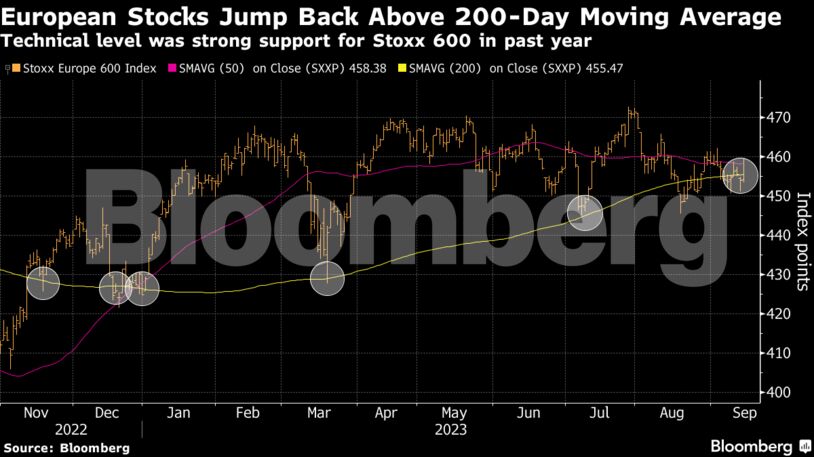 MLIV Pulse survey
Why are UK stocks so cheap? Share your views.
ECB's Razor-Edge Meeting Rests on Price Outlook: Decision Guide
Equities in the region have had a negative start to September, with this year's rally pausing on slowing economic growth and high inflation, triggering stagflation fears. The Stoxx Europe Index is 8% higher so far this year.
Among movers, Deliveroo Plc shares rose after Bloomberg reported that activist investor Sachem Head Capital Management has taken a stake and Italian lenders underperformed after Prime Minister Giorgia Meloni said that even if a new windfall tax on banks' profits is modified, the state will still expect inflows of almost €3 billion ($3.2 billion).
For more on equity markets:
Blurry Inflation Path Could Make Markets Choppier: Taking Stock
M&A Watch Europe: Kingspan, Nordic Waterproofing, Deliveroo
Irish Stock Market Faces Shrinking Pool of Blue Chips: ECM Watch
US Stock Futures Unchanged; Citigroup, Amazon, Netflix Gain
You want more news on this market? Click here for a curated First Word channel of actionable news from Bloomberg and select sources. It can be customized to your preferences by clicking into Actions on the toolbar or hitting the HELP key for assistance. To subscribe to a daily list of European analyst rating changes, click here.
---