Newsdeck
Tesla and China Risk Leaving Volkswagen on a Road to Nowhere
Shortly after taking the most important job in German industry, Volkswagen AG Chief Executive Officer Oliver Blume got some bad news.
A top executive had been dispatched to China to review the competitive landscape and his assessment was grim. At the company's headquarters in Wolfsburg — a sprawling factory complex the size of Monaco — he told his new boss that Europe's largest carmaker was losing the electric-vehicle race in its most important market and had no prospect of catching up on its own.

Volkswagen had fallen behind in China during the pandemic and by the time the country began to reopen, BYD Co., Nio Inc. and other local brands had doubled the number of hybrid and electric models, with most cheaper and better than VW's offerings.

Click here for a German version of this story

Those new competitors are now turning toward Europe as China's economy stumbles. The extra pressure comes as Volkswagen and other German manufacturers feel the strain of high energy prices in the fallout from the country's long reliance on Russia.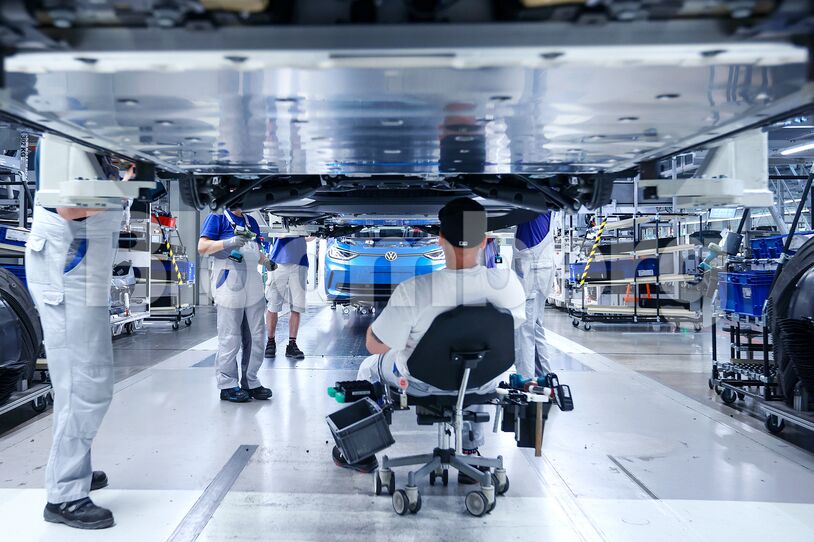 Half a world away, Tesla Inc. has continued to expand and has laid claim to leadership in automotive innovation, undermining the German giant's cash cow Audi — alongside Mercedes-Benz and BMW. Instead of sleek Audi sedans claiming "Vorsprung durch Technik," Teslas have become the choice for consumers wanting to show they're on the cutting edge.
Read More: Germany's Stop-Start Economic Motor Is Probably in Reverse Again
The competitive vise squeezing Volkswagen from top to bottom and from the US to China might evolve into its biggest crisis since the 2015 diesel scandal. The issues could be even harder to overcome and reflect the risks looming over Europe's largest economy.
"The auto industry is faced with the question of whether and how we will be a global leader in the future," German Foreign Minister Annalena Baerbock said at the Munich car show last week. "For our nation, where the auto industry accounts for a large share of value creation, this is not just an economic issue, but also a question of security."
Subscribe to our free, daily German newsletter Fünf Themen des Tages here
The time for VW to get its electric-vehicle strategy right is running out. An inflection point is coming, and the group risks getting confined to the waning market for combustion-engine cars and lacking the volumes to support its bloated structure.
Its struggles are evident with the stock tumbling 29% over the past 12 months. Its market value is less than one-tenth of Tesla's despite triple the revenue.
On top of skeptical investor sentiment, competitive pressure is building with an aggressive price war in China, where many brands are selling at a loss.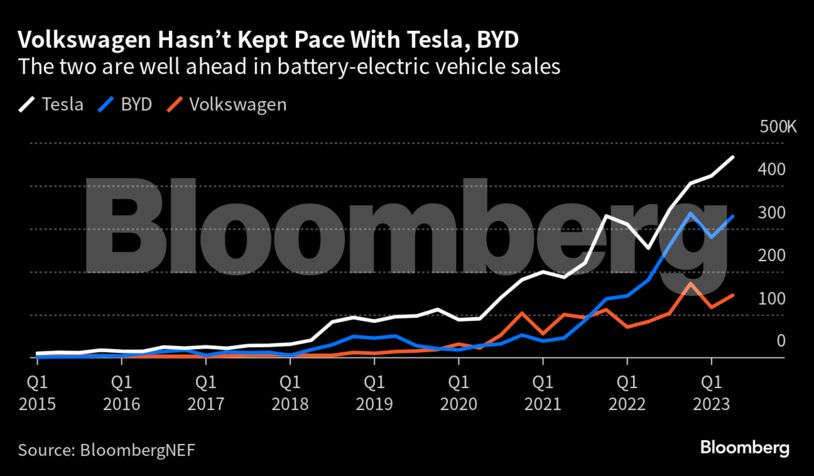 The company has already spun off minority stakes in sports-car maker Porsche and its heavy trucks unit Traton SE, and calls for a deeper breakup may grow louder if it starts losing market share in Europe, said Daniel Roeska, an analyst with Bernstein.
Read More: Europe's Economic Engine Is Breaking Down
But Blume and his team are banking on Volkswagen's vast resources paying off as electric vehicles go more mainstream.
"It's a marathon, and not everyone in a marathon who comes out fastest will be seen first or at all at the finish line," said Ralf Brandstätter, Volkswagen's China boss.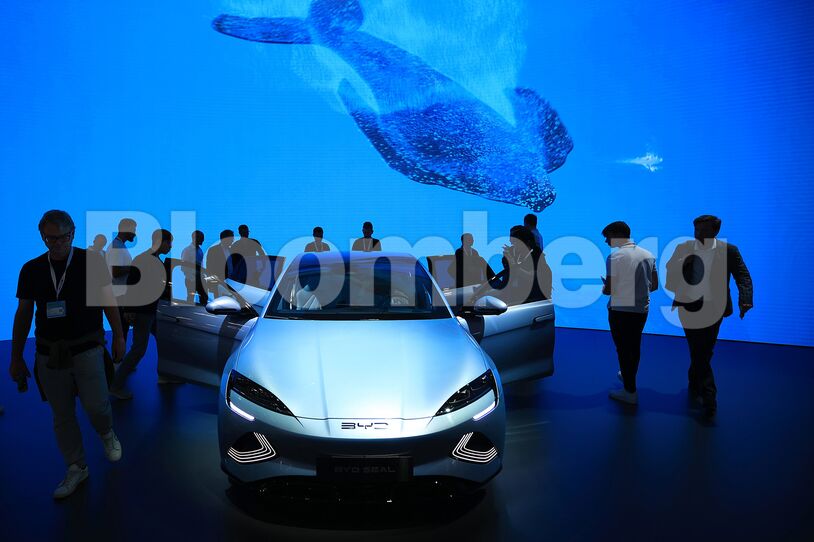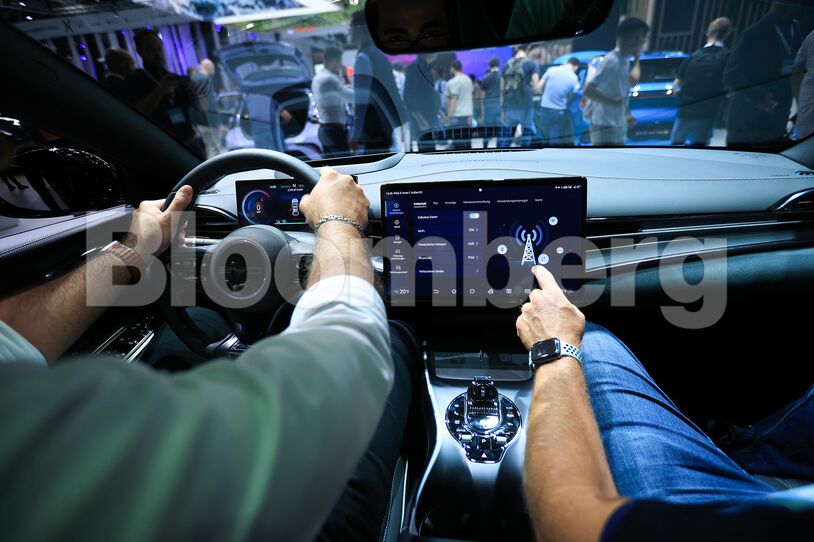 At Europe's biggest auto exhibition this year, China's carmakers showed that they're ready to take the fight to Germany. Their ranks at the Munich show more than doubled compared with 2021, and BYD positioned its Seal sedan — which will start at around €45,000 ($48,000) when it goes on sale later this year — as a direct rival to Tesla's Model 3 and several of Volkswagen's electric cars.
VW symbolizes the "economic miracle" of Germany's post-war recovery like few other companies. The ongoing challenges of company and country are still equally intertwined. Both are heavily exposed to the risks posed by China's growing industrial and political ambitions. The Asian superpower is Germany's largest trading partner and the source of nearly 40% of VW's global deliveries last year. Also, the struggle to pivot to cars that rely on software more than horsepower is indicative of Germany's difficulties adapting to the digital era.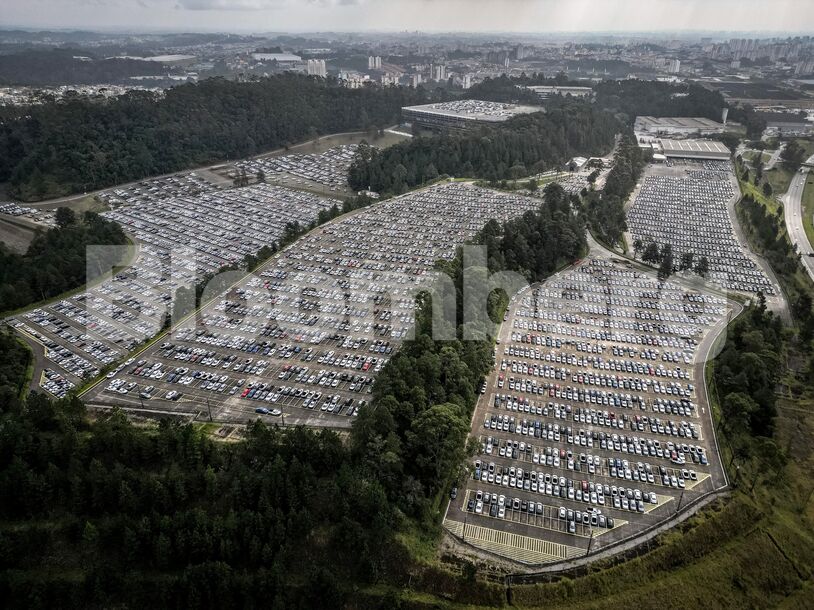 Like Germany, VW is complex and slow-moving. The company employs nearly 700,000 people across more than 100 factories around the world. It makes everything from exotic Lamborghini supercars to thrifty Skoda hatchbacks and powerful Scania trucks. Complicated internal power dynamics bog down change, while hubris has been fueled by decades of success.
What Our Experts Say:

"The car industry in Germany is closely intertwined with other branches in the manufacturing and services sector. Production still hasn't reached its pre-pandemic level, making it an important factor behind the ongoing weakness of the German industrial sector."

— Martin Ademmer, economist at Bloomberg Economics
Propelled by government policy, China's shift to electric vehicles is happening even faster than other countries. EVs are set to account for half of all cars sold in the world's biggest auto market by mid-decade.
China's threat to German automotive supremacy was on display in Munich. BMW executives marveled at the sleek Cyberster roadster from SAIC Motor Corp.'s MG brand — it will go on sale next year for around €57,000, in line with BMW's gasoline-powered Z4. Over at BYD, VW's top labor representative Daniela Cavallo intently watched its presentation.
"Our international competition is not sitting idle," said Hildegard Müller, head of Germany's auto lobby VDA. "Our companies are mainly generating their profits abroad, helping to keep jobs in Germany. But the pressure is rising because of weak economic growth and conditions that are no longer internationally competitive."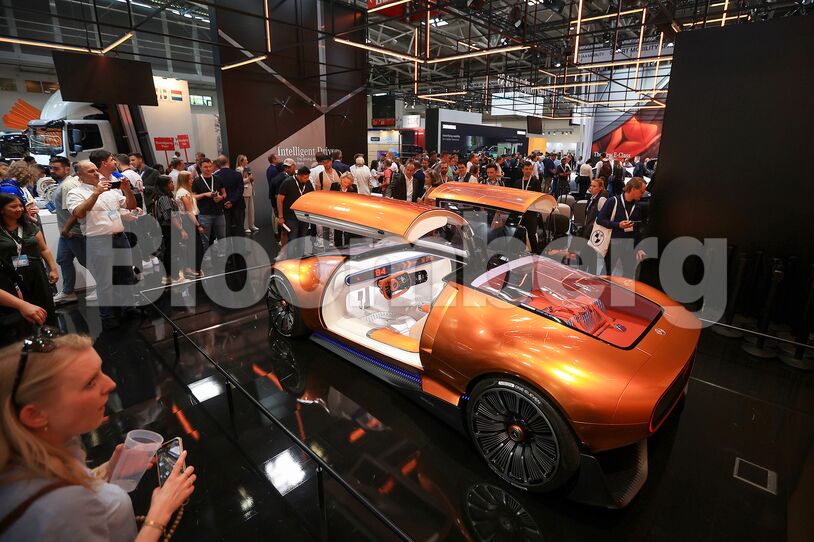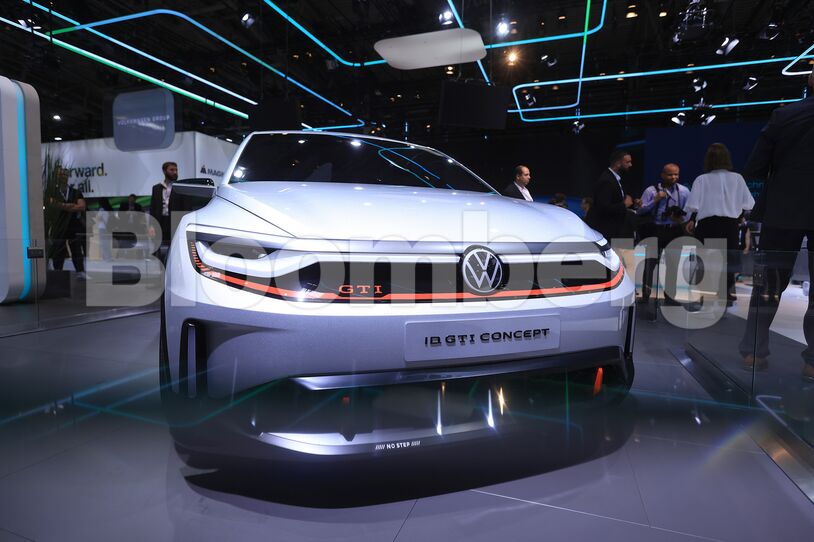 Alongside a smattering of technical advances, German brands focused on heritage — something Tesla and Chinese rivals couldn't match. At Mercedes-Benz's stand, the carmaker had a mocked-up electric version of its experimental C111 supercar from 1970. BMW's Neue Klasse deliberately recalls its ground-breaking line of cars from the 1960s, and VW displayed the GTI electric-car concept, evoking the sporty version of the Golf.
Read More: Electric Cars Pass a Crucial Tipping Point in 23 Countries
With Blume now on the job for a year, the contours of his response to the alarm bells from last October are taking shape. The effort involves a host of new partners, a third try at a competitive electric-car platform and overhauling management at Cariad — VW's in-house software developer which has failed to keep pace with Tesla and other rivals.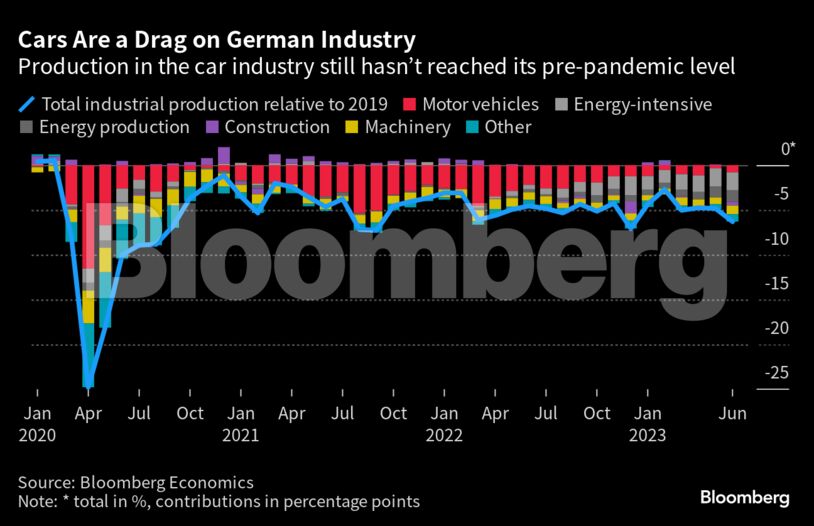 "Every company has to start with itself — to innovate, to develop and at the end to perform," Blume said at the car show in Munich. "It's up to us."
The most aggressive move was paying $700 million for almost 5% of Chinese carmaker Xpeng Inc. The stake in the loss-making company — which isn't in the top 10 for EV sales in its home country — was the price VW was willing to pay for access to a technology platform to help fast-track its mainstream electric-car offerings. It was widely taken as a last-ditch attempt to turn things around.
Already with three joint ventures in China, the Xpeng deal was preceded by new cooperation agreements with a battery maker, an autonomous driving specialist and an infotainment developer. The expanded roster of Chinese partners piles on complexity and deepens entanglements in a country increasingly antagonistic toward the West.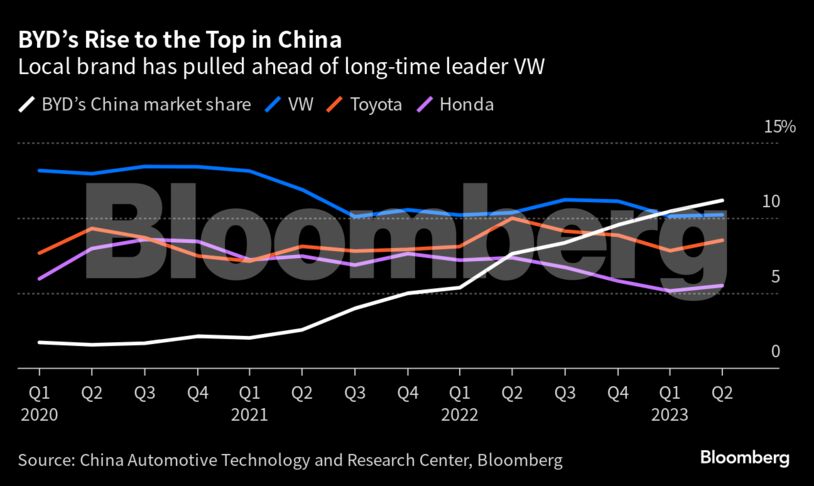 For the 55-year-old Blume, who's been at Volkswagen since joining a trainee program in 1994, the approach sticks to a familiar playbook: when in doubt, expand. It's a common strategy for a group that operates 10 brands and counting.
VW is structurally skewed toward expansion, with the main power players keen to protect their turf and agreements often requiring time-consuming horse trading. There are the descendants of Ferdinand Porsche, who created the concept for the iconic Beetle and are keen to keep dividends flowing; Volkswagen's home state of Lower Saxony, which has a special blocking minority; and the company's powerful works council.
"VW is like a big tanker ship that needs time to make a turn," said Mathias Miedreich, CEO of Belgian manufacturer Umicore SA, which has a deal to supply the automaker with battery materials. "Once the tanker ship starts to turn, you cannot stop it anymore."
The inclination to grow to fix a problem is also evident in Volkswagen's efforts in the US. The German carmaker has struggled to play a major role in the market ever since Beetle mania faded in the late 1970s. The latest push includes a new $2 billion factory in South Carolina to revive the off-road Scout brand, which has been dormant for four decades. Beginning in 2026, the plan is to make battery-powered SUVs and pickups as a retro-themed answer to Tesla's Cybertruck and Rivian Automotive Inc.
VW's messy transition to electric vehicles has its roots in the emissions-cheating scandal. For years, the company had pushed "clean diesel" as a fuel-efficient alternative to hybrids, only to eventually acknowledge that those claims were bogus and millions of its vehicles had spewed out illegal amounts of pollution.
The revelations tarnished Germany's reputation for engineering prowess and triggered a catch-up strategy under Blume's predecessor Herbert Diess. The former BMW executive, who joined just before the diesel-cheating revelations, vowed to carry out historic change, but he ruffled feathers, especially at VW's works council, while software issues caused new models to flop and others to get delayed.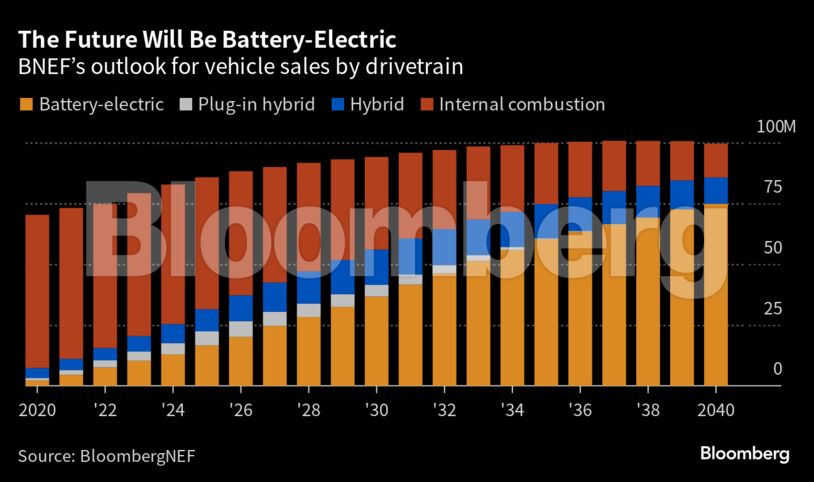 In early 2022, as pressure on Diess grew, Volkswagen hired McKinsey to help figure out a plan to fix Cariad. Developers from Audi, Porsche and the software unit struggled with infighting due to brand allegiances and were overwhelmed by the task of building out two new platforms — one for Audi and Porsche and another for other Volkswagen brands. Ineffective top-down decision-making and managers with no experience overseeing software development made the situation worse.
Diess wanted to disrupt VW's culture — zipping over the water of the Wolfsburg factory canal on a hydrofoil and donning a Batman mask to promote new models — but by last summer, his shock-and-awe approach had outlasted its welcome.
The situation at Cariad remained so dire that after taking over in September, Blume created a "savior crew" to develop a new strategy and cancelled the five-year financial planning update that fall.
As a VW lifer, Blume — also head of the Porsche brand, which is close to the Porsche-Piëch family — is well-schooled in navigating the company's factions. While that might bring calm to Wolfsburg, there are questions whether adding yet more partners in China will pay off and how Blume's steps to finally squeeze more returns from VW's mass-market brands are any different from previous attempts that failed to deliver.
His key priorities involve fixing Cariad, stabilizing market share in China, growing in the US, raising the VW brand's profit margins and building a competitive EV portfolio at Audi. None of it is quick and easy.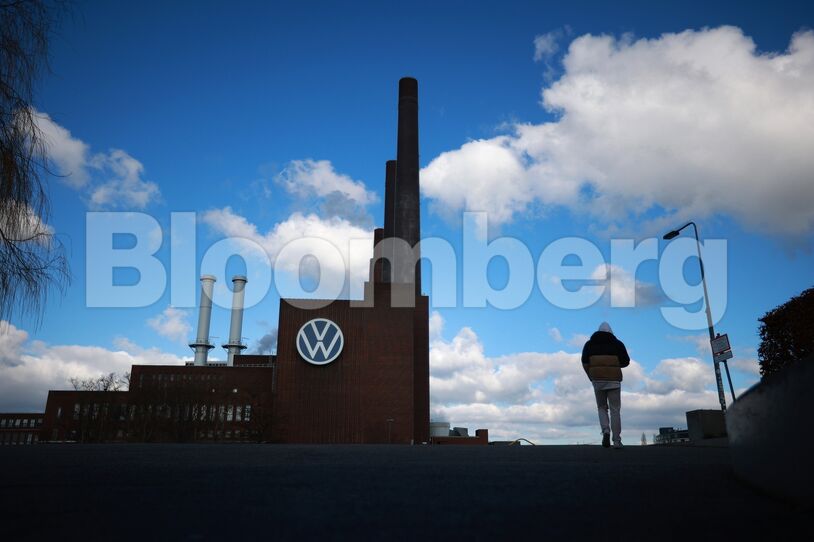 In his first year on the job, he's swapped out the Audi chief, tasked the namesake VW brand with finding savings to boost earnings by €10 billion by 2026, and started a portfolio review for possible asset sales.
While VW is dogged by complexity and power struggles, it has deep pockets to fight back. Its auto division had €33.6 billion in net liquidity at the end of June. And after listing a minority stake in Porsche a year ago, there's plenty of other options to raise more money if needed.
"Competition should spur us on, but not scare us," German Chancellor Olaf Scholz said in a speech at the car show. "In the 1980s, it was said that Japanese cars would overrun all other markets. Twenty years later, it was cars 'Made in Korea,' and today it's supposedly Chinese electric cars."
---