Newsdeck
German Industry Output Falls for Third Month as Woes Linger
German industrial output fell again in July, further holding back Europe's biggest economy and casting a pall over the start of the third quarter.
Production declined 0.8% from June, led by capital and consumer goods, according to the statistics office in Wiesbaden. The median prediction in a Bloomberg survey of economists was for a drop of 0.4%. The index for output showed the lowest level since December.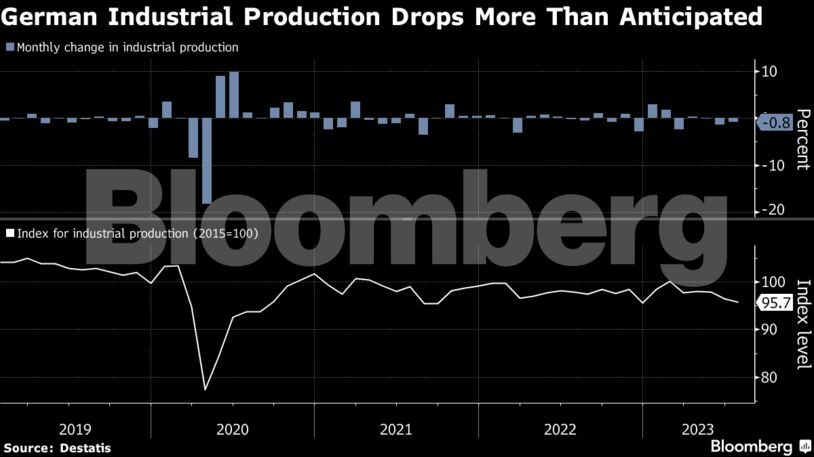 German factories are enduring extended weakness amid poor demand from China, worker shortages, higher interest rates and the lingering fallout from last year's energy crisis.
That's weighing on the economy as a whole, which is anticipated to suffer the only contraction of the Group of Seven this year. Analysts at the Kiel Institute on Wednesday predicted that output will slump again this quarter, having barely exited a winter recession with stagnation in the three months through June.
What Bloomberg Economics Says:

"With a further decline in industrial production in July and sentiment in the manufacturing and construction sector at a low point, industry is likely to drag down overall economic activity in the third quarter this year. For Germany's economy, the second half of 2023 might not look much better than the first."

—Martin Ademmer, economist. For full react, click here
Germany's production decline comes a day after July data showed that factory orders plummeted the most since the height of the pandemic in 2020.
---