Business Maverick
Wheat Rises 9% as Russia Issues Warning on Ships Headed to Ukraine
Wheat futures soared as much as 9% in Chicago as Russia issued a warning on the safety of new vessels headed to Ukrainian ports.
Russia's defense ministry said that all ships headed to the ports from Thursday will be considered as potentially carrying military cargo. That increases the military risks in the region and could quell even vague hopes for Ukraine to restart exports via the Black Sea, following the collapse of the grain-export deal earlier this week.

"We saw it as unlikely that the grain deal would continue, but this is escalatory — after a number of escalations we've already seen," said Michael Magdovitz, a senior analyst at Rabobank in London. Ukrainian farmers' crops are "coming to harvest at the very time when their export capacity is being shut off," he said.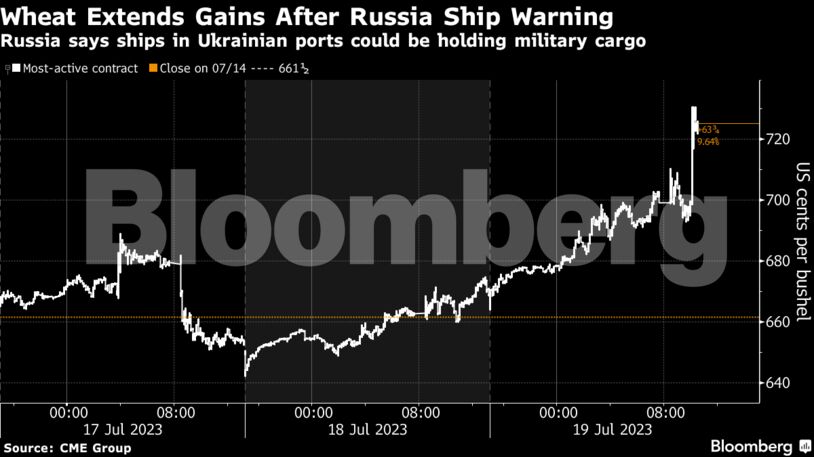 The flag countries of vessels sailing to Ukraine will be considered as on Kyiv's side in the conflict, the ministry said on Telegram. Some sea areas in the northwestern and southeastern parts of the international waters of the Black Sea have been declared temporarily dangerous for navigation, it added.
President Volodymyr Zelenskiy said earlier that Ukraine was studying options to get the grain corridor working again after Russia announced its exit from the deal on Monday, including possible convoys for ships, according to Interfax.
Read more: Ukraine Plea to Keep Grain Moving Clashes With Shippers' Reality.
Ukraine's Black Sea ports are a vital artery for its grain sales abroad — historically accounting for the bulk of shipments — and the harvest season is now underway. While Ukraine can still ship grain by river, road and rail, it's much more cumbersome and expensive than via its deep-sea ports and the corridor's closure could slow the next crop getting to market.
---