Business Maverick
US Inflation Hits Two-Year Low, Giving Hope for End to Fed Hikes
US inflation sharply cooled last month, offering fresh hope that the Federal Reserve can soon wrap up the most aggressive interest-rate hikes in decades.
The consumer price index rose 3% last month from a year ago, the smallest advance in more than two years, according to data out Wednesday from the Bureau of Labor Statistics. Excluding food and energy, the core CPI — which economists view as the better indicator of underlying inflation — advanced 4.8%, also the lowest since 2021.

Both measures climbed 0.2% from May, less than economists expected.

Follow the reaction in real time here on Bloomberg's TOPLive blog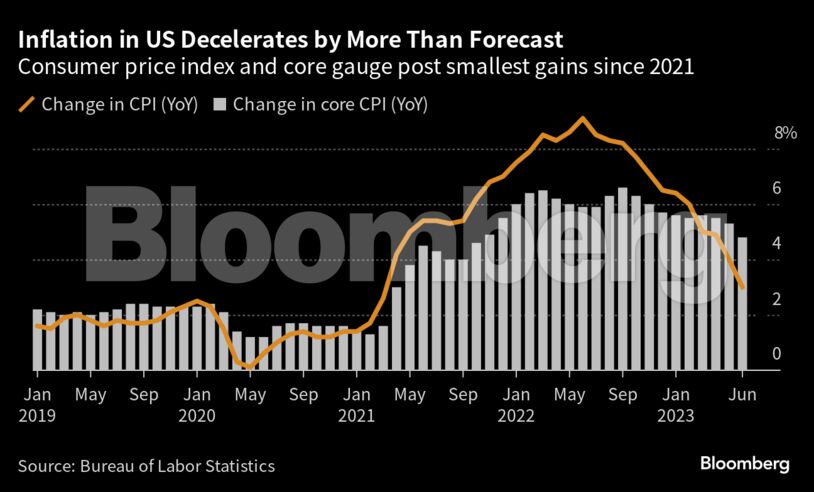 Treasury yields plummeted, the S&P 500 opened higher and the dollar slid following the report. The chances of an additional Fed rate increase after this month slipped to well below 50%.
The figures underscore the progress of reducing price pressures since inflation peaked a year ago, aided by more than a year of interest-rate hikes and easing demand. Even so, price pressures are running well above the Fed's target and will keep policymakers inclined to resume raising interest rates at their July 25-26 meeting.
"Inflation is too high. Our target's 2%," Richmond Fed President Thomas Barkin said at an event Wednesday after the report. "If you back off too soon, inflation comes back strong, which then requires the Fed to do even more."
What Bloomberg Economics Says…

"The favorable CPI report will bolster voices on the FOMC arguing that July's hike should be the final one — matching our baseline."

— Anna Wong and Stuart Paul

To read the full note, click here
A key reason for the slowdown in the overall measure is that the latest figure is compared to June 2022, when a rapid run-up in energy prices following Russia's invasion of Ukraine helped drive inflation to a four-decade high. Looking ahead, upcoming year-over-year readings will be compared to relatively lower prints.
| Metric | Actual | Median Estimate |
| --- | --- | --- |
| CPI MoM | +0.2% | +0.3% |
| Core CPI MoM | +0.2% | +0.3% |
| CPI YoY | +3.0% | +3.1% |
| Core CPI YoY | +4.8% | +5.0% |
While a hike at this month's meeting has been signaled as likely by a number of Fed officials, they will also take into account upcoming readings on producer prices, inflation expectations and retail sales.
The report also showed a key services category excluding housing and energy — closely watched by Fed officials when assessing the nation's inflation trajectory — was little changed in June from the prior month. From a year ago, it decelerated to a 4% advance, also the smallest increase since late 2021. However, the Fed computes this based on a separate index.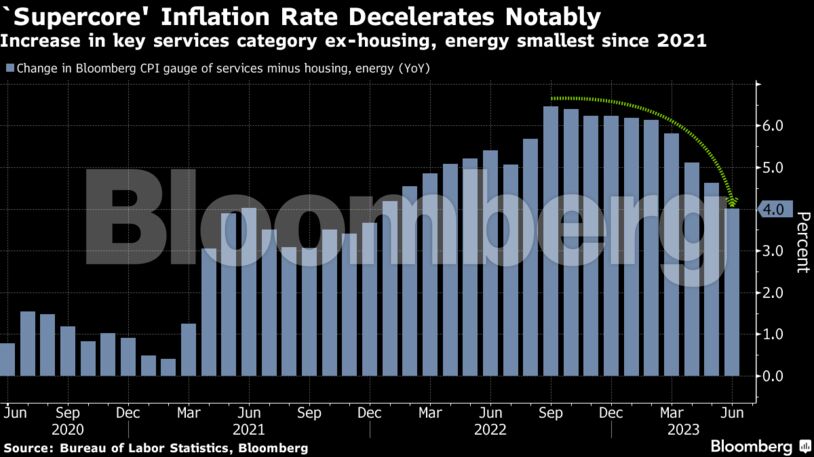 Shelter costs, which are the biggest services component and make up about a third of the overall CPI index, climbed 0.4%, including the smallest increase in a key measure of rent since the end of 2021. Many economists expect price gains in the housing categories to continue to ease in the coming months.
Fed officials have also worried about merchandise prices — which proved to be a helpful disinflationary force last year but have showed signs of strength in recent months. Excluding food and energy, goods prices fell for the first time in 2023.
Grocery prices, which have been a big strain on Americans' budgets, were little changed last month. Medical care service costs were also flat.
Key Movers
Airfares fell 8.1%, the second-largest drop since April 2020
Hotel stays fell 2% in June, the second decline this year
Energy prices rose, led by gasoline and electricity
Used cars fell for the first time in three months
Car insurance costs continued to rise
Shelter costs accounted for more than 70% of the overall monthly advance
A large part of what's keeping inflation elevated — as well as powering the rest of the economy — is a resilient labor market. Employers continue to add jobs at a robust pace and wage gains are still strong, enabling Americans to keep spending.
Fed officials agree that wages and inflation are related, but they're divided as to which drives the other. A separate report out Wednesday showed inflation-adjusted average hourly earnings rose for a fourth month in June. They were up 1.2% from a year ago, the most since March 2021.
---