Business Maverick
Dollar's Epic Drop Sends Franc and Yen Surging as Traders Weigh Fed Path
A 14-month low in the US dollar is rippling through global currency markets as traders consider the impact of cooling US inflation on the Federal Reserve's most-aggressive tightening cycle in a generation.
The Swiss franc rose to the strongest level since 2015 against the US currency, while Japan's yen gained more than 1% on the day to consolidate its gains below 140 per dollar. The euro spiked to $1.10, the strongest since March of last year.

"It breathes more life into the view that the Fed is closer to the end of its cycle," said Bipan Rai, CIBC's global head of foreign-exchange strategy. "We can't say that definitively for a few of the other major central banks out there, which is a powerful cue for a weaker US dollar."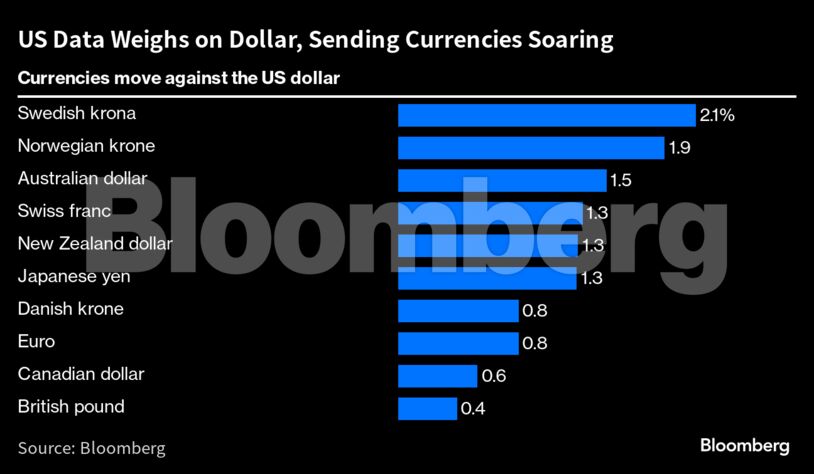 Excluding food and energy, the US consumer price index — which economists view as the better indicator of underlying inflation —advanced just 4.8% from a year ago, the lowest since late 2021 but still above the Fed's target.
That sent a benchmark for the dollar slumping to the lowest since April 2022 and dragged Treasury yields lower. The chances of an additional Fed rate increase after this month's expected hike slipped to well below 50%.
Some 27 of the 31 major currencies tracked by Bloomberg were up on Wednesday after the US inflation print, with some nearing key levels.
The franc's surge pushed it just off the highest since early 2015, when the Swiss National Bank roiled markets worldwide with an unexpected decision to abandon the currency's cap against the euro. The British pound, meanwhile, is running up against $1.30, a level it hasn't touched in a year.
The loonie also gained as the Bank of Canada raised its benchmark interest rate, pushing back the timeline for inflation's return to target while revising growth upward.
Rallies extended across emerging markets, too. The offshore Chinese yuan climbed to its strongest level in almost three weeks, while an MSCI Inc. index of developing-economy currencies headed for its longest winning streak since May.
"Disinflation is the theme now, that's the trade," Nomura strategist Jordan Rochester said. In terms of the Fed's rate-hiking path ahead, "the idea of July and done is likely to gain more credibility on the Street."
---