Business Maverick
Russia's Cash Flood Turns to Trickle as Energy Revenues Slide
Russia's current-account surplus slumped in the second quarter from its peak a year earlier, reflecting a rapidly worsening trade situation that's putting the ruble under pressure.
The surplus in the current account — roughly the difference between exports and imports — decreased to $5.4 billion in the last quarter, from $76.7 billion in the same period in 2022, according to preliminary central bank data published on Tuesday. It's the smallest surplus since the third quarter of 2020.

Plummeting revenues from energy exports are cutting into proceeds that have provided the Kremlin with a critical source of hard currency since Russia's invasion of Ukraine in February 2022. With the economy under unprecedented sanctions in response to the war, lower crude prices and capped gas flows to Europe are combining with a recovery in imports to narrow a windfall that reached a record $233 billion in 2022.

The central bank still expects a current account surplus of $47 billion this year and $38 billion in 2024. On Tuesday, it said in a statement that Russia's worsening trade balance was caused by a decrease in export volumes as well as the decline in prices mainly for energy exports.

The current account balance turned negative in June due to seasonal factors and dividend payments by Russian companies amid an unfavorable market environment, the bank said.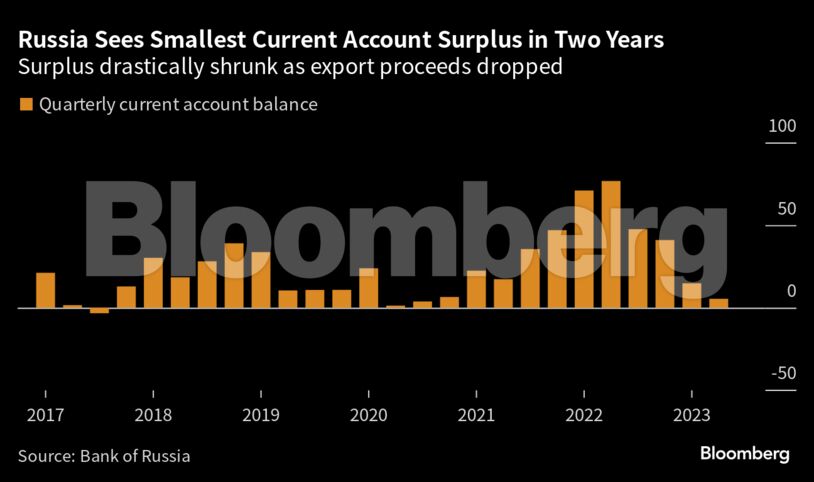 Goldman Sachs Group Inc. estimated the lower price of oil contributed $25 billion to the second-quarter drop in the surplus year-on-year, while rising imports likely cut it by a similar margin. Much of the remainder was due to the drop in gas export volumes and prices, according to a report.
"We think the main drivers of the current account will continue to be domestic demand growth, rising fast due to a significant loosening in fiscal policy and oil prices," Goldman analysts including Clemens Grafe said.
What Bloomberg Economics Says…

"Russia's external balance continues to deteriorate as energy sanctions bite and loose domestic policies push demand for imports up. A weaker trade balance means Russia's ruble will remain weak as well, on our estimates, lifting inflation close to 5% this year. We expect the current account surplus in 2023 to shrink to less than a fifth of last year's $233 billion. The narrower external balance will mean Russia's ability to direct capital to acquire assets and infrastructure it needs to avoid sanctions will diminish as well."

—Alexander Isakov, Russia economist.
The deterioration in external finances is keeping the Russian currency under strain and stoking its volatility.
The ruble lost 13% against the dollar in the second quarter, the worst performance in emerging markets behind Argentina's peso and the Turkish lira. One-month implied volatility, a measure of turbulence in the currency, is the world's highest.
"Due to the sanctions, the ruble exchange rate now only reflects current account flows," Ulrich Leuchtmann, head of currency strategy at Commerzbank AG, said in a report. "Hence, the ruble is likely to depreciate medium-term due to the declining current account surplus."
---