Business Maverick
India Increases Africa Lending in Race to Counter China
Africa has become the second-largest recipient of credit from India as the country tries to catch up with China in expanding its influence in the resource-rich continent. 
Forty two African nations received about $12 billion or 38% of all credit extended by India in the last decade — just a few percentage points below its neighbors, Harsha Bangari, the managing director of India's Export Import Bank said in an interview.

The bank is an instrument of India's "economic diplomacy," Bangari said, adding that the South Asian nation has also opened up 195 project-based lines of credit across Africa, three times the number it has in its own region in the last decade.

"Africa has made good use of credit lines," extended for projects that include health care, infrastructure, agriculture and irrigation and India is seeing a steady increase in demand, she said.

Despite the recent efforts by India to engage with countries in the world's second-largest continent, the nation has lagged behind its bigger and wealthier neighbor in making inroads in Africa. While China's loans to Africa have dipped since 2016, overall in the 10 years to 2020, it pledged $134.6 billion to African nations, according to data from Boston University's Global Development Policy Center. That's almost 11 times more than what India has offered.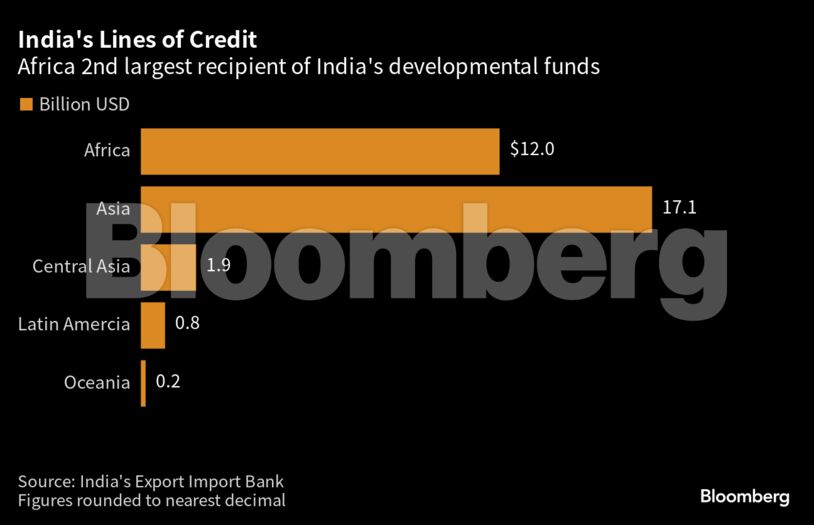 China has also made an early move to tap mineral resources in Africa. The North Asian nation is tapping new centers of lithium supply, helping it navigate a tight market for a key metal for electric vehicles.
The country is also the biggest buyer of bauxite from Guinea, which holds one of the world's largest reserves of the ore used to make alumina and is invested in developing the world's biggest untapped deposit of high-grade iron ore in the West African nation.
Read more: China Becomes Lender of Last Resort for Developing Countries
However, Prime Minister Narendra Modi's government has pushed for greater reach into Africa, boosting both economic and diplomatic links. As the continent deals with the economic fallout of the pandemic and Russia's war in Ukraine, New Delhi is seeing an opportunity to push deeper into the continent.
"Supporting Africa's development is in the common interest and responsibility of the international community," China's Ministry of Foreign Affairs said in an email. "Diversification of financing partners is also conducive to the development of African countries."
In the last nine years, 18 of the 25 new Indian embassies or consulates were in Africa. In February, India hosted 48 African countries at the Voice of Global South summit. Modi has also been championing India as a representative of the Global South and using platforms like its presidency of the Group of 20 nations to draw attention to the debt crises in developing economies.
"We are trying to think 25 years from now," India's Foreign Minister Subrahmanyam Jaishankar said in a speech on June 28. "And ask ourselves where are we likely to be in 2047 and what should we be doing now to prepare for it."
Some of the largest credit offered by the EXIM Bank include:
| Country | Amount of Credit | Project |
| --- | --- | --- |
| Mauritius | $765 million | Metro Express |
| Tanzania | $500 million | Water supply in 17 towns |
| Sudan | $350 million | Building Kosti Power Plan |
| Zimbabwe | $310 million | Re-powering Hwange Power Station |
| Mozambique | $250 million | Improving quality of power supply |
| | | |
China's quantum of financing is bigger than India, but New Delhi let's governments decide what they need and doesn't burden them with the sort of vanity projects Beijing is often critiqued for, Bangari said.
India's engagement in Africa is in sectors including energy, transportation, social housing, water and increasingly healthcare and defense, Bangari said.
Read more: Souring Deals Put China's Belt and Road Dreams Under Pressure
"If you see the projects which India has supported you will see they bring a lot of benefits to the economy."
---