Business Maverick
Putin's Economic Forum Puts Russia's Isolation on Display
Vladimir Putin's annual economic forum in St. Petersburg was a magnet for global politicians and investors until his invasion of Ukraine. Now it's become a measure of Russia's deepening isolation.
Organizers have struggled to attract major political figures, according to the program for this year's event that opens Wednesday, as even some leaders of Russia's former Soviet neighbors have opted to stay away.

With European and US business leaders all but absent, the 26th St. Petersburg International Economic Forum is drawing mostly lower-level officials from countries that have stayed largely neutral on the war, including from the Middle East, Latin America and Asia. The four-day event offers a snapshot of how Russia's having to re-wire its economic relations under pressure from unprecedented sanctions imposed by the US and its allies.

Putin will address the forum's plenary session as usual, his spokesman Dmitry Peskov told reporters.

Where French President Emmanuel Macron and then German Chancellor Angela Merkel were once high-profile guests, the most senior European visitor this year is Hungarian Foreign Minister Peter Szijjarto. He's scheduled to speak at a panel on global energy with Venezuelan Petroleum Minister Pedro Tellechea.

Szijjarto will "represent exactly the same position in St. Petersburg that he has everywhere else earlier," Hungarian Foreign Ministry spokesman Mate Paczolay said. "That is that the war and the senseless killing of people must be brought to an immediate end and peace talks must start."

Brazilian President Luiz Inacio Lula da Silva declined an invitation to attend the forum. Kazakh President Kassym-Jomart Tokayev also won't be there, according to officials in the Central Asian nation.

Tokayev caused a stir at last year's event when he publicly disagreed with Russia's invasion while sitting alongside Putin on the plenary stage.

Republika Srpska President Milorad Dodik, who met with Putin at the Kremlin last month, isn't planning to attend, according to his office.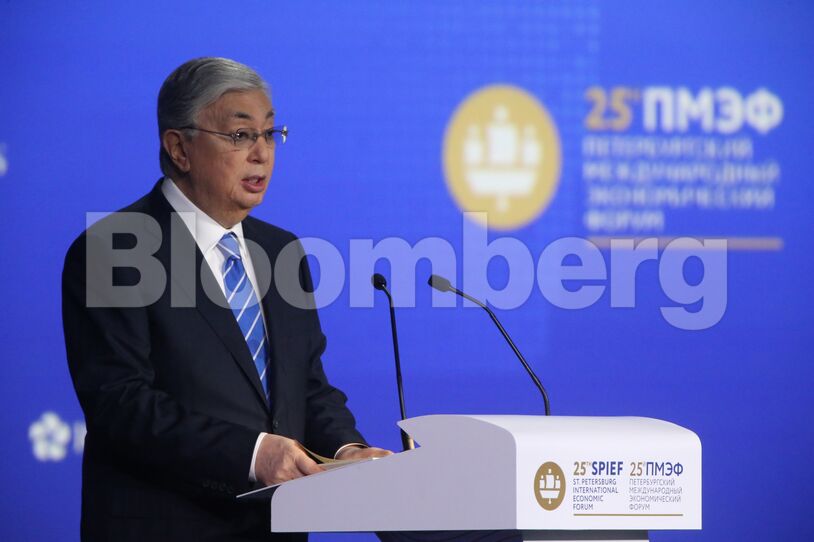 Cuban Prime Minister Manuel Marrero Cruz is due to take part in a session on Russia-Latin America ties. The Chinese ambassador to Moscow, Zhang Hanhui, and the leader of the Union of Chinese Entrepreneurs in Russia are the star guests at a panel on bilateral trade relations. A panel on Russia-India relations includes only two Indian business representatives out of 12 speakers listed.
GLOBAL INSIGHT: Friends Don't Sanction Friends – UN Vote Drivers
The largest international presence will be from the Middle East, according to the program. United Arab Emirates Economy Minister Abdulla Bin Touq Al Marri heads a group of UAE officials listed as taking part in a session on trade relations with Russia.
Russian tycoons are likely to be out in force this year. Many were fearful to be seen at last year's SPIEF as the US and the European Union hit back at Putin's February 2022 invasion of Ukraine, but most are now under international sanctions.
Billionaires Oleg Deripaska, steelmaker Severstal's Alexey Mordashov, Novatek Chairman Leonid Mikhelson, Sistema's Vladimir Evtushenkov and Russia's richest man Vladimir Potanin are set to attend. Billionaire Vadim Moshkovich, RosAgro Plc shareholder and founder of the Letovo school in Moscow that recorded the top results globally in the International Baccalaureate qualification last year, is scheduled to join a session on education via video link.
Russian Billionaires Shut Out From World Spend Fortunes at Home
Lavish parties featuring global entertainers such as Sting and Robbie Williams were a feature of SPIEF in past years as tycoons and state-run companies competed to host the glitziest events. With the war in Ukraine deep into its 16th month, few parties are planned this time.
Russian officials and experts make up the overwhelming majority of speakers at the forum, though representatives from countries including Sri Lanka, Laos, Vietnam, Turkey and Thailand are taking part, according to the program.
Leaders of the Association of European Businesses and the American Chamber of Commerce in Russia are also due to attend despite tensions between the Kremlin and their governments. Those tensions were evident in the decision of the forum's organizers to ban all journalists of media from "unfriendly" countries.
Organizers also reminded foreign visitors on SPIEF's website to bring dollars or euros with them to St. Petersburg because sanctions mean they won't be able to use their bank cards in Russia.
---