Business Maverick
Morgan Stanley, Goldman at Odds on S&P 500's Bull Market Rally
The S&P 500 entering a bull market has left Wall Street's top strategists split on the way forward.
Goldman Sachs Group Inc.'s David Kostin expects the gains to continue as other sectors catch up with the searing rally for technology shares. Morgan Stanley's Michael Wilson, meanwhile, points instead to the bear market of the 1940s, when the S&P 500 rallied 24% before returning to a new low.

"More are declaring the bear market officially over; we respectfully disagree due to our 2023 earnings forecast," Wilson — among the most bearish voices on Wall Street — wrote in a note.

The S&P 500 entered a technical bull market last week after gaining 20% from its October low as investors bet on resilient economic growth amid a pause in central bank interest-rate hikes, a key driver for the tech industry. The broad equities benchmark extended gains Monday, rising 0.2% in early trading.

Focus now is on the Federal Reserve's policy meeting this week, with the central bank finally expected to take a breather after more than a year of lifting rates.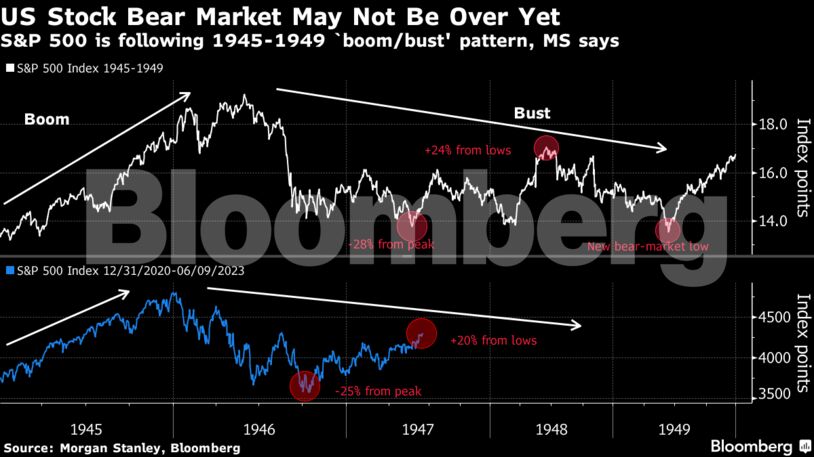 Wilson says the pause could mark the end of the rally "in an ironic twist" as liquidity tightens. The strategist expects S&P 500 earnings to drop 16% this year before a sharp recovery in 2024.
That compares with predictions for a decline of just 2.4% for 2023 as sell-side analysts have been boosting their earnings expectations swiftly for both US and Europe. With the past earnings season faring better-than-expected, upgrades have outpaced downgrades in the past two months, according to a Citi index.
Wilson ranked No. 1 in last year's Institutional Investor survey after correctly predicting the selloff in stocks, but his outlook for further declines in 2023 has proved wrong so far.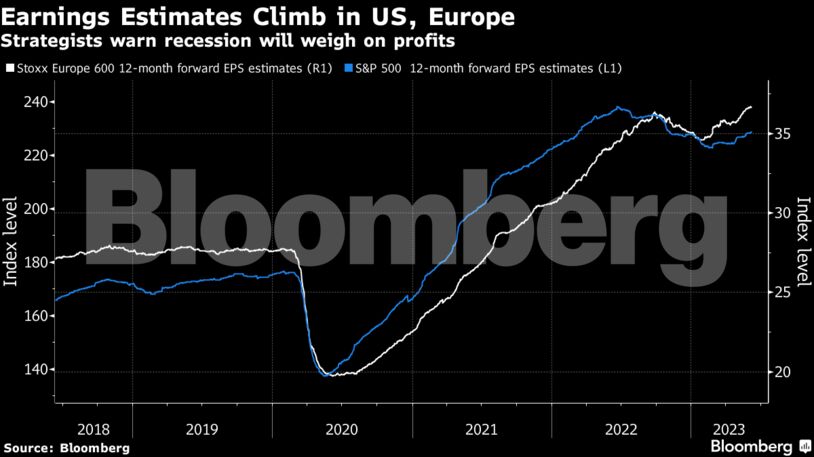 Catch Up
Goldman Sachs is optimistic, saying the S&P 500 is set to keep climbing as sectors beyond tech play catch up.
"Prior episodes of sharply narrowing breadth have been followed by a catch-up from a broader valuation re-rating," strategists led by Kostin wrote in a note dated June 9. Since 1980, the S&P 500 has seen nine such key episodes, which were followed by gains in other stocks that ultimately benefited the index, they said.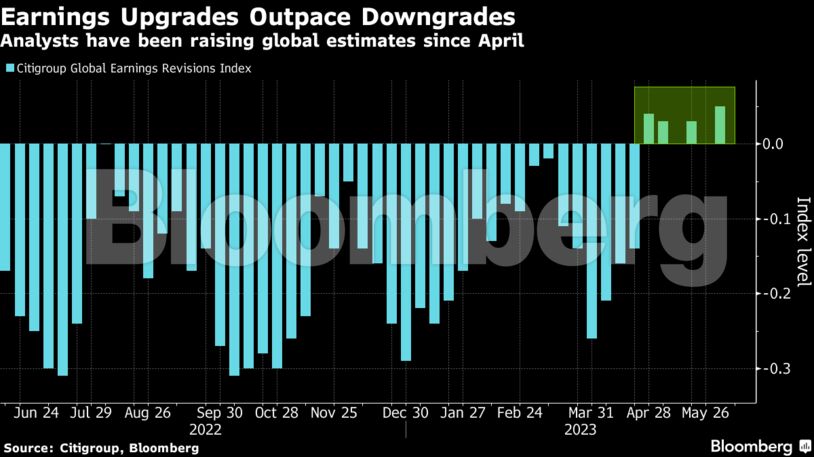 Kostin now expects the S&P 500 to end the year around 4,500 points, increasing his target from 4,000 and implying gains of nearly 5% from its Friday close.
History may be on Kostin's side. Bank of America Corp. strategist Savita Subramanian said last week that an analysis dating back to the 1950s shows the index advanced 92% of the time in the 12 months after it confirmed a bull market.
---