Business Maverick
Berlusconi's Death Set to Reshape Media, Political Empires
The passing of Silvio Berlusconi may trigger a wide-scale reshaping of his business empire just as it sets off another front to consolidate political power in Italy.
The end of a nearly 30-year era dominated by the four-time premier and former media mogul is expected by investors to herald a string of corporate deals as his family determines the future of the sprawling portfolio of companies on which he built his fortune.

It also creates the opportunity for Prime Minister Giorgia Meloni to cement her political standing at the helm of the euro-zone's third-biggest economy, which remains bedeviled by the chronic growth weakness defining the Berlusconi years that no successor has been able to escape.

The most immediate focus is on his corporate legacy, as witnessed in Monday's 11% stock surge in MFE-MediaForEurope NV spurred by market speculation of a selloff spree by his heirs, who are currently presenting a unified stance.

That's the most important asset in an empire born in Milan's postwar real estate boom but which now spans a panoply of businesses from media to soccer, including Italy's biggest commercial broadcaster, its largest publisher, Arnoldo Mondadori Editore SpA, and a minority stake in Banca Mediolanum SpA.

Whether an amicable carve-up between five children from two marriages can transpire and avoid a Succession-like tussle for control materializing instead is the primary question intriguing investors.

"Mr. Berlusconi had a vision on his companies and his family may not be committed as he was to such vision," says Fabio Caldato, a partner at Olympia Wealth Management. "The market is betting on a new shareholders structure for MFE — and we agree on that view."

The funeral of Berlusconi, a former cruise-ship singer who rose to become Italy's longest-serving postwar premier and died aged 86, will take place on Wednesday at the cathedral of Milan, at the heart of the city that saw his rise to fame as a construction, soccer and then media mogul.

Beyond that, it's not clear what plans are in place, notably for what happens next to a corporate empire that gave him an estimated net worth of $7.6 billion, nor for Forza Italia, the political party he founded and led.
The main clue on the business so far is a statement of intent from his family's holding company, Fininvest SpA, which reported net assets of about €5 billion in 2021 and paid out a dividend of about €150 million last year.
"His creative strength, his entrepreneurial genius, the constant correctness of conduct, the extraordinary humanity have always been the inalienable heritage of the company," it said. "This heritage will remain the basis of all our activities, which will continue in a line of absolute continuity in every aspect."
Berlusconi's core asset was MediaForEurope. Previously known as Mediaset, it was Italy's first true private television player, whose success made him a household name as the country's first modern media tycoon.
"Although Berlusconi's imprint on his business creations gradually faded away in recent years, his unwieldy political legacy continued to hover over it," Carlo Alberto Carnevale Maffè, a professor of business strategy at Milan's Bocconi University, said in a phone interview.
The options that could be unlocked following his death range from a takeover of German broadcaster ProSiebenSat.1 Media SE, where MFE is the largest shareholder, to a role in the complex Telecom Italia SpA network sale deal, where Berlusconi's siblings could play a role in accelerating a turnaround at the carrier's service unit — whether alongside or in opposition to arch-rival Vincent Bollore's Vivendi SE media conglomerate.
Vivendi owns more than 18% of Mediaset through a trust and a further 4% stake directly, holdings that showcase the complexity of Berlusconi's business empire and a common trait of the family-controlled landscape of corporate Italy.
After a failed takeover attempt in late 2016 by Vivendi, Mediaset pivoted to a strategy aimed at building a pan-European television alliance to boost its business outside the domestic market.
MFE also owns a 40% stake in broadcasting tower carrier EI Towers SpA, whose combination with state-backed peer Rai Way SpA has been bandied about in Italian business circles for nearly a decade, dating back to when EI Towers was fully controlled by Berlusconi.
But in 2015, then-Prime Minister Matteo Renzi used his veto powers to reject a bid by EI Towers to acquire Rai Way, citing the government view that the the tower business is of strategic national value.
Berlusconi's passing also creates a void to the center-right of Italy's political landscape that Meloni now becomes the obvious candidate to fill.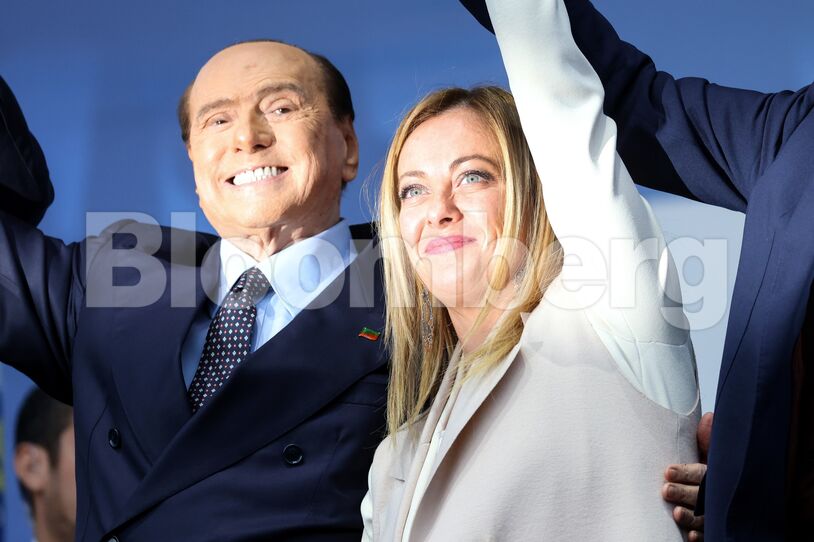 Forza Italia — the party he established in 1994 — could now be weakened by infighting between Foreign Minister Antonio Tajani, for years the party's official number two, and a grouping led by lawmaker Marta Fascina, the ex-premier's 33-year-old partner.
If that discord persists, it could create an opening for Meloni to grab a chunk of the 8% vote share it grabbed in the 2022 general election. Securing that base could allow her to limit the need to compromise with her other political partner, the League party of Matteo Salvini.
Whoever prevails in that fight will need to contend with the legacy of economic decline that entrenched itself during Berlusconi's reign and has so far proven impossible to reverse.
The former premier had ridden to power on claims of world-class business acumen that would bring about a free-market revolution and make Italy prosper.
But while Berlusconi's first stint in power in the 1990s took place at a time when the economy was still in a position to rival its Group of Seven peers, the UK and France, for the prize of being biggest, that competitive edge soon dissipated.
Under his watch, Italy's growth potential weakened and investors lost confidence in budgets that failed to deliver growth and fostered tax evasion.
Without mentioning Berlusconi by name, Bank of Italy Governor Ignazio Visco summed up much of the legacy of his later years in office during a recent speech in Rome.
"Italy's outlook for economic growth, however, will to a large extent depend on its ability to return to levels of labor productivity that increase at a much faster pace than that observed over the past 25 years," he said, observing that it had grown annually by just 0.3% of output in that time.
---