Business Maverick
Eskom Chairman Says Utility's Improved Performance Isn't a Fluke
Mpho Makwana, the chairman of South Africa's beleaguered state power utility, said a change in management structure has helped improve its plant performance, enabling blackouts to be eased, and further gains can be expected.
Over the past few weeks, the proportion of power Eskom Holdings SOC Ltd. can produce relative to its generating capacity has risen to 60.5%, compared with about 56% a year ago, Makwana said in an interview in Bloomberg's Johannesburg bureau on Friday.

The improvement belied warnings that South Africa's winter weather could see blackouts exceed previous records of as long as 12 hours a day earlier this year. The power cuts, which began in 2008, have hobbled South Africa's economy and weakened the rand. The central bank estimates that the outages will shave 2 percentage points off the nation's growth rate this year.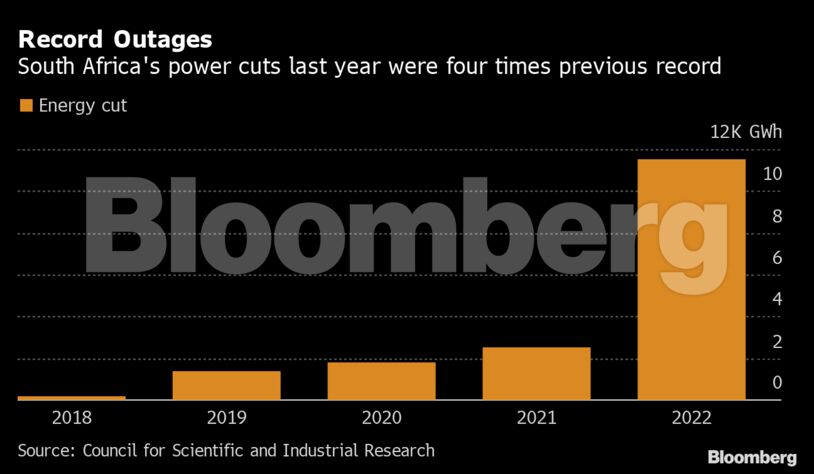 "The amelioration has not been a fluke," Makwana said. He attributed part of the gains to the company's decisions to scrap the post of chief operating officer and give individual plant managers more direct access to senior executives — changes he said had improved morale.
On Friday, Eskom Generation Executive Eric Shunmagum told reporters that a series of winter storms over the past week had helped offshore wind plants boost their output, which also reduced outages.
The improved availability of electricity has also been driven by higher tariffs that have cut demand, improved maintenance at power plants, and increased diesel supply at the open gas cycle turbines that are used for emergency supply during periods of high demand, he said.
The rand has gained 4.3% against the dollar over the last five days, the third-best performance globally, data compiled by Bloomberg show, in part due to the easing of the power crisis. Still, Eskom's so-called energy availability factor level remains below the 64% its board had targeted by this juncture and needs to be more sustained.
"We are making headway," Makwana said. "It's still early days to have song and dance, but for a full month now we've seen this consistent performance."
---