Business Maverick
Eskom Sales Seen Falling 2% Per Year as Private Power Grows
South Africa's independent power producers are eating into Eskom Holdings SOC Ltd.'s electricity sales, which are projected to fall 2% per year between now and 2027, according to Fitch Ratings Ltd.
Pressure on sales volumes is one of the factors that could lead to a deterioration in Eskom's liquidity and funding access, and a downgrade in the utility's credit rating, Fitch said in a statement this week.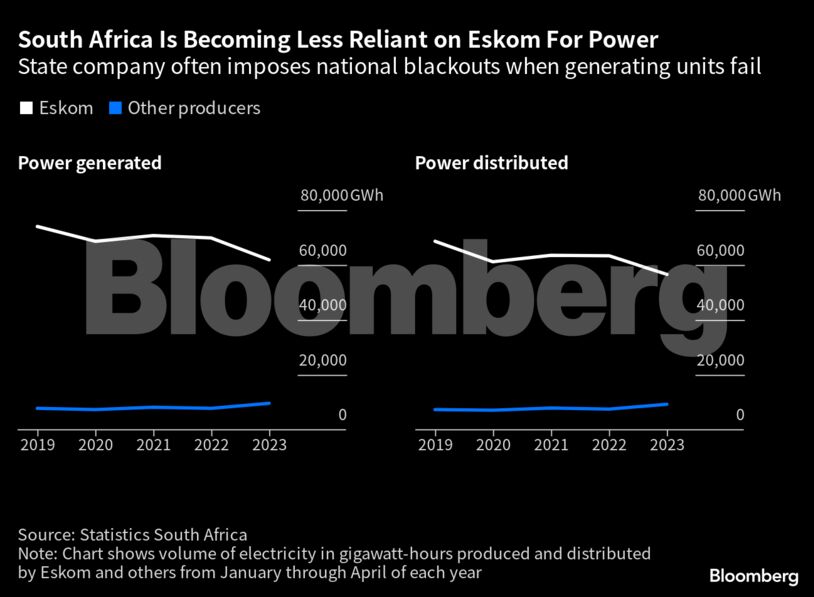 Eskom, which provides 90% of South Africa's electricity, is struggling to meet demand with its fleet of coal-fired power stations that often break down. The utility has implemented rotational blackouts on all but one day this year. The constant outages have prompted companies to commission the building of power plants for their own needs, mainly solar and wind facilities.
Data released by the statistics office on Thursday show Eskom is already losing ground. The utility produced 11.4% less power in the first four months of 2023 compared with the same period last year, and consumption of its electricity fell 10.7%. Over the same period, generation and consumption from other producers rose from a year earlier.
Read more about South Africa's power crisis:
The government expects private companies to add more than 4 gigawatts of electricity generation capacity to the grid by the end of 2024 and another 3 gigawatts by 2030. Decrees in 2021 and last year that removed caps on the size of power plants that companies can build for their own use have resulted in 108 projects with a combined capacity of more than 10 gigawatts being registered for construction, according to a report released on May 30.
Tariff increases for Eskom approved by the country's energy regulator were below what the utility had requested for this fiscal year and the next and are forecast be to less than 10% from 2025-26, Fitch said. That would be insufficient to fund adequate capital expenditure for asset maintenance and provide a fair return for Eskom, the ratings company said.
---