SCHOOLS OF AI THOUGHT
Varsities, students hail 'really useful' ChatGPT, but many worry about the dodgy stuff it spits out – and plagiarism
As the language-generating model rapidly seeps into our lives, it is worth investigating how the program is disrupting, adding to and challenging those who educate as well as those who learn.
Already, artificial intelligence (AI) permeates many aspects of our lives. But ChatGPT, a language-generating program launched by tech company OpenAI, has stirred up much conversation over its wide-ranging and slightly concerning capabilities.
As of now, ChatGPT is the most sophisticated AI of its kind, able to generate code, write copy, poems, essays, songs and much more. Since its launch in November 2022, it has become the fastest-growing consumer application in history, with more than 100 million active users reported just two months later.
As many industries learn how they can use ChatGPT to their advantage, there is particular attention being paid to the education sector, where the software has many uses.
Widely used in universities
In universities, many students are already making ChatGPT a fixture in their academic life. Laura Hudson, a student at the University of Cape Town (UCT), said the application saves her a lot of time.
"Instead of searching for what I'm looking for and then trying to find a site with the right information, I just ask ChatGPT to let me know which sites will have the answers to what I'm looking for. I also use it for troubleshooting in coding and things like that.
"Also, with studying it's an incredible tool to use to explain concepts in simple terms. I ask it things like that all the time and it's very good at rewording information in a way that makes certain concepts much easier to understand. I use it all the time and I think it's a complete game-changer."
Chloe Cairo, another UCT student, said she also used ChatGPT frequently. But she warned against relying on it too much. "I think it's really useful, but it can become dangerous if you're too reliant on it."
This AI has raised many concerns in higher education as students were quick to realise it could be used to generate academic essays or solve mathematical equations. A UCT tutor said the program had brought about many challenges to her teaching. "It's just been very frustrating. It's kind of like plagiarism when students hand in papers that are evidently not their work."
Current AI detection technology was still being tested and was known to present false positives, which could have ripple effects should a student's work be flagged as AI-generated when it is not.
She noted that it was difficult to pick up when a student had used ChatGPT in academic work, especially because many had found routes to trick plagiarism detectors, such as using programs that rewrite ChatGPT's copy to sound more human-like.
Sukaina Walji, director of UCT's Centre for Innovation in Learning and Teaching, said the university was "actively looking at both the opportunities and challenges that AI tools such as ChatGPT pose".
Walji said the university was raising awareness about the program through workshops and seminars to help academics and students to learn about the gains and challenges of AI. Further, this was an opportunity "to think about reimagining a future teaching and learning environment which includes AI technologies".
Plagiarism is a major concern for institutions of higher learning. Walji explained that current AI detection technology was still being tested and was known to present false positives, which could have ripple effects should a student's work be flagged as AI-generated when it is not.
Read more in Daily Maverick: Real danger of ChatGPT lies in its robbing us of our ability to read and research critically
"In terms of plagiarism and assessment integrity, we are reviewing our guidelines to be clear about our expectations of students. Right now, we have advised our lecturers that in the case of assessments, unless specifically designed to utilise these tools, they include a requirement for a declaration that either such AI tools have not been used, or that the use of these tools be cited appropriately."
Professor Diane Grayson, the senior director of academic affairs at the University of the Witwatersrand, shared this sentiment."Wits cannot prohibit students from using ChatGPT – not that we would want to. We do, however, plan to educate students and staff  about both the uses of ChatGPT and its limitations. For example, ChatGPT can be useful in generating suggestions for a paper. But ChatGPT sometimes combines text in a way that the answers it gives are factually incorrect, controversial,  biased or made up.
"We are therefore proposing that in some assignments students could include text generated by ChatGPT and then engage with the text critically. If students choose to use ChatGPT to help with an assignment, they need to reference it and make clear which parts were generated by ChatGPT and which were their own writing," said Grayson.
Notably, ChatGPT is not always factually correct. It can sometimes spew made-up or incorrect information. For example, one University of Pretoria law student said she stopped using ChatGPT after it made up a law case as an answer to one of her questions.
The program is explicit about the possibility that it "may produce inaccurate information about people, places, or facts", as it states below the textbox when in use.
What it's basically pointing to is that digitised content is not an indication of somebody's comprehension or ability to understand work.
ChatGPT is also forcing institutions to reconsider the ways in which content is taught and examined. Grayson said a move towards "more authentic, context-specific assessments and closer engagement with students" was one way universities could ensure their education models remained relevant and meaningful.
Useful for teachers and pupils
ChatGPT is also affecting pupils who are in high school. Michelle Barnsley, co-head of the English department at St John's Diocesan School for Girls in Pietermaritzburg, said she used the program in her own teaching to generate questions about a specific poem or short story, for example.
Barnsley finds the program useful not only to set an essay question, but also to produce a sample essay that she can use as a guideline for her students' answers.

Read more in Daily Maverick: ChatGPT is on everyone's lips, but the age of AI is still muted for Africa
"Initially, it was interesting to see what answers ChatGPT produced and I used it to fuel my own creativity and spark ideas since it generated more specific answers than a Google search," said Barnsley.
"I have not really made use of ChatGPT to generate lesson plans, flash cards, etc, but it's useful having this option."
Barnsley said that although ChatGPT could produce accurate content, the style of the essays lacked "the exceptional qualities of excellent writing".
In terms of her students, she said they were using ChatGPT to get information. "They use it to help with or do their homework and to complete tasks. They are also using it as a learning tool."
Barsley worried that ChatGPT would make people lazy "because they don't need to do too much research and compare sources". And she feared that "the quality of individual writing skills will decrease" if pupils used it to write letters and essays.
Nevertheless, ChatGPT "is here to stay and we have to embrace it".
The future of AI in education
Trend analyst Bronwyn Williams said that where institutions previously encouraged students to integrate technologies to produce content, they could now revert to oral or even handwritten assignments to ensure a student's knowledge is genuinely tested.
"What it's basically pointing to is that digitised content is not an indication of somebody's comprehension or ability to understand work," she said.
Williams suggests seeing ChatGPT as an input "to see how we can use these tools to learn things better, deeper and smarter so that our own actual outputs are not automatable and replaceable. We make a fundamental mistake when we try to compete with the machine." DM

This story first appeared in our weekly Daily Maverick 168 newspaper, which is available countrywide for R29.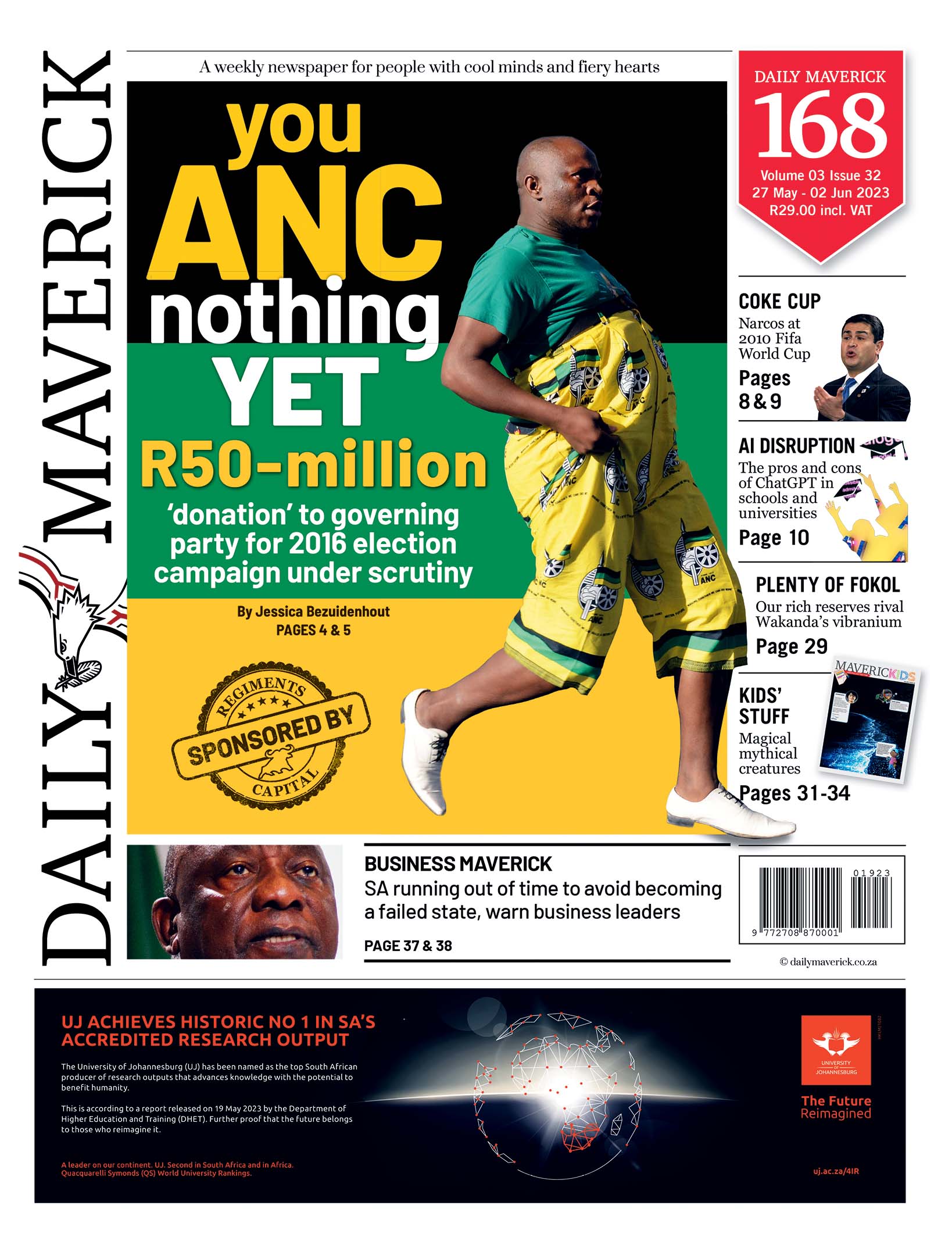 ---