Business Maverick
Black US Unemployment Hits Record Low But Participation Falls
Black unemployment dropped to a record low in April but the decline was driven by some troubling trends suggesting Black workers are starting to struggle in an otherwise resilient US labor market.
The unemployment rate for Black workers retreated to 4.7% last month, falling below 5% for the first time ever, a Bureau of Labor Statistics report showed Friday. The improvement came in a month where nonfarm payrolls increased by a greater-than-expected 253,000 and the overall unemployment rate fell back to a multi-decade low of 3.4%.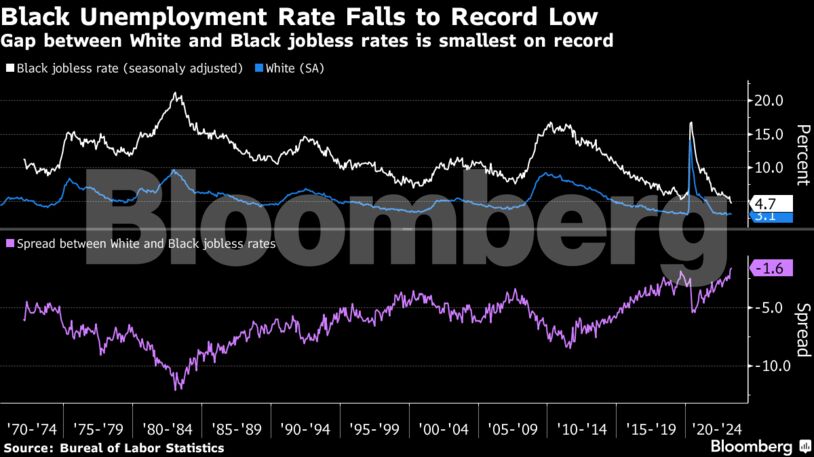 Job growth in April was broad based, reflecting gains in health care, professional and business services as well as leisure and hospitality. The unemployment rate for Hispanic workers also ticked down to 4.4% from 4.6% in March but was unchanged for Asian workers at 2.8%.
With the white unemployment rate at 3.1%, the gap between Black and white workers narrowed to 1.6 percentage points, the smallest since the government began tracking the data in the 1970s.
Read More: Hot Jobs Report Raises Odds Fed Keeps Rates Higher for Longer
Behind that lower unemployment rate, however, was a notable drop in the share of Black people who are either working or looking for jobs.
The labor force participation rate for Black workers declined by more than one percentage point to 63% in April from 64.1% in March. In contrast, the participation rate for white workers rose slightly to 62.3% from 62.1% the month before.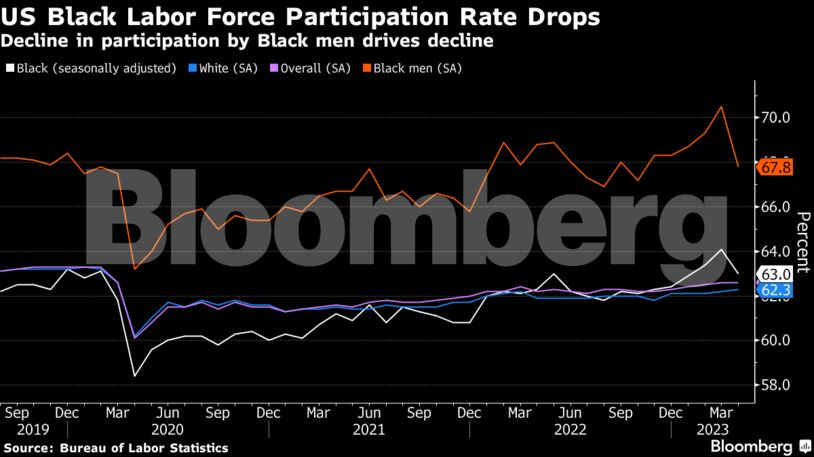 This decline for Black workers was driven by a sharp decrease in the participation rate for Black men, who dropped out of the labor force in April at the fastest rate in three years. That's a reversal for a group that saw strong gains over the past year.
Another metric also showed weakness: The share of Black men aged 20 or older who were employed, known as the employment to population ratio, fell notably to 64.7% from 66.8% in March. In contrast, the share of Black women who were employed rose to 61.1% in April from 60.9% the previous month.
Disaggregated data, which comprise a smaller sample size than the headline numbers, typically have volatile moves on a month-to-month basis, so April's participation declines could be short-lived. A continued drop in the May data would increase concern of a trend taking shape.
The drop in the Black unemployment rate is "quite remarkable," but those gains could be quickly reversed if the US economy dips into a recession as some expect and the labor-market starts to deteriorate, said Michelle Holder, associate professor of economics at John Jay College, City University of New York.
"If there is still a possibility of a recession then the current state of affairs with Black unemployment at its lowest level could easily be erased," she said.
The US labor market has stayed surprisingly strong with job gains exceeding expectations and the unemployment rate falling, even as the Federal Reserve aggressively hikes interest rates to tame a high inflation rate. Policymakers lifted their benchmark target rate to above 5% this week for the first time since 2007, up sharply from near-zero levels early last year.
---