Business Maverick
Apple Sees Biggest Rally of the Year After Sales Top Estimates
Apple Inc. rallied Friday after reporting a rebound in iPhone sales last quarter, helping the world's most valuable company top earnings estimates and weather an industrywide downturn that has battered much of its product lineup.
The shares jumped as much as 5.1% to $174.20, the biggest intraday gain since Nov. 30. They're now up 34% in 2023.

Overall revenue amounted to $94.8 billion in the fiscal second quarter, Apple said Thursday, exceeding the $92.6 billion analysts predicted. Though the sales fell 2.5% in the period, the company had warned investors to expect a drop of roughly twice that.

The results suggest that Apple is beginning to recover from a slump that's plagued both the computer and smartphone industries. It's a particular relief for investors after Qualcomm Inc., a key supplier, raised fresh concerns about phone demand earlier this week. Apple's sales in China — a weak spot for other tech companies — also came in a bit better than expected.

As expected, Apple announced plans for $90 billion in stock repurchases — the same as last year's plan. The company also raised its quarterly dividend 4% to 24 cents a share.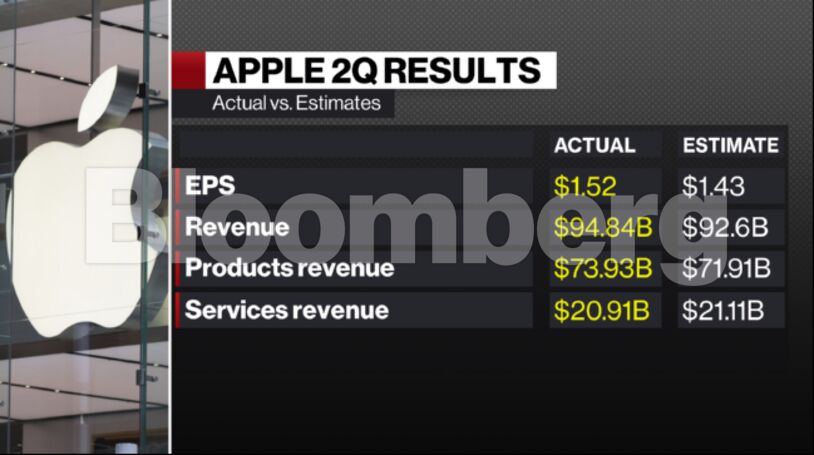 Though the performance was better than expected, it marked two straight quarters of sales declines — a first for Apple since the pandemic began. Earnings, meanwhile, were unchanged from a year earlier, at $1.52 a share. That compared with an average estimate of $1.43 a share.
On a conference call with analysts, Apple said that revenue in the current period would drop by a similar amount as in the past quarter, which ended April 1. That suggests a dip of about 3%. The company also said it would continue to see a negative impact from foreign exchange rates.
Apple generated $51.3 billion in sales from the iPhone — its flagship product — in the second quarter, topping analyst predictions of $49 billion. That's just a 1.5% rise from a year ago but marked a record performance for a March quarter, Chief Executive Officer Tim Cook said. The increase came "despite the challenging macroeconomic environment," he said in the statement.
Like many tech CEOs delivering earnings reports, Cook also discussed artificial intelligence. He said it had enormous potential and that Apple would continue weaving it into products in a "very thoughtful" way.
Read More: Apple's Tim Cook Says AI Concerns Still Need to Be Sorted Out
From a supply perspective, the second quarter was an opportunity for the iPhone 14 to rebound. The device had suffered from constraints during the previous period due to Covid policies in China.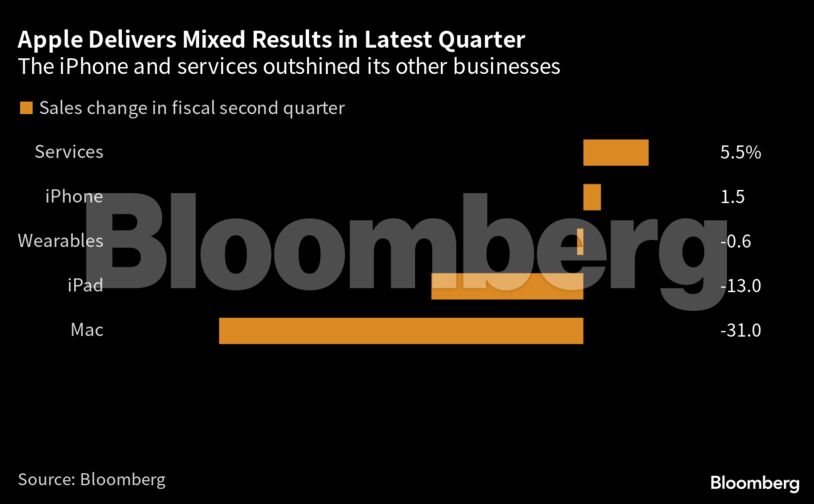 The iPad saw revenue fall 13% to $6.67 billion, roughly in line with estimates of $6.7 billion. New models, which included a revamped entry-level version and Pro models with M2 chips, didn't do much to spur purchases in the quarter.
Likewise, revenue in the Mac division dropped 31% to $7.17 billion. That trailed forecasts of $7.7 billion. Research firms already warned that it was a bleak quarter for the lineup, with IDC estimating that Mac shipments fell about 40% in the quarter. Apple had updated the MacBook Pro and Mac mini, adding faster processors, but they failed to reignite the unit's sales.
The home, wearables and accessories division, which includes AirPods, the Apple Watch and the TV set-top box — fell less than 1% to $8.76 billion. That beat estimates of $8.5 billion. The company added a faster processor to the Apple TV during the holiday quarter and updated its HomePod speaker during the March quarter.
The services business, which includes iCloud, Apple Music, the App Store and the TV+ streaming service, brought in $20.91 billion, missing estimates of $21.1 billion. Still, it was a 5.5% gain from a year earlier. Last quarter, Apple promised that services revenue — alongside the iPhone — would accelerate.
The company did particularly well in emerging markets, Cook said, pointing to record quarterly sales in Mexico, Indonesia, the Philippines, Saudi Arabia, Turkey and the United Arab Emirates. And the company's overall sales would have been up if you held currencies constant, he said.
For Apple and other US companies with a global footprint, a strong dollar has decreased the value of revenue generated in other parts of the world.
"Despite these challenges, we continue to manage for the long term," Cook said.
---