Business Maverick
Royal Caribbean Soars After Travel Rebound Fuels Profit View
Royal Caribbean Cruises raised its full-year profit forecast past Wall Street's expectations as demand for its vacations boomed, part of broader upswing in travel fueled by easing pandemic restrictions.
The Miami, Florida-based cruise line now expects adjusted earnings per share of $4.40 to $4.80 compared to previous guidance of $3 to $3.60, coming in well above expectations of about $3.36.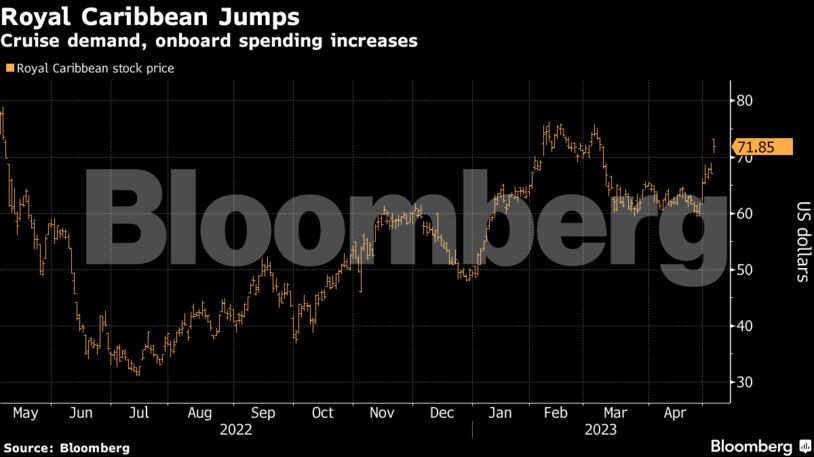 "We knew that demand for our business was strong and strengthening, but we have been pleasantly surprised with how swiftly demand further accelerated," Chief Executive Officer Jason T. Liberty said in Royal Caribbean's first quarter earnings report.
The company's shares soared as much as 9.3% in New York trading, the most intraday since February 7. The stock had gained 36% this year through Wednesday.
Royal Caribbean also touted strength in consumer spending during voyages and purchases made before cruises, while expecting load factors to reach record levels by late spring.
Read more: Royal Caribbean Results Follow Norwegian's Beat: Preview
For the first three months, booking volumes were significantly higher than the start of 2019, reaching a record level as the wave season — the time of the year when cruise companies run their promotions — started earlier and extended further, it added.
Royal Caribbean is the latest to join an array of cruise lines riding high on a rebound of cruise-ship journeys that were hit hard by the pandemic. Peer Norwegian Cruise Line Holdings also delivered better-than-expected quarterly results and reported record bookings earlier this week.
"This year's bookings have been made at higher prices versus 2019, supporting a three-year plan to attain record Ebitda per capacity day and mid-teen returns on capital," Bloomberg Intelligence analysts Brian Egger and Josh Brownstein wrote. "Royal may benefit long term as people resume cruising, with low historical uptake in Europe and Asia."
---