Business Maverick
Top Interview Questions Jobseekers Should Ask Now
Jobseekers face a tougher road today than a year ago, when many companies couldn't hire fast enough. So the questions applicants ask during the interview process are more important than ever to suss out if the role is a dream job — or a nightmare waiting to happen.   
US job postings are down 15% compared with April 2022, according to Indeed, and the share of employers who expect to trim their college hiring has doubled to 12% since the fall, according to the National Association of Colleges and Employers (NACE). Jobseekers' confidence is slipping, as nearly three out of four recent or impending college graduates are worried about the economy, a survey from Monster found. Some are even broadening their job search in response.

Those concerns have made people more nervous about job interviews as well. Google searches for "What three questions should I ask an interviewer" rose more than sixfold between March 2022 and the same month this year, according to Semrush, a digital marketing company. Many young jobseekers forget that an interview is a two-way street, and they should be asking plenty of questions too, said Shawn VanDerziel, executive director at NACE. Those questions should display your interest in, and knowledge of, the employer, while politely ferreting out details on aspects of the job that are most important to you — whether that's the career trajectory, the work-from-home policy or how performance is evaluated. (Don't ask about vacation days in the first meeting, or it will be a short interview.)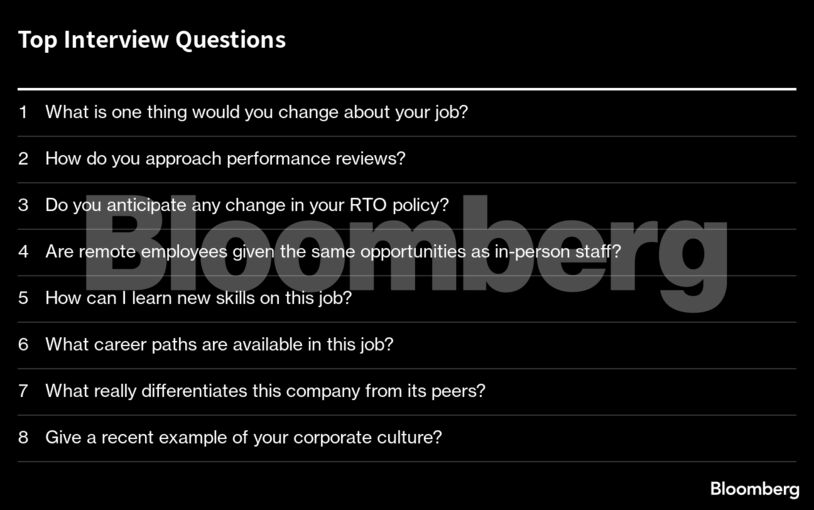 While first-interview questions can focus more on the company, its recent performance (has hiring slowed?), and whether you're a cultural fit there, your questions should get more specific as you move to subsequent rounds. Ask about job responsibilities, the sort of projects you'll be tackling, and the team you'll be on. Here's where you can ask the recruiter or hiring manager for the names of peers to reach out to, because it's only from them that you'll find out what differentiates this company from others, and what your potential boss is really like. Another good query for a prospective colleague: If you could change one thing about your job, what would it be?
No matter what you're asking about, career counselors advise, insist on specifics so companies can't get away with vague or squirrely responses. If they wax on about their inclusive culture, ask them how their approach to Zoom meetings or who sits in what desk reflects what they hold dear. If the HR rep says they're committed to professional development, ask what the typical career path is for someone in that role. How is feedback delivered? How do they approach performance reviews? "I hear so many times from people who are leaving a job and they say it's because they have no clue where they stand with their boss," said Ariel Schur, Chief Executive Officer of ABS Staffing Solutions. Make sure that doesn't happen to you.
A particularly tricky topic is flexible work, as corporate policies on returning to the office (RTO) can change on the fly, and might vary depending on the role or department. Nearly three in four college grads are more likely to apply for a job that allows them to work remotely, Monster found, and half of them wouldn't apply for a job that insisted on full-time office work. If working from home is important, ask the employer if they'll share their RTO policy. It helps if it's in writing, but remember there are no guarantees. If the job listing says "remote" or "hybrid," ask what exactly that means, and what are the chances that it will continue that way, said career advisor Amy Feind Reeves.
Definitions of flexible work can vary, so do your research before the interview. Read what the company's leadership has said about the value of in-person work, and compare that with what employees are saying on platforms like Glassdoor and Blink. If there's a disconnect, look elsewhere. Issues like RTO are so new that "they're not in the rule book," said Lindsey Pollak, a career expert. "We've never been through this before."
These days, it's likely that the first interview will be on Zoom. One tip there: Paste reminders of things to ask on the edges of your computer screen, so you can refer to them without breaking eye contact. And whether it's in person or virtual, your questions should help establish a rapport during the interview. There's nothing worse than a rapid-fire interrogation, Schur said, so remember to listen carefully to their responses, which will also help guide your line of questioning. Once you get a good vibe going, feel free to probe a bit further on certain topics.
Money talks, but experts say you shouldn't talk money until the final stages of the interview process — or better yet, wait until you're offered the job. "Until you have a written job offer, you have nothing," Reeves said.
Throughout the process, trust your intuition, said Craig Benson, director of the University of Missouri Career Center. If you're not getting the answers you want, maybe they misunderstood your question. So ask again, gently. If it's still unclear, "there may be reason to think that the employer is not being transparent," he said, giving you every reason to look elsewhere.
---